TORONTO, October 17, 2019  – Sanity, a five-year-old daughter of City Zip, steps up to the stakes stage in Saturday's Grade 3 $125,000 Ontario Fashion, at Woodbine.
A six-furlong main track event for fillies & mares, three-year-olds and upward, the Ontario Fashion has drawn six starters.
Trained by Steven Chircop, who co-owns with Domenic Liscio, Sanity will contest her first added-money event since finishing fifth in last year's Richard R. Scherer Memorial Stakes at Fair Grounds.
Claimed for $62,500 this spring by Chircop, the Kentucky-bred (H & E Ranch) mare has been a consistent performer throughout her career. Fashioning a record of 9-4-5 from 26 starts, Sanity went 5-1-1 in nine engagements in 2018, and is 1-1-3 over eight starts this campaign. Her record at the Toronto oval stands at 8-3-3 from 18 races.
She strides into the Ontario Fashion off a smart score on September 28 at Woodbine. With Patrick Husbands in the irons, the bay rallied from sixth at the stretch call to notch a three-quarters of a length win over 'good' going on the E.P. Taylor Turf Course.
It was the first win for Sanity since entering the Chircop barn.
"Oddly enough, I was considering claiming her a couple of years ago for either $20,000 or $25,000, one of the two," started the conditioner. "I was thinking about it, but then I didn't. All I've done is watch her win, win, win, win. I happened to be at Kentucky Downs last year racing Truly Honoured (a three-year-old Kentucky-bred daughter of To Honor and Serve), and she was in the entries when I was there, and she won. This horse has haunted me. So, I've always followed her because she's a horse that tries every time. She's not a big horse – she's actually on the smaller side – but she has a big heart. You can't breed horses like that, and you can't train horses to be that. They either have it or they don't. And she has it."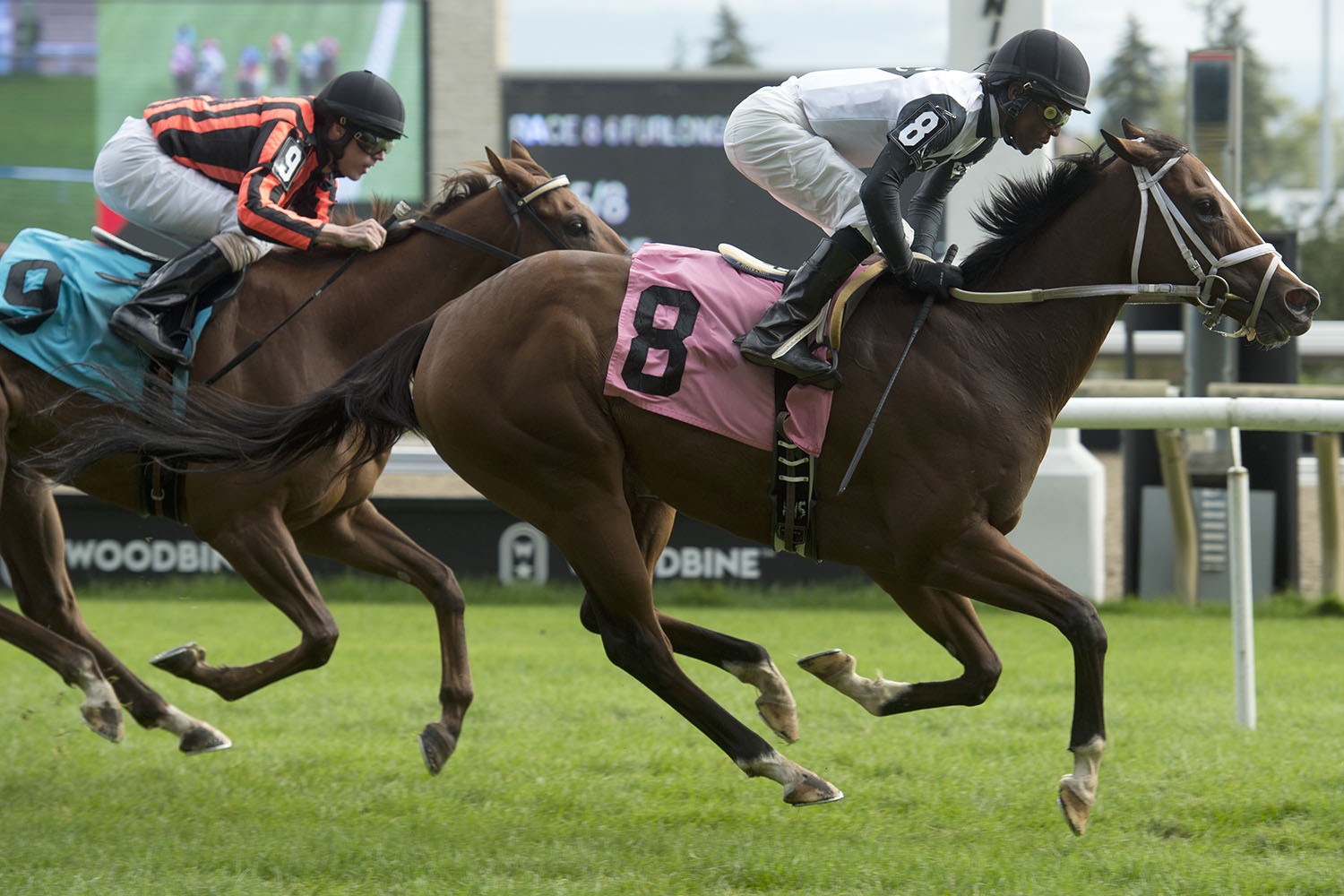 In her past five starts, Sanity is 1-1-2. She'll have Kazushi Kimura in the irons for Saturday's race.
Chircop, one win away from 120 for his career, is expecting a typical honest effort from his hard-trying mare, a horse he's finally happy to call his own.
"When you claim a horse for $62,500, it takes a lot to make that money back," he offered. "I didn't realize how hard that really is. She ran fourth the first time I raced her, and she had a lot of traffic trouble. But she's picked up a cheque each time. On the track, she's very feisty. In the barn, she's an absolute angel. She has that mentality where she's so kind to be around, but when you put the saddle on her, she's all racehorse.
"I believe that she's a good horse. There are some really good horses in this race, but with her off-the-pace running style, and knowing she comes running every time, I'm hoping she makes a big run, and gets a big piece of it. I won't be disappointed in her if she doesn't win. As long as she runs her race, which I know she will, I'll be happy. She deserves the opportunity. She steps up to her competition all the time."
Sanity will face the likes of multiple graded stakes winner Summer Sunday, the 8-5 morning line favourite, and rival Alnilah, who defeated that filly in the Grade 3 Seaway Stakes last time out.
Last year, Silent Sonet, with David Moran in the irons, won the Ontario Fashion in a time of 1:08.77. La Voyageuse took the first two editions (1979-80) of the Ontario Fashion. Atlantic Hurricane won back-to-back runnings in 2011-12.
The Ontario Fashion is slated as race three on Saturday's 10-race card. The $50,000 final leg of Woodbine's Turf Endurance Series goes as race eight with a dozen set to contest the 1-3/4-mile marathon. With a consistent showing throughout the first three legs, the Debra Rombis-trained Sine Metu (21 points) holds a one-point lead in the series standings ahead of division winners Camp Creek (20), Bold Rally (16) and Prideofdistinction (10).
The Turf Endurance Series is for horses three-year-olds and up that have started for a claiming price of $25,000 or less in 2018-2019 or optional $40,000 claimers. The series offers $40,000 in bonuses to the top point-earners, with points awarded based on order of finish: 10 points for first-place, seven points for second, five points for third, three points for fourth, two points for fifth, one point for sixth through last.
First post time is 1:05 p.m. Fans can also watch and wager on all the action via HPIbet.com.
$125,000 ONTARIO FASHION STAKES
Post – Horse – Jockey – Trainer – Morning Line
1 – Heavenly Hill – Luis Contreras – Josie Carroll – 15-1
2 – Special Relativity – David Cohen – Norm McKnight – 9-2
3 – Summer Sunday – Rafael Hernandez – Stuart Simon – 8-5
4 – Alnilah – Patrick Husbands – Terry Jordan – 9-5
5 – Sanity – Kazushi Kimura – Steven Chircop – 15-1
6 – Jean Elizabeth – Eurico Rosa da Silva – Larry Rivelli – 4-1
$50,000 WOODBINE TURF ENDURANCE SERIES – LEG 4
Post – Horse – Jockey – Trainer – Morning Line
1 – Sine Metu – Gary Boulanger – Debra Rombis – 6-1
2 – Camp Creek – Luis Contreras – Kevin Attard – 9-2
3 – Twentytwentycrest – Simon Husbands – Saul McHugh – 20-1
4 – Prideofdistinction – Justin Stein – Ron Sadler – 7-2
5 – Theregoesjojo – Kazushi Kimura – Michael De Paulo – 4-1
6 – Burning Man – Patrick Husbands – Josie Carroll – 10-1
7 – Itstartswithadrink – Corey Jordan – Clint Abraham – 10-1
8 – Bel Tempo – Ailsa Morrison – Zeljko Krcmar – 20-1
9 – Coolshade – Sahin Civaci – Zeljko Krcmar – 20-1
10 – Auntie Katherine – Juan Crawford – Jennifer Davis – 20-1
11 – Bold Rally – Jeffrey Alderson – Daryl Ezra – 8-1
12 – World of Prospects – Christopher Husbands – Paula Loescher – 20-1