TORONTO, October 18, 2020 – Silent Poet, under Justin Stein, delivered an emotional victory for trainer Nick Gonzalez in Sunday's $290,000 Nearctic Stakes (G2T) at Woodbine.
Gonzalez, whose wife, assistant trainer Martha Gonzalez, recently passed away after a lengthy battle with cancer, watched Silent Poet, bred and owned by Stronach Stables, put on a show over six furlongs on a 'good' E.P. Taylor Turf Course.
It was Silent Poet who was ushered immediately to the front by Stein in the Nearctic, the five-year-old son of Silent Name (JPN) engaged quickly by last year's winner City Boy.
The front-running pair took the field of eight (Reconfigure was scratched) through an opening quarter-mile carved out in :23.65. Blind Ambition, in third, and Kanthaka, in fourth, tracked the pacesetting duo.
Silent Poet and City Boy continued their front-end battle through a half-mile clip timed in :46.16. The two continued to go head-to-head around the final turn as their rivals endeavored to keep them in their sights.
As the field straightened for home, it became a two-horse race for all the spoils with Silent Poet to the inside and City Boy to the outside, both digging in for the final push to the wire.
After almost every step of the 1,320 yards run, Silent Poet came out on top a half-length winner in a time of 1:08.57. City Boy finished three-quarters of a length ahead of Kanthaka, who fended off Olympic Runner by a neck for third.
In the last strides, announcer Robert Geller exclaimed, 'This one's for you, Martha.'
"It has a lot of meaning," said Stein, who is enjoying a fruitful 2020 season. "People watching on the outside might not understand, but the family here, the community at Woodbine, I'm sure they were cheering big for this horse for reasons that we all know."
Stein, who has eclipsed the 100-win mark on the campaign, knew just what to expect from Silent Poet at the beginning of the Nearctic and at the end.
"He just leaves the gate so quick. He hits his stride right away. With a horse like that you get position and just slow him down, save as much horse as you can, and he does the rest. He loves his job, and when you ask him to run, he just gives you everything. He tows you down the lane."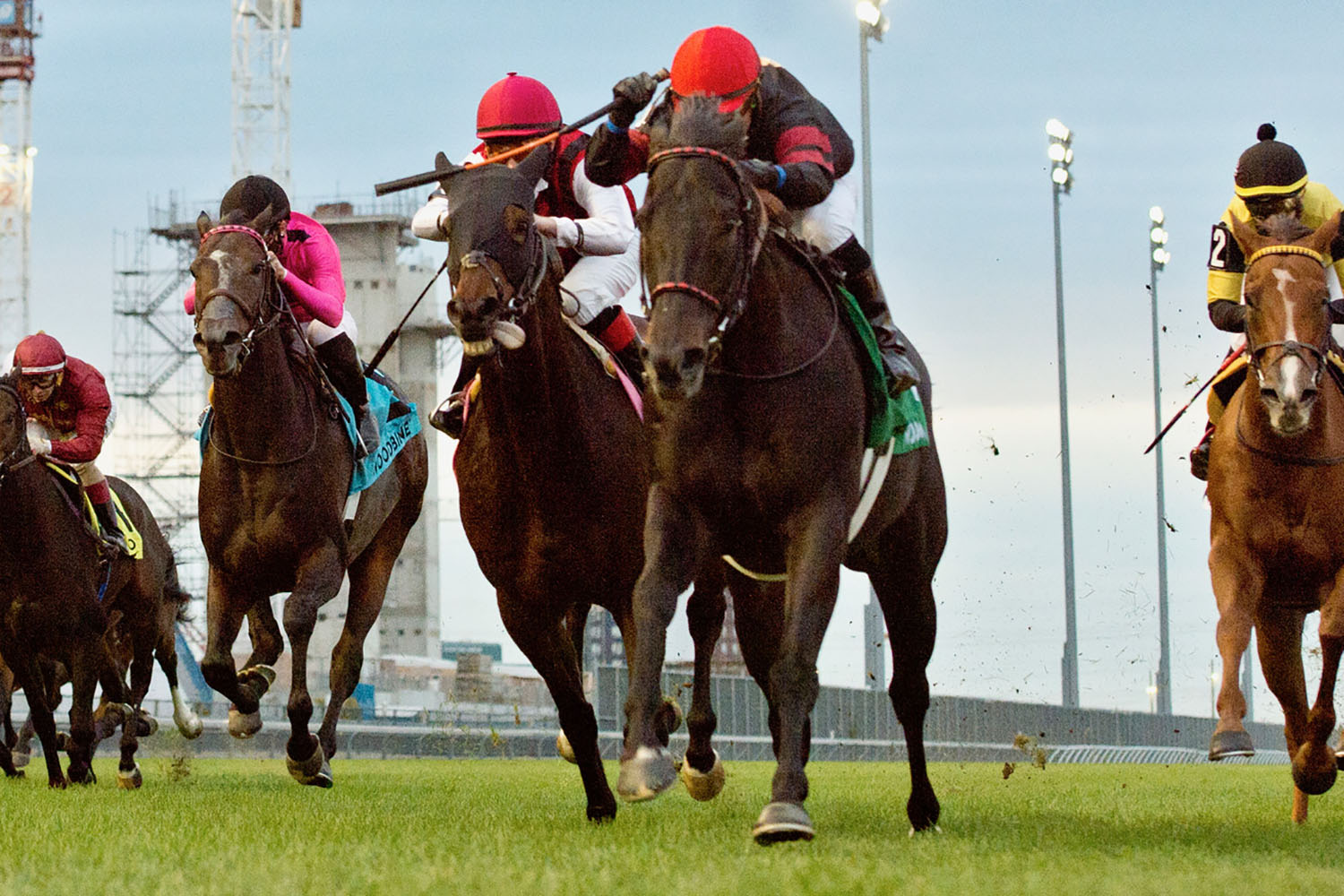 The win was the fourth from five starts in 2020 for the ultra-consistent dark bay, who now sports a record of 10-4-2 from 18 career starts.
Silent Poet now has three graded titles to his name having won this year's Connaught Cup (G2T) and the 2019 running of the Play the King (G2T).
He launched his career on August 25, 2017, finishing second in his debut before going to win his next two starts the following year.
Silent Poet paid $5.40, $3.70 and $2.80. The 5-8 exactor with City Boy ($10.60, $5.20) returned $51.60 and the 5-8-2 triactor with Kanthaka ($3.20 to show) paid $187.70. Olympic Runner completed a 5-8-2-9 superfecta worth $378.10 for $1.