TORONTO, December 9, 2017 – Stronach Stables' Silent Sting came flying through the stretch along the rail to win the $125,000 Kingarvie Stakes for Ontario-sired two-year-olds on Saturday afternoon at Woodbine.
Silent Sting gave trainer Sid Attard his third victory on the day and back-to-back Saturday stakes wins following Kingsport's Sir Barton score one week ago.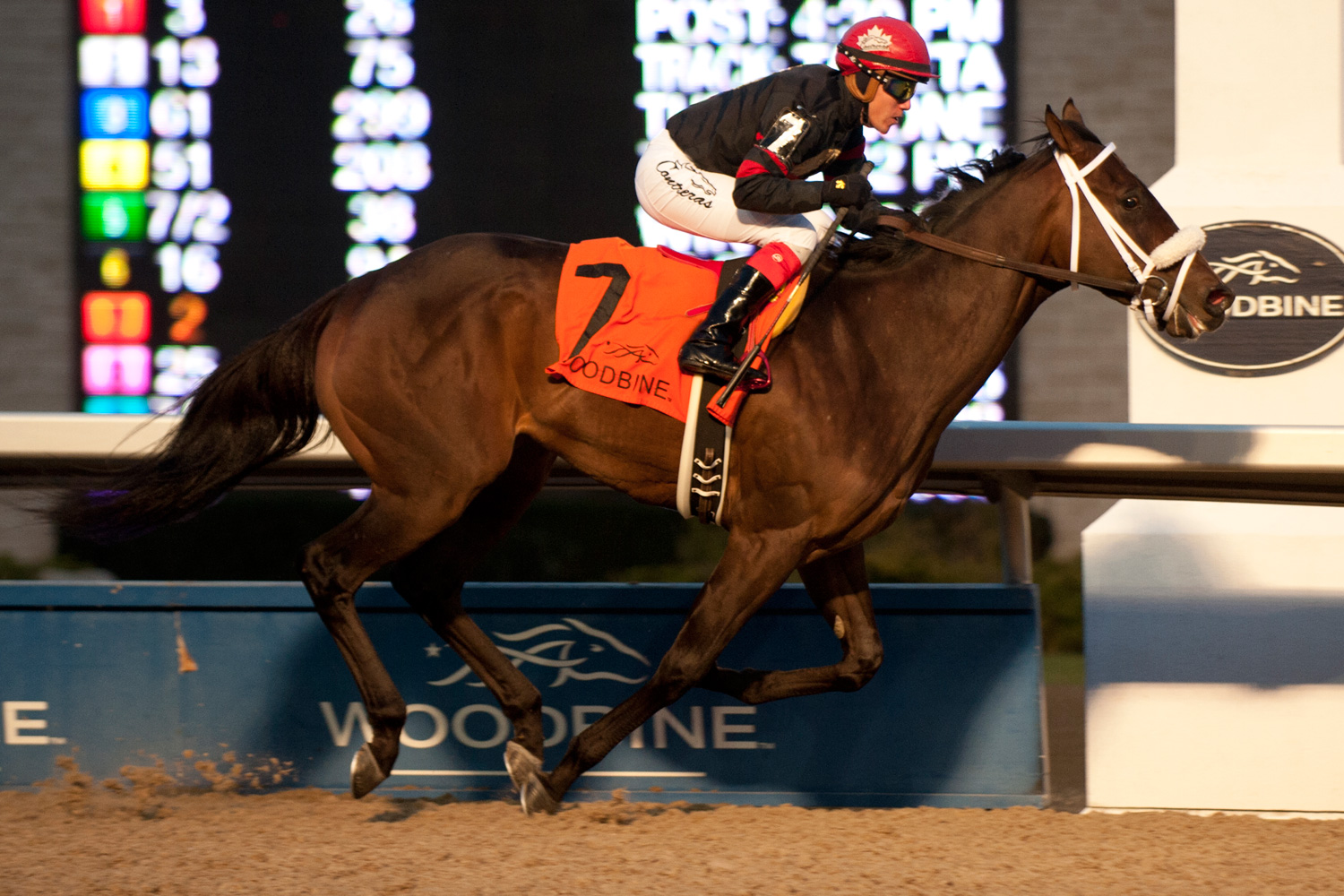 Luis Contreras worked out the winning trip aboard the Silent Name-Mona Mia colt, who raced midfield throughout the 1-1/16 mile stakes event before diving towards the rail in the stretch as Cooler Mike confronted pacesetter Handsome Like Me (:24.53, :49.41, 1:13.73, 1:38.62).
"I was thinking to go outside but when I saw the rail, I took my shot to go inside and he was strong through it," said Contreras. "Once he went through the little hole, it was all him."
Silent Sting prevailed by three-quarters of a length in 1:44.97 over outside closers Beer Pressure and Be Vewy Vewy Quiet while Cooler Mike edged out Handsome Like Me for fourth-place.
Silent Sting was sent postward as the 2-1 favourite in the field of 10 following his close runner-up finish to Be Vewy Vewy Quiet in the seven-furlong Frost King Stakes last month.
"Last time he couldn't get out in time and today Luis used his head and when it opened he just went for it and he got there," said Attard.
"It was a big field and he did well," said Mrs. Stronach, noting Silent Sting will now enjoy a break from racing. "It looks like he's going to be nice next year."
Bred in Ontario by Phoenix Rising Farms, Silent Sting has earned a six-figure salary in his debut season with two wins and two seconds from four starts.
Silent Sting paid $6.60, $4.20 and $2.80. He combined with Beer Pressure ($10.30, $6.30) for a 7-2 exacta worth $75.70. A $1 trifecta of 7-2-1 (Be Vewy Vewy Quiet, $3.40) paid $118.50 and a $1 superfecta of 7-2-1-5 (Cooler Mike) returned $452.70.
The 2017 Thoroughbred meet wraps up on Sunday, with a 14-race program featuring the $125,000 Valedictory Stakes (Grade 3). First race post time is set for 1 p.m.