TORONTO, May 29, 2019 – Multiple stakes winner Yorkton looks to rebound off an off-key effort as the Chiefswood Stables' homebred takes to the turf in Saturday's Grade 2 $175,000 Connaught Cup Stakes, at Woodbine.
Trained by Stu Simon, the five-year-old son of Speightstown comes into the seven-furlong grass event for four-year-olds and upward off an eighth-place finish in the Grade 3 Jacques Cartier Stakes on May 4 at the Toronto oval.
Simon is expecting to see a much better performance this Saturday.
"He's doing really well," said the conditioner, who finds himself two wins shy of 800 for his career. "He came out of the race fine. He got caught… got the inside press speed duel last time. He paid the price for it, but he's moved forward off it. We're ready to go. All he doesn't like is if the ground is too soft, but the forecast is pretty favourable now. If he catches firm turf, he's very good on it."
Last season proved to be a fruitful one for the Ontario-bred. In seven starts, Yorkton won a pair of races, finished second twice, had two fourths and a fifth. The highlight came on September 15 at Woodbine when the bay won the Grade 3 Bold Venture Stakes, his first graded triumph.
"The race (Bold Venture) last year really stood out," offered Simon, looking for his third consecutive season of $1 million in purse earnings. "We're hoping to achieve more of that as he makes his way to maybe becoming a sire."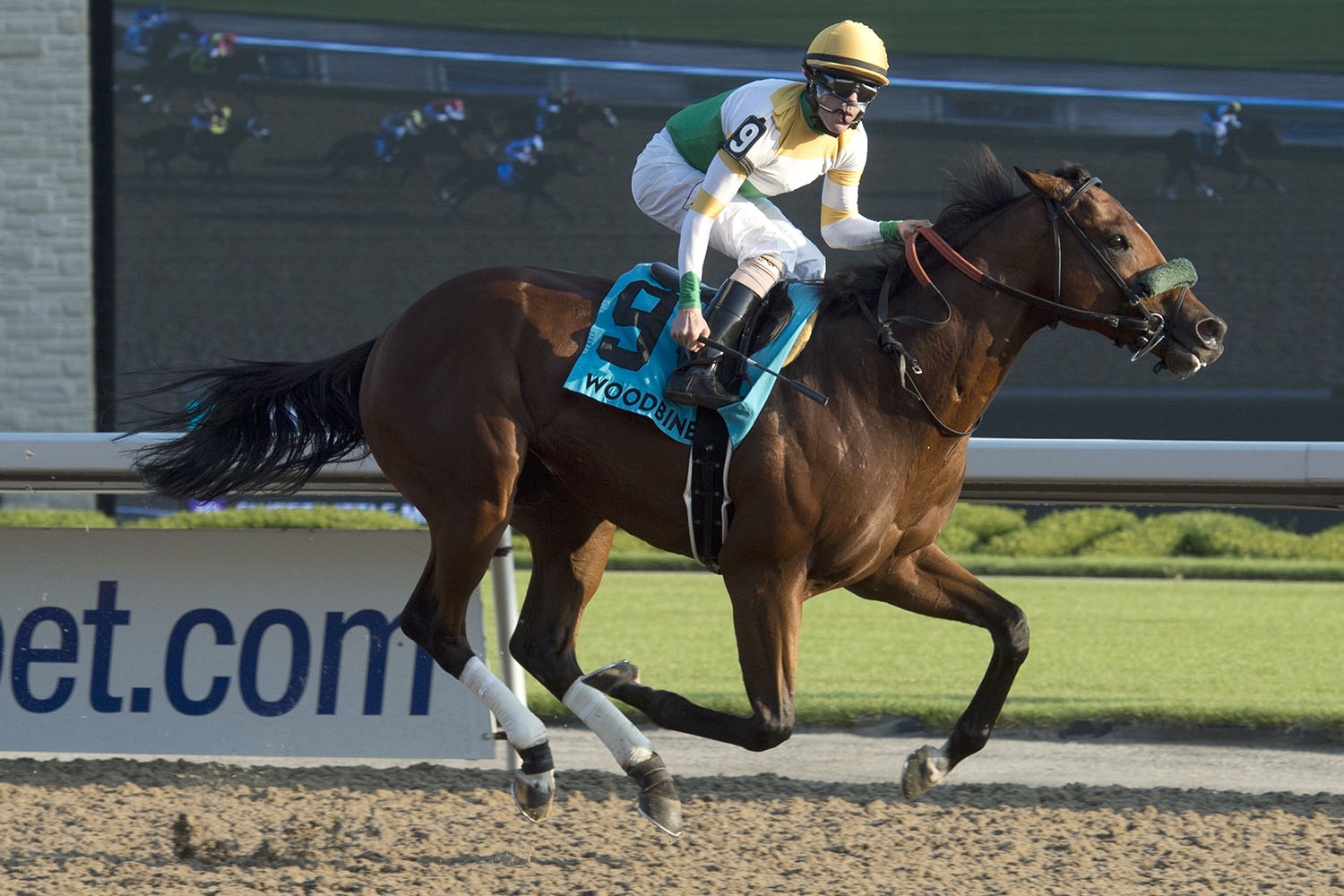 After a sixth and seventh, respectively, to start his sophomore season in 2017, Yorkton won consecutive added-money fixtures, the Queenston and Charlie Barley Stakes, then added a King Corrie Stakes crown in September of that same year.
In all, the Simon trainee, who broke his maiden in his second start in 2016, has six wins, two seconds and two thirds from 21 starts.
"He's definitely kept improving over time," he said. "He was a big boy before and now he's a man. He seems to have made that maturity step forward, physically and mentally. I don't think his last race is any indication as to what kind of year he's going to have."
Yorkton is no stranger to the Connaught Cup. Last year, he finished fourth to Caribou Club ($18 to win), who notched a 1 ½-length score in a time of 1:20.22.
The Connaught Cup is Race 8 on Saturday's 10-race card. The Greenwood Stakes, originally slated for May 25, but cancelled to severe weather conditions in the Toronto area, will be Race 3. Read the preview, highlighting fan favourite Pink Lloyd, Canada's 2017 Horse of the Year, by clicking here.
First post time is 1:05 p.m. Fans can also watch and wager on all the action via HPIbet.com.
FIELD FOR THE $175,000 CONNAUGHT CUP (GRADE 2)
POST – HORSE – JOCKEY – TRAINER
1 – Shakhimat – Rafael Hernandez – Roger Attfield
2 – Savage Battle – Patrick Husbands – Nick Nosowenko
3 – Yorkton – Jesse Campbell – Stuart Simon
4 – Eminent Force – Eurico Rosa da Silva – Dale Desruisseaux
5 – Hold'emforransom – Emma-Jayne Wilson – Ian Black
6 – Emmaus – Davy Moran – Conor Murphy
7 – El Tormenta – Luis Contreras – Gail Cox
8 – Curlin's Honor – Gary Boulanger – Mark Casse
FIELD FOR THE $125,000 GREENWOOD STAKES
POST – HORSE – JOCKEY – TRAINER
1 – Sumerian Bell – Davy Moran – Harold Ladoucer
2 – Marten Lake – Kazushi Kimura – Martin Drexler
3 – Call Me Wally – Jesse Campbell – Paul Buttigieg
4 – Pink Lloyd – Eurico Rosa Da Silva – Robert Tiller
5 – Eskiminzin – Jerome Lermyte – Carlos Grant
6 – Sable Island – Emma-Jayne Wilson – Gord Colbourne
7 – Blueblood – Patrick Husbands – Mark Casse (Scratched)
8 – Circle of Friends – Rafael Hernandez – Robert Tiller