TORONTO, July 24, 2022 – Sir for Sure, a son of Sligo Bay (IRE)-Serena's Rose, announced his arrival as a top Queen's Plate contender with an impressive score in Sunday's running of the $150,400 Plate Trial Stakes, at Woodbine.
A field of nine Canadian-foaled 3-year-olds took to the Toronto oval Tapeta in the 1 1/8-mile Plate Trial, which comes three weeks before the running of the $1 million Queen's Plate, set for Sunday, August 21 at Woodbine.
Causin' Mayhem, making his first start outside of the U.S., went to the front as Dancin in Da'nile got away second with a headstrong 9-5 choice The Minkster in third. The pacesetter reached the opening quarter in :24.07 and was still calling the shots by a length after a half in :48.54.
After three-quarters in 1:12.62, with Dancin in Da'nile now on top by a half-length over Causin' Mayhem, the Mark Casse-trained duo of Sir for Sure and Hall of Dreams came calling, powering their way to the front mid-way down the lane.
Sir for Sure crossed the line a two-length victor. Patrick Husbands, aboard Hall of Dreams, launched a claim of foul against the winner, but the order of finish remained unchanged. Causin' Mayhem was third and Duke of Love fourth.
Final time for the race was 1:50.62.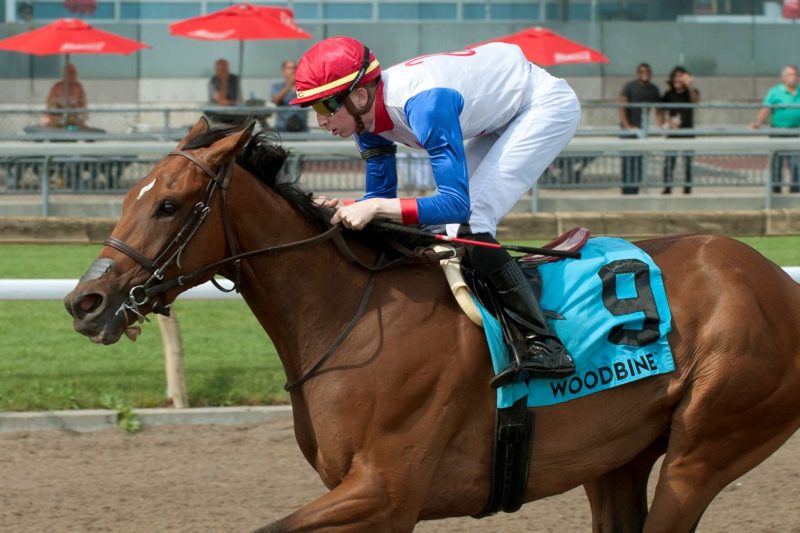 "I knew my horse had a good kick when he won at Gulfstream, so I just bided my time, and then when I had to make room, I was able to push out," said winning rider Declan Carroll. "You know, that's how racing is sometimes, it gets a little rough but I'm happy to come away with a win. Honestly, it was a very easy ride. He traveled beautifully throughout the race."
René and Darlene Hunderup of Heste Sport Inc., who operate Norse Ridge Farm, were thrilled with the Plate Trial performance.
A spot in the starting gate for the Queen's Plate, North America's oldest continually run stakes race, could be on tap for Sir for Sure.
"Thankful to Mark for the preparation, thankful to my wife for having bred this incredible beast, and he just came through as a real classy horse," said René Hunderup. "It's wonderful to be the owner of such a classy horse."
It was the first stakes triumph for the bay gelding, who was second in his career bow, last year's Frost King, and sixth in the Queenston on June 12.
He returned $45.70 for the win and now sports a record of 2-1-0 from five starts.
Fans can track the Queen's Plate Power Rankings on Woodbine Entertainment's social media platforms via @WoodbineTB.
Chris Lomon, Woodbine Communications