TORONTO, March 13, 2019 – Welcome to the 10th edition of the weekly Woodbine Snowbirds Report, now in its eighth year, chronicling the winter adventures of Woodbine-based trainers and jockeys currently plying their trade south of the border.
This week, we check in with trainer Stuart Simon, who sent out Mad Slam to an eighth-place finish at Gulfstream Park on March 7.
Simon is carrying an 11-horse string at Palm Meadows Training Center in Florida this winter, and also has another eight horses, including four two-year-olds, on the farm in Ocala, Florida. Simon has also moved six horses into Woodbine early to get prepared for the 2019 season.
Simon has made just five starts at Gulfstream Park so far this meeting and said his winter efforts are largely focused on getting horses some rest after busy Woodbine campaigns.
"We just regroup down here," he said. "We're getting some to the races."
One of Simon's five starters this winter was Princess Elizabeth Stakes winner and Sovereign Award finalist Bold Script, who finished fifth in the Grade 2 Davona Dale Stakes on dirt back on March 2 at Gulfstream Park. Simon said he had hoped Bold Script would have been a bit closer to the pace in the Davona Dale, which was the filly's three-year-old and dirt debut.
"I wasn't disappointed in the horse at all," he said. "I thought she ran well. I was disappointed with the trip, to be honest. They were going really slow and she was well off of it after the first quarter of a mile. She ran well to run fifth so we weren't disappointed with her effort at all. Probably with a truer paced trip, she would have had a big chance to be third in a Grade 2, which is pretty nice."
Simon added he has been pleased with Bold Script's progression over the winter, after getting some time off following her dominant 7 1/2-length win in the Princess Elizabeth to close out her Woodbine campaign.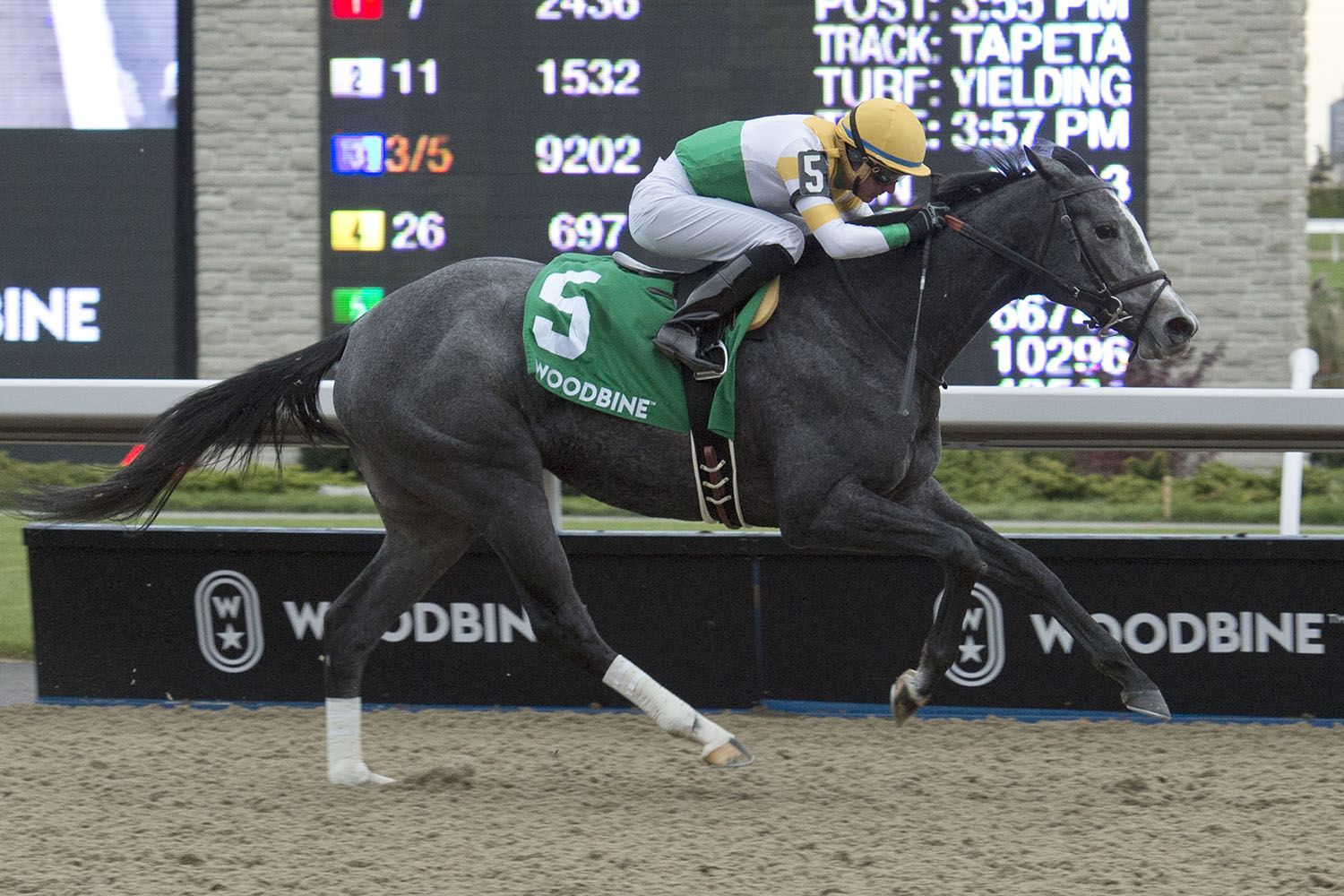 "She has really matured well," he said. "She had about six weeks out of training. She trained fantastic up to that other race and has really done well. She's growing and filled out like you'd like them to do between her two and three-year-old year."
Bold Script could have a big spring and early summer ahead of her, as the Chiefswood Stable homebred is nominated to both the $500,000 Woodbine Oaks Presented by Budweiser and $1 million Queen's Plate at Woodbine. She is among the Queen's Plate Winterbook top 10 picks. Simon said he would point Bold Script towards either the Grade 3 Beaumont Stakes on dirt or the Grade 2 Appalachian Stakes on turf on April 7 at Keeneland for her next start before turning the focus towards the Woodbine classics.
Another Sovereign Award finalist with Simon at Palm Meadows this winter is Yorkton, who was named a finalist in the male sprinter division following a 2018 campaign that saw him win the Grade 3 Bold Venture Stakes. Yorkton returned to the work tab at Palm Meadows on March 6, breezing three furlongs in 36.70 seconds. Simon said he is pointing Yorkton towards the Grade 3, $125,000 Jacques Cartier Stakes at Woodbine on May 4.
"We wanted to give him a nice little rest and regroup, which we did," he said. "He was a boy but he became a man through the winter. He has done really well and has fully matured now. We're really happy with him and we're pointing to run him in the Jacques Cartier."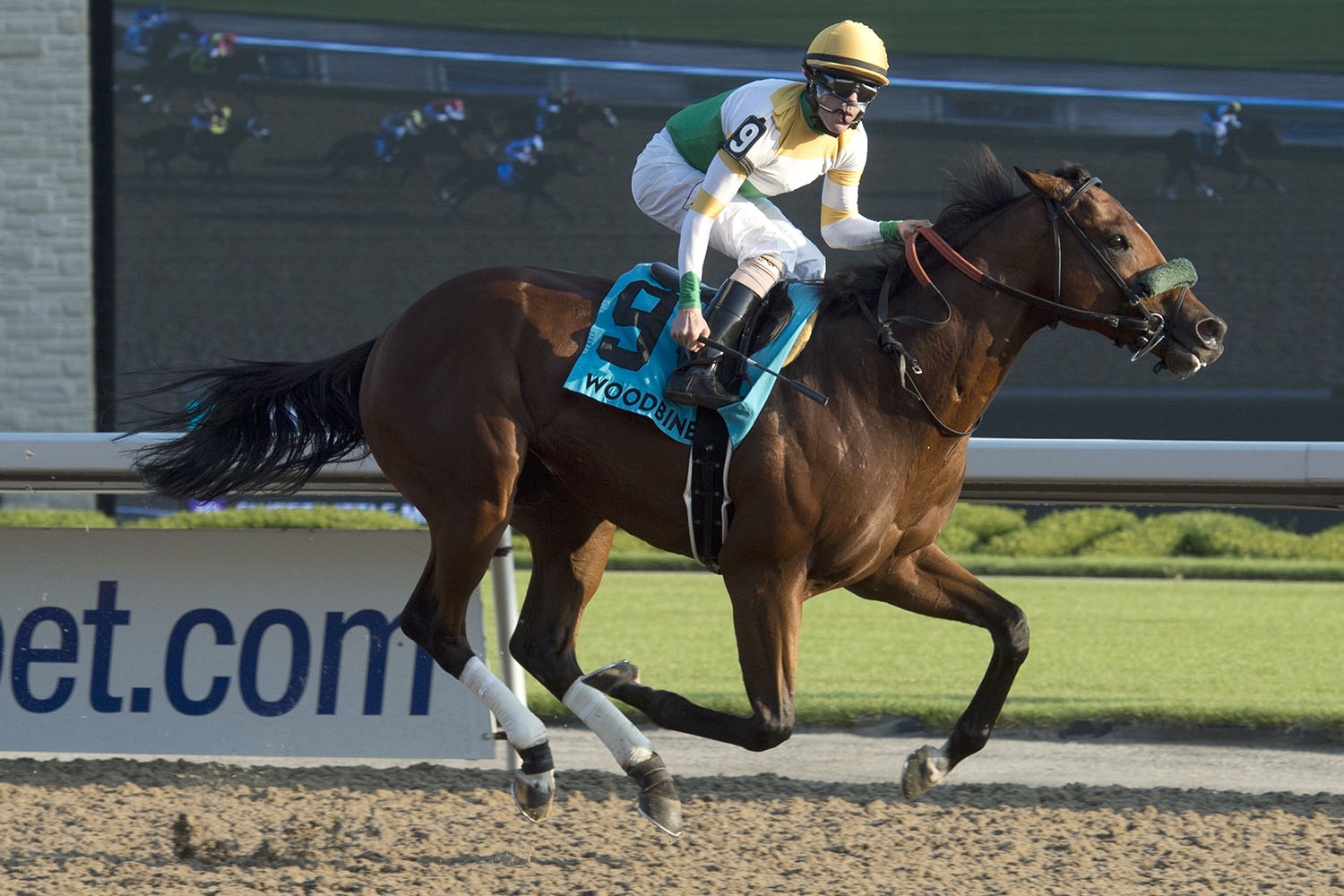 Simon has another three-year-old filly primed for an early stakes start at Woodbine as Sister Peacock will be pointed towards the $100,000 Star Shoot Stakes on April 21, following a pair of runner-up finishes in starter stakes at Gulfstream Park this winter. Most recently, Sister Peacock finished second and was beaten just a nose in the Mrs. Presidentress Stakes on February 18.
Finally, Rose's Vision, a starter in last year's Queen's Plate, is working his way back to the races following a nine-race campaign last year. Rose's Vision even made a couple of trips to New York for races that ended up being canceled and then was sent to Florida for the Tropical Park Derby on December 29. Simon said the added travel likely contributed to Rose's Vision's 13th-place finish in the Tropical Park Derby.
"He had a tough schedule the latter part of the year," he said. "I had him in at Belmont and they canceled because of wind. We were already there so we had to ship back and then we shipped him back to Aqueduct. We had him in and they canceled because of cold weather and took off the turf. We sent him straight down here and the Tropical Park Derby was kind of an after thought. It didn't turn out the way we wanted. He'll be fine with a regroup here."
Simon said Rose's Vision would likely be ready to race at some point in May.
With the Gulfstream Park meet winding down, Simon said he expected to run a couple more times in south Florida before closing day on March 31. From there, he could have a few runners at Keeneland, including Bold Script, before the stable makes its way back to Woodbine for the 2019 season.
***
Six Woodbine trainers made trips to the winner's circle last week, led by Mark Casse, who recorded a pair of stakes wins at Oaklawn Park and Tampa Bay Downs on March 9. At Oaklawn, Casse sent out Chocolate Kisses to a victory in the Grade 3 Honeybee Stakes, while at Tampa, Ontario-bred four-year-old Flameaway captured the Challenger Stakes. Casse also sent out Got Stormy to a win at Gulfstream Park on March 7. In all, Casse recorded three wins from 28 starters last week to go along with five runner-up finishes and one third-place finish. Casse also saddled a pair of Queen's Plate prospects in stakes races at Turfway Park last week, including Federal Law, who was ninth in the Rushaway Stakes, and Skywire, who finished eighth in the Grade 3 Jeff Ruby Stakes.
Kevin Attard recorded a win with Carlos Sixes at Gulfstream Park on March 6. Attard also sent out Piven to a seventh-place finish at Gulfstream on March 10.
Tino Attard sent out Drink in My Hand to victory at Gulfstream Park on March 8.
Drink in My Hand scores in the 7th race, Tony Maragh was the winner rider and Tino Attard was the winner conditioner and owner. #GulfstreamPark #ChampionshipMeet pic.twitter.com/iQRAUxomEc

— Gulfstream Park (@GulfstreamPark) March 8, 2019
Norm McKnight recorded a win from nine starts at Oaklawn Park last week as Agosta won the fourth race during the March 8 card. McKnight also recorded a pair of runner-up finishes from Whispering Speaker (March 7) and Ted W (March 8), and a pair of third-place finishes from Edisto Island (March 8) and Spirit of Caledon (March 9).
Gerald Seymour sent out Rattlesnake Bite to a victory at Parx on March 9.
William Tharrenos recorded a win with Snell Flicka at Gulfstream Park on March 10.
Snell Flicka digs in to score in the last race, Jeffrey Sanchez in the stirrups for trainer William Tharrenos.#GulfstreamPark #ChampionshipMeet pic.twitter.com/Qp4LqP3mY1

— Gulfstream Park (@GulfstreamPark) March 10, 2019
***
Four Woodbine jockeys made trips to the winner's circle last week, led by Luis Contreras, who won six of his 13 starts at Sunland Park. Winners from Contreras included Analyzing (March 5), Little Bones (March 5), C U At Eau Claire (March 5), Judy's Jam (March 10), On the Right (March 10) and Mr Janimal (March 10). Contreras also recorded an additional six in-the-money finishes, which included four runner-up finishes and two third-place finishes.
Ademar Santos recorded three wins at Tampa Bay Downs last week, including Pudding (March 6), Damage Control (March 8), and Mustang Power (March 10). Santos had 14 total mounts last week, and in addition to his three wins, he also recorded one runner-up finish and one third-place finish.
Kirk Johnson connected with Seymour to win with Rattlesnake Bite at Parx on March 9. That was one of three mounts for the week for Johnson, who also rode Jonathan McD (4th) at Parx on March 5 and Cape Ann (DNF) at Aqueduct on March 8.
Chantal Sutherland recorded a win from 18 starts at Fair Grounds last week as she guided Champagne Diva to victory on March 9. Sutherland also recorded two runner-up finishes and three third-place finishes last week.
Rafael Hernandez recorded three in-the-money finishes from 11 starts at Gulfstream Park last week as Kitten's Finest finished second on March 9, and Kettle Valley and Bantu finished third in their respective races during the same card.
Gary Boulanger rode Queen's Plate prospects Federal Law and Skywire at Turfway Park for Casse on March 9, finishing ninth with Federal Law in the Rushaway Stakes and eighth with Skywire in the Grade 3 Jeff Ruby Stakes.
***
Here's a look at how the other Woodbine trainers fared last week, in alphabetical order, starting with Willie Armata, who sent out four runners at Penn National last week and recorded a runner-up finish with Easy Bid on March 8. Other starters from Armata last week included Th Original Scotty (7th, March 7), Ring for Essa (DNF, March 9) and Court Reporter (4th, March 9).
Fafa Fooey finished fourth at Gulfstream Park on March 6 for Sid Attard.
Roger Attfield sent out a pair of starters during the March 9 card at Gulfstream Park, including Music Major (7th) and Eternal Peace (5th).
Steven Chircop recorded an in-the-money finish with Josephine on March 8 at Penn National. In the same race, Chircop also saw Hidden Appeal finish fifth.
Kitten's Finest recorded a runner-up finish at Gulfstream Park on March 9 for Gail Cox.
Mike De Paulo sent out two horses at Gulfstream Park last week, including Oh Danny Bear, who finished second on March 9. Earlier on the March 9 card, Theregoesjojo finished fifth.
Littleroughjustice finished fifth at Gulfstream Park on March 9 for Nick Gonzalez.
Barb Minshall recorded three starts at Tampa Bay Downs last week, which included a third-place finish from Samurai Queen on March 9. Minshall also sent out Get Explicit to a sixth-place finish in the Grade 2 Hillsborough Stakes and Gold Sting to a fourth-place finish during the March 9 card at Tampa Bay Downs.
Dino Three O Nine hit the board with a runner-up finish at Gulfstream Park on March 8 for Steve Owens.
John Simms recorded in-the-money finishes with both of his starters at Tampa Bay Downs last week, including La Dolce Uno, who finished second on March 10, and Wall Street Wolf, who finished third on March 6.