TORONTO, October 3, 2019  – Trainer Kevin Attard serves up the solid one-two punch of Malibu Mambo and More Chances in Sunday's $225,000 Cup & Saucer Stakes, at Woodbine.
A 1 1/16-mile event for Canadian-bred two-year-olds to be contested on the E.P. Taylor Turf Course, the Cup & Saucer has drawn 12 starters.
Attard, in the midst of another strong campaign at Woodbine, will have two opportunities to win the race for the second time in his career. In 2006, Leonnatus Anteas took top honours in a time of 1:45.58.
Malibu Mambo, a dark bay son of Point of Entry, arrives at Saturday's stake off a superlative first start on August 31 at Woodbine.
Under Rafael Hernandez, the Stronach Stables homebred swept to the lead in the stretch, and went on to notch a 2 ½-length score in the seven-furlong main track race.
"Malibu Mambo was working really well prior to his first race," noted Attard, who has 38 wins on the season and 447 wins overall. "He won first time out kind of like we expected him to. He's worked back really well in the interim, and we're very excited to get him going again. He was on the turf a couple of weeks ago, and I thought he moved over it lovely, just effortlessly.
"We've had a lot of rain this week, so you always wonder that if there's a little give to it (turf) how he'll like that, but we're very happy with him."
Attard was pleased to see Malibu Mambo run to expectations in his debut.
"He did it like I thought he would. He sat patiently, made his move, and looked good down the stretch. He showed a lot of that in the morning. It's nice when they do that in the morning, and they replicate it in the afternoon."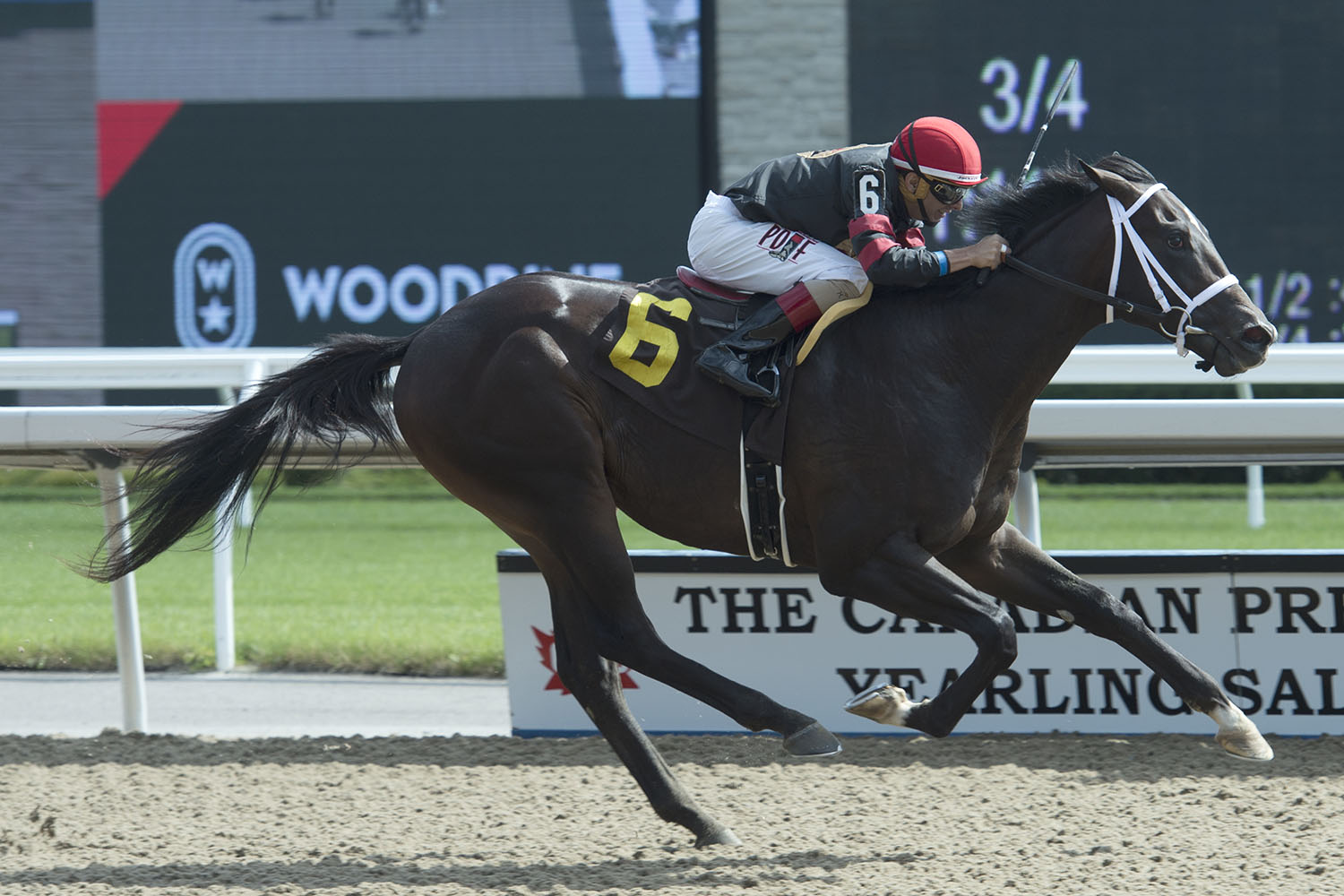 More Chances, bred and owned by Garland Williamson (Hillsbrook Farms) enters the Cup & Saucer off a second-place effort at six furlongs over the Woodbine turf on September 2.
With Eurico Rosa Da Silva in the irons, the son of Hard Spun rallied but couldn't catch the winner Clear Destination.
"He's a nice colt as well," said Attard. "He and Malibu Mambo had been work partners for a long time, but then we separated them a little later on. He ran really well first time out. The winner won fairly easily, but we were a solid second. I was happy with the way he performed that day. I thought he galloped out really well, and he also had a great work last week (five furlongs, :59.40, breezing, over the Tapeta on September 29).
"He's shown a lot of maturity, this horse. I thought he was a little green the first time out, kind of looking at the grandstand. Hopefully, he'll get over that little greenness. We're expecting a good race out of him as well."
Attard doesn't believe the 1 1/16 miles will be an issue.
"It doesn't seem like it. The way he's worked – he's a pretty smart horse and I think he'll settle well. If he does, it will make life easier for him, stretching out. Eurico has been on him a few times and he's really happy with him. We're hoping to take the next step."
Jockeys Luis Contreras, Patrick Husbands, and Eurico Rosa da Silva have combined to win the last eight runnings of the Cup & Saucer. Contreras won in 2013 and 2014, da Silva has taken the last three editions, and Husbands was victorious in 2011, 2012, and 2015.
Last year, Ivan Dalos' Avie's Flatter won the race in a time of 1:45.20.
The Cup & Saucer is slated as race eight on Sunday's 10-race card. First post time is 1:05 p.m. Fans can watch and wager on all the action via HPIbet.com.
$225,000 CUP & SAUCER STAKES
Post – Horse – Jockey – Trainer
1 – More Chances – Eurico Rosa da Silva – Kevin Attard
2 – Fantastic Breeze – Leo Salles – Alex McPherson
3 – Northern Thunder – Kazushi Kimura – Sid Attard
4 – Cryptic Grip – Omar Moreno – Mike Mattine
5 – Muskoka Gold – Jerome Lermyte – Mark Casse
6 – Pleasecallmeback – Patrick Husbands – Roger Attfield
7 – Perfect Revenge – Jesse Campbell – Stuart Simon
8 – Kunal – Alan Garcia – Steven Chircop
9 – Muskoka Giant – Jerome Lermyte – Mark Casse
10 – Barilko – Luis Contreras – Catherine Day Phillips
11 – Goldmine Cat – Gary Boulanger – Mark Casse
12 – Malibu Mambo – Rafael Hernandez – Kevin Attard