TORONTO, June 27, 2019—Souper Tapit, who remained undefeated in two starts at Woodbine when capturing the Grade 2 Eclipse Stakes at 1 1/16 miles on May 20, will be looking to keep that streak alive when he stretches out to 1 1/4 miles for Sunday's Grade 3 Dominion Day Stakes.
The Dominion Day, a 1 1/4-mile race which offers a purse of $125,000, attracted a field of six.
Souper Tapit, a homebred five-year-old who races for Charlotte Weber's Live Oak Plantation, registered his first stakes win here two years ago in the Grade 3 Marine at 1 1/16 miles.
The Tapit horse, who was close on several occasions but winless in his next nine starts, got back on target at Gulfstream Park last December and followed up with a sharp score in Gulfstream's 1 1/8-mile Sunshine Classic for Florida-breds.
Moving on to Oaklawn's Grade 3 Razorback Handicap and then the Grade 2 New Orleans Handicap at the Fair Grounds, Souper Tapit was compromised by less than desirable starts but he has worked very well since returning to Woodbine and was full value for his Eclipse score.
"We think he really wants a mile and a quarter, a mile and a half," said trainer Mark Casse, who will be seeking his fourth Dominion Day victory.
"I've always thought he was a really good horse, but he gets in his own way and sometimes he gets himself in trouble. He's just a hit-and-miss horse. You just never know what you're going to get with him. If things go his way, he's extremely tough."
Patrick Husbands, who rode Souper Tapit for the first time in the Eclipse, retains the mount.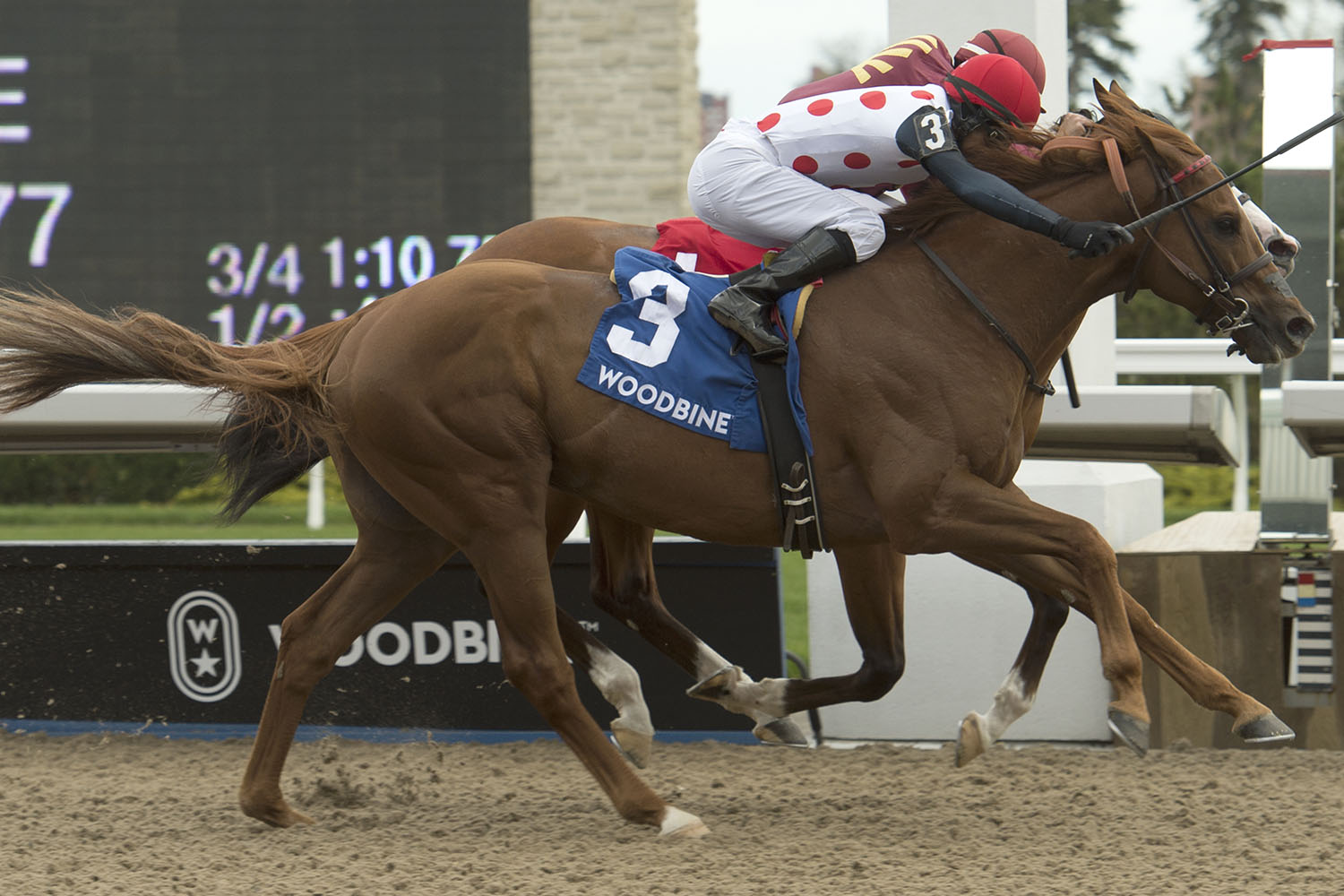 Trainer Kevin Attard will field the formidable duo of Special Forces and Pumpkin Rumble for the Dominion Day.
Special Forces, claimed for $40,000 here early last fall, was victorious in his first two starts for his new connections and picked up where he left off with a decisive victory at 1 1/16 miles on May 18. This will be his first start beyond 1 1/8 miles on a main track.
"What can you say?" said Attard, who also owns Special Forces in partnership with Soli Mehta. "He's three-for-three on the synthetic now. Obviously, he's got to go a mile and a quarter now, but he seems to be a horse that can turn off early, so I don't see the distance being a problem.
"His first race off the winter layoff was stellar, and he's worked really well in the interim. We're excited. I think he's a very special horse."
Pumpkin Rumble, claimed for $30,000 from his second career start at the Fair Grounds back on March 5 2014, joined Attard's stable here in the spring of 2017 also finished with a flourish last fall as he carved out a triple capped by the Grade 2 Valedictory at 1 3/4 miles.
The eight-year-old gelding English Channel gelding, owned by Al and Bill Ulwelling, will be making his seasonal bow.
"Obviously, going a mile and a quarter off the layoff, it's a big challenge," said Attard. "Ideally, we would have liked to have had a start beforehand but he suffered a setback earlier in the spring.
"He's training really well; we've got a couple of good works into him. I think he's up to the task. Hopefully, he's tight enough. As a synthetic horse, he's been so good."
Trainer Roger Attfield has two for the road here in Are You Kidding Me and Final Copy.
Are You Kidding Me, the senior member of the field at age nine, has finished third in each of the past two editions of the Dominion Day. An eight-time stakes winner, Are You Kidding Me has continued to display sharp form here for trainer Roger Attfield including a last-out second-place finish at 1 1/8 miles.
"He's coming into the race fine," said Attfield. "He might have lost a little bit of the zip that he had, but he's still running creditably. He's sound, and well. He galloped out really, really strongly the other day when he ran. He deserves a shot at this."
Canada's champion older male in 2015 and 2016, Are You Kidding Me races for Mike Riordan, Ron Kirk and John Bates.
Final Copy, a Chiefswood Stable homebred, will be making his first start on a synthetic surface and is coming off his second 1 1/4-mile turf win.
"He's worked creditably on the synthetic, and that was my reasoning," said Attfield. "I said, 'Let's give him a go at it.'"
Aheadbyacentury, who races for JC Stable and Jack of Hearts Racing, will be returning to the distance of his best career effort, a second-place finish behind subsequent Canadian Horse of the Year and champion three-year-old filly Wonder Gadot in the 2018 Queen's Plate.
Also second behind Wonder Gadot in Fort Erie's 1 3/16 mile Prince of Wales and winner of the 1 1/8 mile Coronation Futurity here as a two-year-old, Aheadbyacentury has a couple of starts under his belt including an encouraging third-place finish at 1 1/8 miles in his latest.
"His first start, at seven furlongs, he kind of needed that," said trainer John Ross. "He got a lot out of that last race. I liked the way he kept closing, and he came out of it really well.
"A mile and a quarter is his distance."
Here is a look at the completefield in post position order:
$125,000 Dominion Day Stakes (Grade 3)
PP/Horse/Jockey/Trainer
1/Souper Tapit/Patrick Husbands/Mark Casse
2/Final Copy/Steven Bahen/Roger Attfield
3/Aheadbyacentury/Luis Contreras/John Ross
4/Special Forces/Alan Garcia/Kevin Attard
5/Pumpkin Rumble/Eurico Rosa da Silva/Kevin Attard
6/Are You Kidding Me/Rafael Hernandez/Roger Attfield