TORONTO, October 31, 2019 – Multiple graded stakes placed Special Forces takes on seven rivals in Sunday's Grade 2 $175,000 Autumn Stakes, one of two added-money offerings ($100,000 Glorious Song Stakes) on Woodbine's 10-race card.
Trained by Kevin Attard, four-year-old Special Forces will look to go one better after consecutive runner-up stakes efforts.
The son of Candy Ride arrives at the 1 1/16-mile main track Autumn off a nose loss in the Grade 3 Durham Cup on September 28 at the Toronto oval.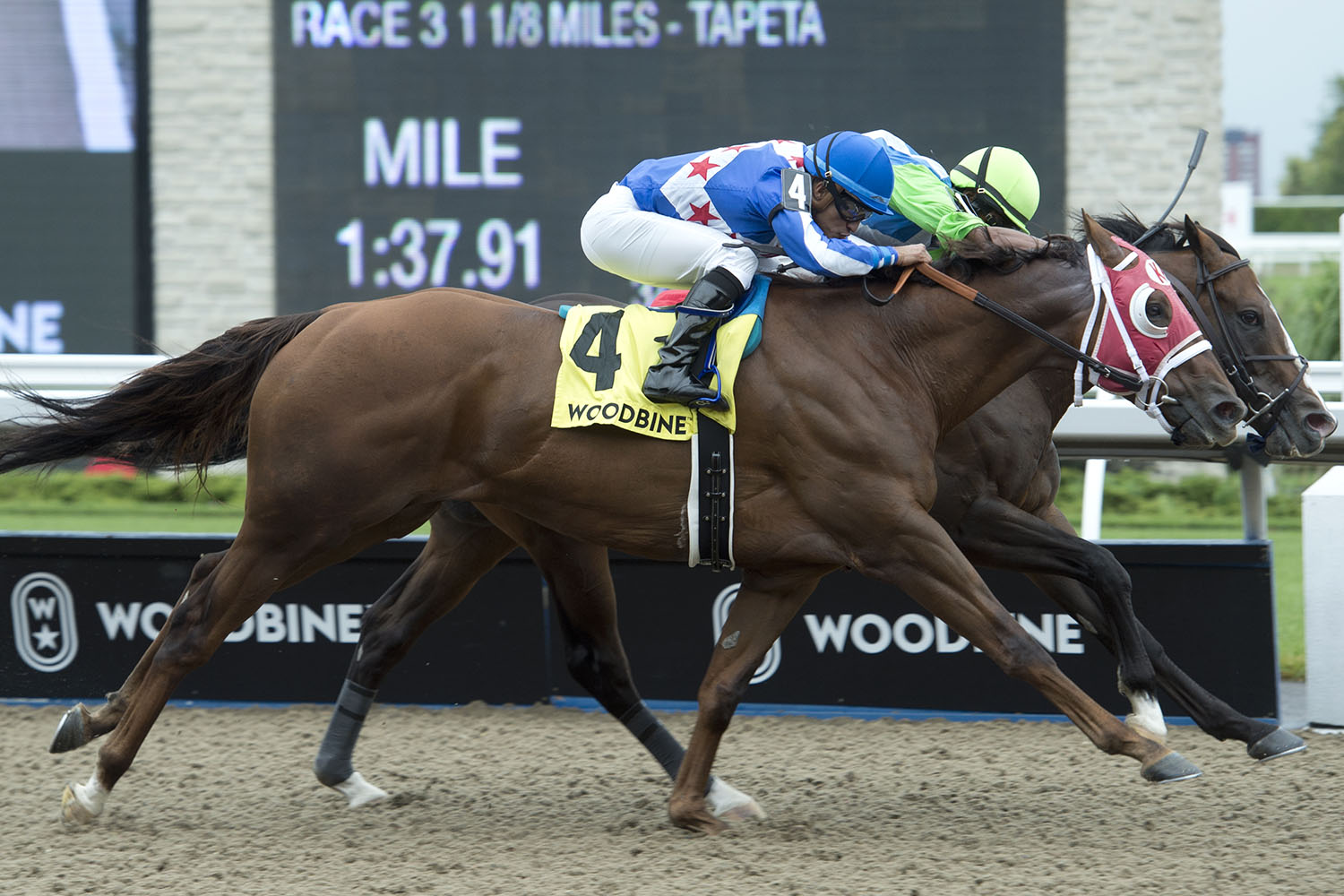 One race earlier, on September 9, the Kentucky-bred finished second to Mr Ritz, who will also contest the Autumn, in the Presque Isle Downs Mile – run at 1 1/16-miles. Mr Ritz, a homebred for Earle Mack, set a track record in the $200,000 event, crossing the wire in 1:41.91.
Attard, who co-owns with Soli Mehta, anticipates another strong showing from Special Forces on Saturday.
"He's a very honest horse and very consistent. In some races, he's suffered from a lack of pace and he's had to come from so far back. That's meant he's had to go wide a lot of the times, which has hurt him a bit. He's been running against top competition, too. Mr Ritz has gotten the better of him a couple times this year, so we're hoping to turn the tables on him and others this time."
Special Forces, who went winless in his first five career races – all run in the U.S. – came to Woodbine last July, and finished sixth in his Canadian debut.
Since that effort, the chestnut has four wins, four seconds, and a third from 10 starts. This season, Special Forces is 1-3-1 from five starts.
Bred by Machmer Hall, Carrie Brogden and Craig Brogden, the gelding will be making his first Grade 2 appearance. He was second in the Grade 3 Dominion Day on June 30, third in the Grade 3 Seagram Cup in August, and second in the aforementioned Grade 3 Durham Cup.
"He's a good-feeling horse," said Attard, who has 48 wins on the season, and 457 victories overall. "He does what you ask of him, and he's certainly done that for us. It's always nice when they lay it all out there every time. He had a good work (five furlongs, breezing, in 1:00.20 on the Tapeta) last week. I was really happy with him. He looks great, he's training well, he's in the feed tub, and he likes the cooler weather. We're optimistic."
A familiar face will be back on Canadian soil, at least for the weekend.
Jockey Jesse Campbell, who announced his retirement on October 14, will be in the saddle for Woodbine's Saturday and Sunday cards.
The multiple graded stakes winning rider, who teamed with Midnight Aria to win the 2013 Queen's Plate, will partner Sir Anthony, a four-year-old Illinois-bred owned by Richard Otto Stables and trained by Tony Mitchell, in the Autumn.
"It's crazy how it worked out," said the lifetime winner of 2,337 races. "The 14th was supposed to be my last day, and on the 11th, or somewhere around then, Tony (trainer, Mitchell) called me about riding this horse. He had no idea what my plans were. Tony was my very first job in the racing industry. He was working for Dick Duchossois, the owner of Arlington. He was working at his farm, and Tony was in charge of the two-year-olds in training. And that was my first job. I galloped horses for him when I was 15, before I could get my jockey license at 16.
"As the years went by, I rode a lot of stakes winners for Tony. I've been riding for him since I started. I told him, 'On the 14th, I'm going back to Chicago, and I have to go to North Carolina to train for my new business (Aire Serv, residential heating and cooling).' I told him I wasn't going to ride for three weeks, and if he was okay with me being out of the game for a bit, and then flying back to ride the horse, I'd be happy to do it for him. He said, 'No problem.'"
Last Saturday at Hawthorne, Campbell worked horses for Mitchell, and then rode three races.
He won twice, including a memorable triumph aboard Patch's Lugh, a three-year-old Kentucky-bred gelding trained by another familiar face.
"One of the wins was for my twin brother (Joel)," noted Campbell. "So that was a really neat experience. That makes four generations of Campbells that I've been able to win a race for. Usually, I'm the crier of the bunch, but my brother was crying, my mom and dad were crying, and my wife was crying. To get that win… it was pretty cool.
"And now, to get to come back to Woodbine for the weekend, it's going to be a lot of fun. It will be emotional, but it will be fun. You know how this business is – it changes from day to day. It's going to be a crazy. I fly back Sunday night and literally, on Monday, our business goes live."
Perhaps Campbell can recreate what he experienced on October 12 at Woodbine.
In the Grade 2 $280,900 Nearctic Stakes, Campbell guided City Boy, the second-to-longest shot on the board at 24-1, to win the six-furlong turf event by a head.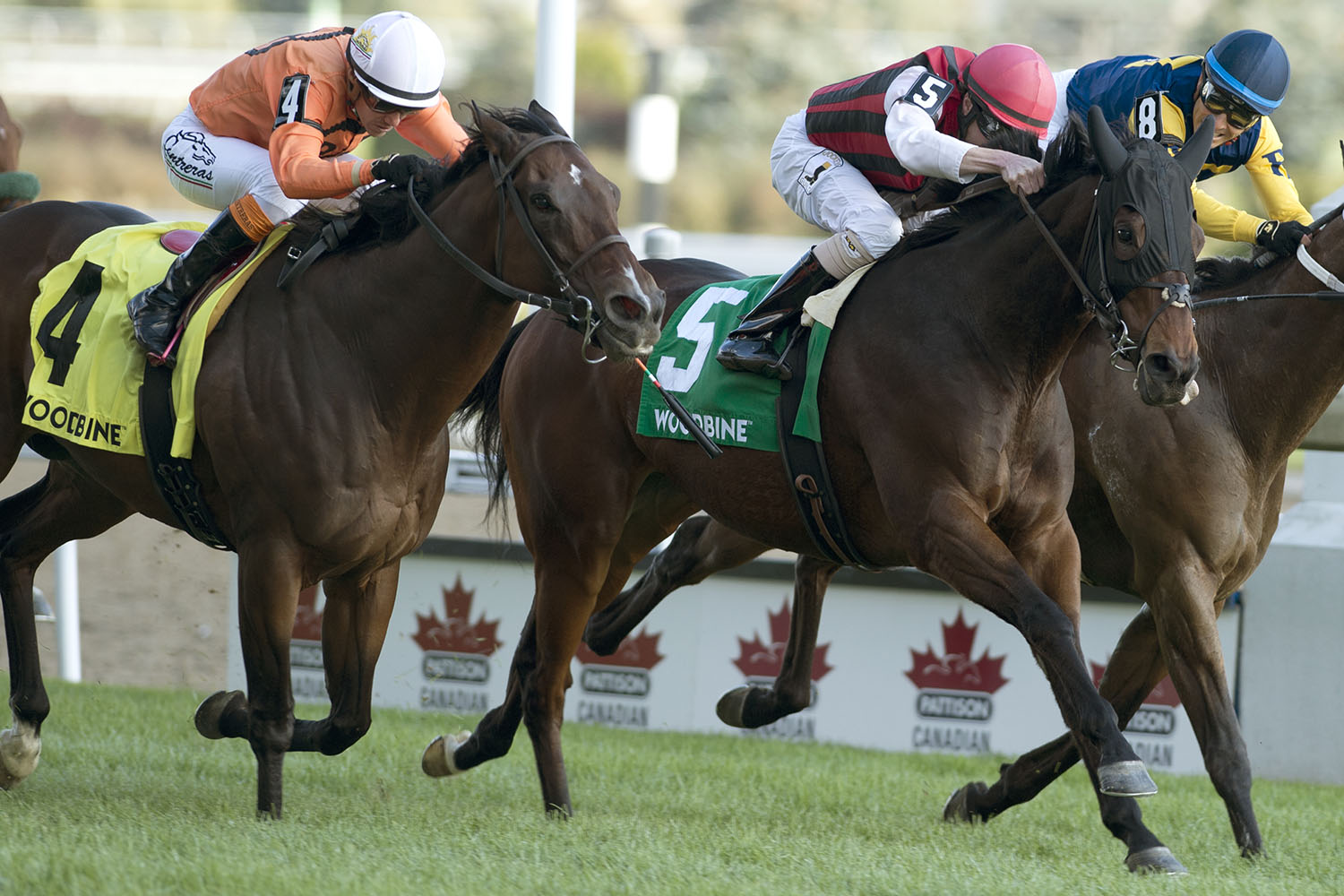 Campbell has six mounts on Saturday, and four on Sunday, including Glorious Song Stakes starter Ann of Cleves for trainer Ricky Griffith. Campbell guided the two-year-old Verrazano-Awesome Lass filly to a maiden-breaking score on October 12 at odds of 17-1. She is a half-sister to 2015 Sovereign Award winner Academic and 2012 Wonder Where Stakes champion Awesome Fire.
Are You Kidding Me won consecutive (2015-16) editions of the Autumn. Last year, Sean and Dorothy Fitzhenry's Mr Havercamp won the Autumn in a time of 1:42.36.
Trainer Mark Casse has won eight editions of the Glorious Song, including three straight scores on two occasions. The Canadian Horse Racing Hall of Fame inductee has taken five of the last six runnings and sends out a pair of starters in this year's edition (Battleofwinterfell and Tortuga). Last year, Souper Charlotte won in a time of 1:23.60.
The Autumn is slated as race eight on Sunday's 10-race card. The Glorious Song goes as race three. First post time is 1:05 p.m. Fans can also watch and wager on all the action via HPIbet.com.
$175,000 AUTUMN STAKES (GRADE 2)
Post – Horse – Jockey – Trainer
1 – Say the Word – Steven Bahen – Gail Cox
2 – Sir Anthony – Jesse Campbell – Anthony Mitchell
3 – Mr Ritz – Patrick Husbands – Josie Carroll
4 – Salute With Honor – Jerome Lermyte – Mark Casse
5 – Special Forces – Eurico Rosa da Silva – Kevin Attard
6 – Isotherm – Kazushi Kimura – James Lawrence
7 – Admiralty Pier – Rafael Hernandez – Barbara Minshall
8 – Cooler Mike – Justin Stein – Nick Nosowenko
$100,000 GLORIOUS SONG STAKES
Post – Horse – Jockey – Trainer
1 – Battleofwinterfell – Jerome Lermyte – Mark Casse
2 – Ima Beast – Justin Stein – Harold Ladouceur
3 – La Paquita – Eurico Rosa da Silva – Catherine Day Phillips
4 – Ann of Cleves – Jesse Campbell – Ricky Griffith
5 – New York Groove – Pablo Morales – Michael Trombetta
6 – Tortuga – Patrick Husbands – Mark Casse
7 – Mom's Red Lipstick – Rafael Hernandez – Chris Block