TORONTO, September 14, 2019 – Starship Jubilee went to the front and never looked back en route to a 4 ¼-length victory under jockey Luis Contreras in the $250,000 Canadian Stakes Presented by the Japan Racing Association at Woodbine on Saturday.
The win was the second straight for the six-year-old in the Grade 2 Canadian, a mile and an eighth turf race for fillies and mares which attracted a field of seven.
Bouncing out of the gate on top, the Kevin Attard-trained Starship Jubilee quickly opened up with Dixie Moon in closest pursuit.
"Kevin told me just to let her break and if they let me go to the lead easy enough, just go," said Contreras, who was aboard for the 2018 Canadian conquest and had ridden Starship Jubilee to second-place finishes here in the Grade 2 Nassau and Dance Smartly Stakes this year.
"This one, when she's behind horses, it's kind of tough to make her relax but once she relaxes and comes from behind, she's very aggressive at the end. But today with the conditions of the race and the filly, Kevin brought her in here really, really sharp. It doesn't matter where you put them when a horse is this great."
Attard had high praise for his talented turf specialist, who had journeyed to Saratoga for a close third-place finish in the Grade 2 Ballston Spa over a mile and a sixteenth on August 24.
"She's been consistent all year," said Attard. "A mile and a quarter is a tad far for her, probably not her best. I think a mile and an eighth hits here square between the eyes there so when we do run her a mile and a quarter, we do have to ride her and think a little differently. Obviously today, there wasn't any pace and I figured if they were going to let us have the lead, we would take it. She came off a great race at Saratoga, I thought she ran really well. And she came back to work well in the interim. She put it all together."
The Canadian is the major local prep for the Grade 1 E.P. Taylor, a $600,000 race for fillies and mares which will be run here October 12. Starship Jubilee did not quite stay out the 10-furlong Taylor trip last year but was beaten only a length and a half as the fourth-place finisher.
"It definitely complicates things, " said Attard. "With the E.P. Taylor being in your own backyard, it's always very tempting. We'll nominate for it and hopefully she comes out in good order and we'll talk it over and decide from there."
Magnetic Charm, the junior member of the field at age three, trailed early but closed nicely on the outside to nail down second place in a three-way photo with Kazushi Kimura aboard. The English invader, trained by William Haggis, is owned by Her Majesty, Queen Elizabeth II.
Competitionofideas, the 8-5 favourite while invading from New York for trainer Chad Brown, was along for the show,  a nose behind the runner-up and a neck to the good of Holy Helena.
Dixie Moon, Giovanni Blues and Touriga rounded out the order of finish.
Starship Jubilee stopped the clock in 1:45.84 over a course rated yielding. Her fractions were :24.64, :49.09, 1:11.79 and 1:34.01.
"The course feels great right now," said Contreras.  "It's in perfect condition."
Starship Jubilee has been a Cinderella story for Attard, recording her sixth stakes win since being claimed for $16,000 at Gulfstream by Tino Attard, his father and fellow trainer, on his behalf at Gulfstream Park in the winter of 2017.
The Florida-bred daughter of Indy Wind had been offered at the Keeneland breeding stock sale last fall with a reserve of $425,000 but failed to meet that price and was purchased privately thereafter by Blue Heaven Farm.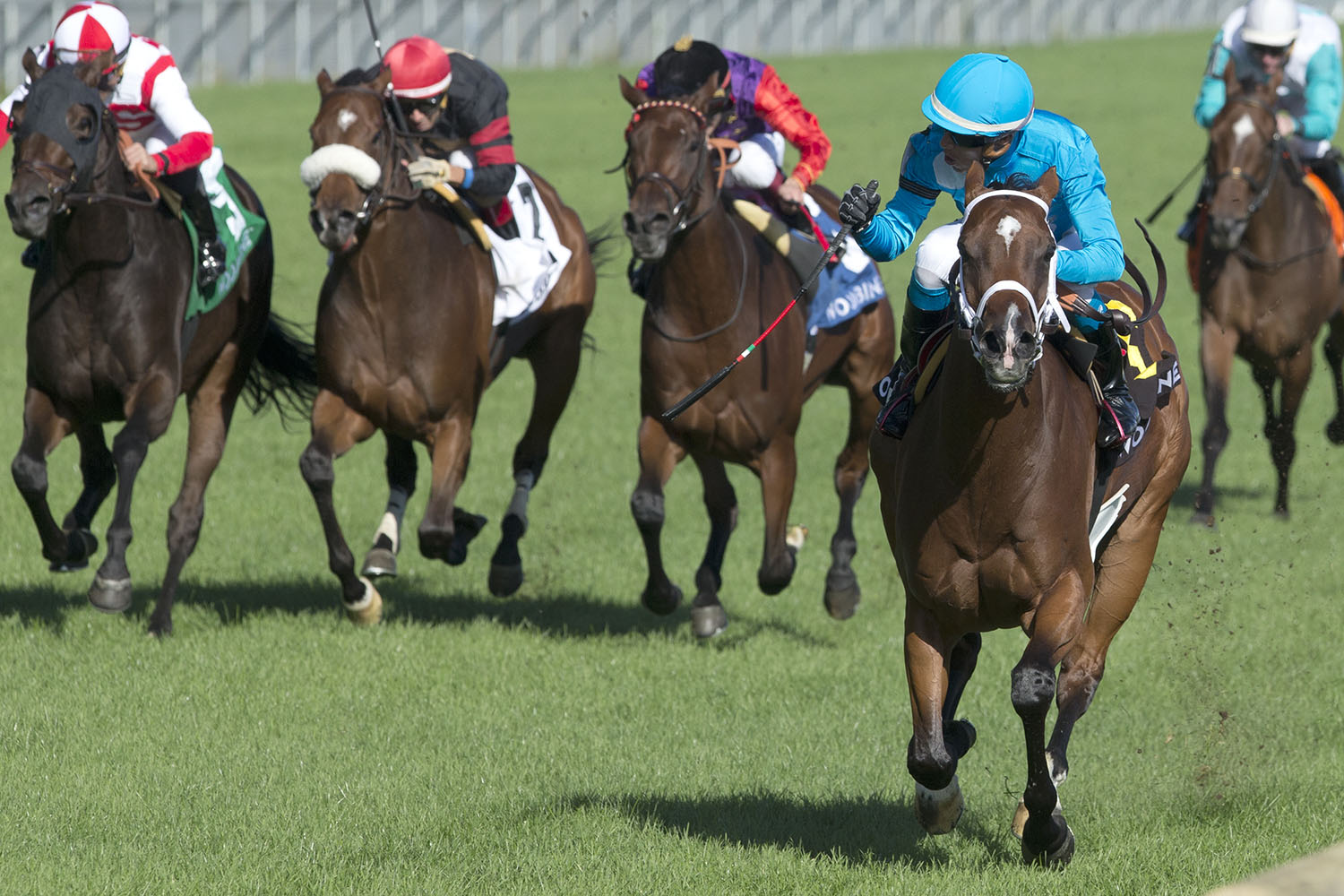 The winner returned $6.40, $3.70 and $2.60 as the second choice and combined with Magnetic Charm ($5.30, $3.50) the 9-2 third choice, for a 6-3 exacta of $34.00. Competitionofideas ($2.30) rounded out a 6-3-5 trifecta worth $48.70 and Holy Helena bottomed a 6-3-5-2 superfecta of $110.00 for $1
The Canadian Stakes was the third leg of the new "Ladies of the Lawn" stakes series, which began with the Nassau and Dance Smartly and will conclude with the Grade 1 E.P. Taylor Stakes on Canadian International Day, October 12. The overall winner, based on points, will be in line for a $75,000 bonus.
Starship Jubilee is the current leader with 24 points.