TORONTO, October 12 – Starship Jubilee, under Luis Contreras, surged to the lead at the top of the stretch, and went on to take all the spoils in the 63rd running of the Grade 1 $603,200 E.P. Taylor Stakes for fillies and mares, Saturday at Woodbine.
It was mutuel favourite Red Tea who came away with the lead after a cavalry charge into the first turn of the 1 ¼-mile E.P. Taylor. Contreras and Starship Jubilee pressed to the outside, as the pacesetting duo took their eight rivals through an opening quarter-mile in :26.50.
Red Tea was a length to the good after a half-mile timed in :52.07, as a patient Contreras kept his charge well-positioned. Holy Helena, the 2017 Queen's Plate champion was third, while British-bred Imperial Charm sat fourth.
After the three-quarters mark, with Red Tea still holding a one-length lead, Starship Jubilee was asked for her best run, and the six-year-old daughter of Indy Wind responded with a strong turn of foot that put her in charge by two lengths at Robert Geller's stretch call.
German-bred Durance, efficiently ridden by Lucas Delozier, and always well placed, soon picked up the chase, as did fellow outsider Platane. But the pair was left to toil for runner-up honours as Starship Jubilee stayed strong in the final yards.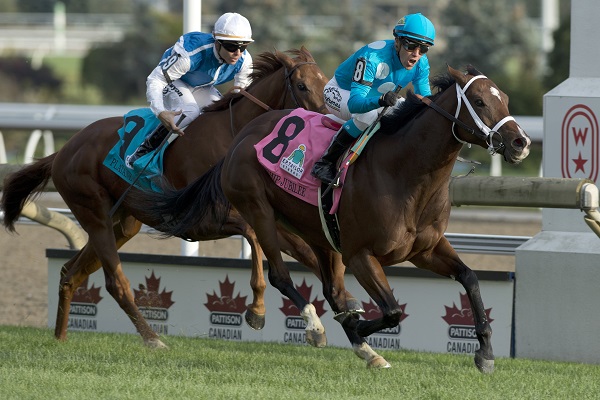 At the wire, Starship Jubilee, claimed for $16,000 on Attard's behalf by his father and fellow trainer, Tino Attard, at Gulfstream in February of 2017, was a length in front of Durance, who was a head in front of Platane. Imperial Charm settled for fourth.
The final time was 2:03.29 over "good" turf.
"It being a mile and a quarter is always tough, but it being a Grade 1 and being in our backyard, that kind of helps soften the blow," said trainer Kevin Attard. "She was so convincing when she won her last start (the Grade 2 Canadian Stakes) and she came out of that race in great shape. She's worked really well in the interim and Luis gave her an incredible ride today. I've been fortunate to make some good claims in my career but… she's the pinnacle right now. This is my first Grade 1 win and I want to thank Adam and Bonnie of Blue Heaven Farm for buying her and allowing me to train her."
It was sweet redemption for the Florida-bred Starship Jubilee, who finished fourth in last year's E.P. Taylor.
"Last time (in the Canadian), she relaxed really nice going 1 1/8-miles and today, (Kevin) told me if they want to give you the lead, take the lead, but she didn't need the lead to win this race," offered Contreras. "This filly came out really well trained and she was amazing today. She always gives me something no matter what at the end and I just was so comfortable on the last turn. When I saw no one was coming close to us on the front end, I was just waiting for the stretch to make a run and she just exploded."
The Blue Heaven Farm silk bearer came into the race off an outstanding victory in the aforementioned Grade 2 Canadian Stakes on September 14, an authoritative 4 ¼-length win in the 1 1/8-mile grass event.
A date in the Breeders' Cup could become a reality.
"It might be on the table now," said Attard.
Holy Helena, Si Que Es Buena, Gaining, Red Tea, A. A. Azula's Arch and Secret Message rounded out the order of finish.
The E.P. Taylor was the final leg of Woodbine's new Ladies of the Lawn Series, which offers $75,000 in bonuses to the top performers based on points accumulated in designated graded turf routes for fillies and mares.
The series also included the Grade 2 $175,000 Nassau Stakes (won by Secret Message), the Grade 2 $175,000 Dance Smartly Stakes (won by Holy Helena) and the Grade 2 $250,000 Canadian Stakes (won by Starship Jubilee).
Heading into today's race, Starship Jubilee (24 points), Holy Helena (13) and Secret Message (10) held the first three spots in the standings.
By virtue of her lead – the winner of each designated race receives 10 points – Starship Jubilee's connections are the recipients of the $50,000 first-place bonus. She topped all rivals with 34 points. Holy Helena's fifth-place finish in the E.P. Taylor secured second spot (15 points, $15,000 bonus), while Secret Message (11 points) earned her connections the $10,000 third-place bonus.
Starship Jubilee returned $9, $5.30 and $3.60 and fronted an 8-6 exactor with Durance ($8.80, $5.30) that returned $115.90. Platane ($8.50, to show) completed an 8-6-9 triactor worth $785.80 and Imperial Charm completed a $1 superfecta of 8-6-9-7 that came back $5,034.95.