TORONTO, August 22, 2019 – Anne and William Scott's Summer Sunday goes in search of her fourth straight added-money score in Sunday's Grade 3 $125,000 Seaway Stakes, at Woodbine.
A four-year-old Ontario-bred daughter of Silent Name, Summer Sunday rolls into the seven-furlong feature on the second three-race win streak of her career.
The Stuart Simon trainee kick-started her natural hat trick with a victory in the Ballade Stakes on May 11, and followed it up with a pair of graded triumphs, the Grade 3 Hendrie on June 9, and most recently, the Grade 2 Royal North on July 21.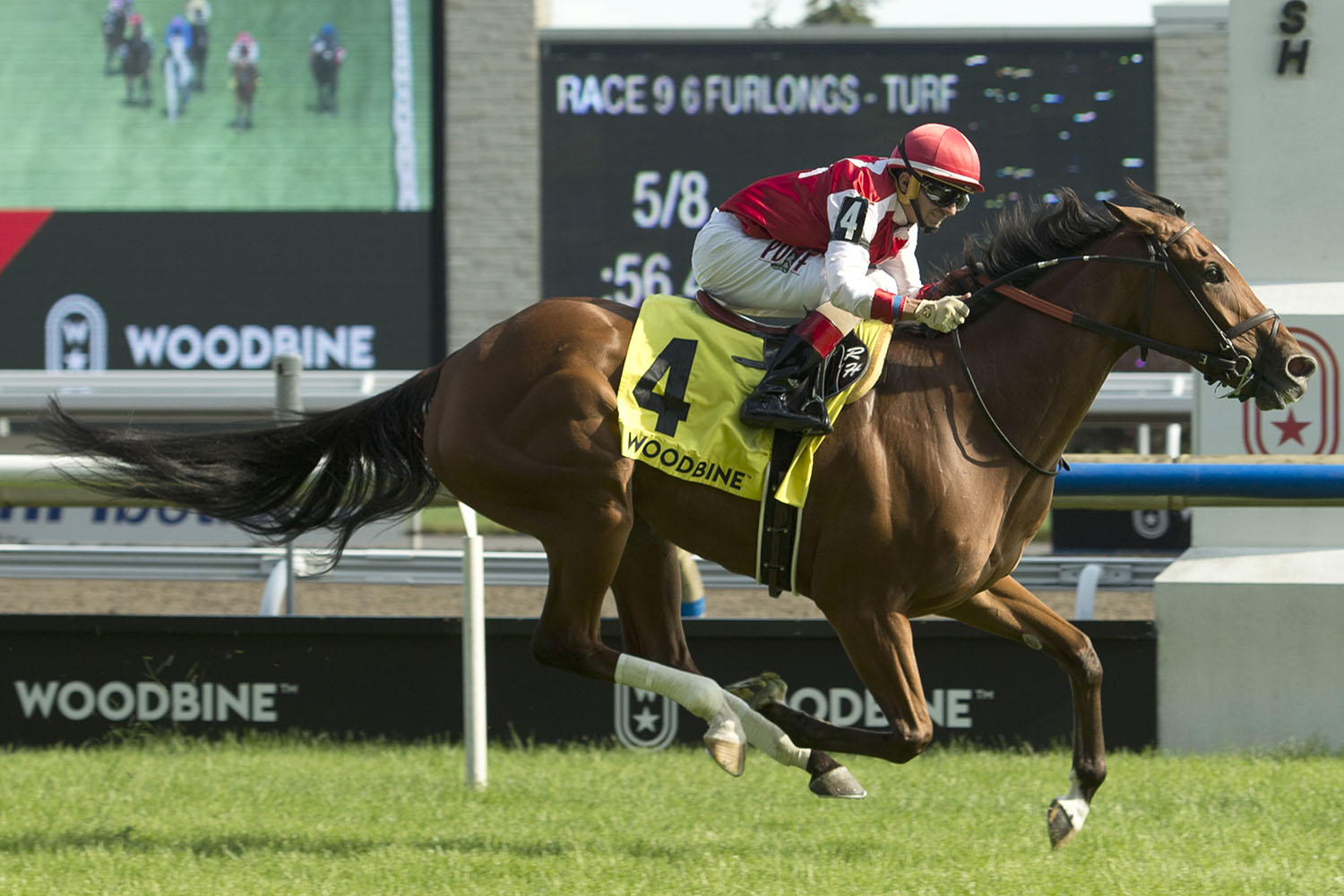 Bred by Trinity West Stables Ltd., Summer Sunday now has seven wins – all at Woodbine – from nine career starts.
Three consecutive wins. All stakes. Undefeated at Woodbine. Racing on a Sunday. Have the stars all aligned for the bay?
"Hopefully," said Simon. "Everything seems good with her, just as good or even better than she's been all year. Hopefully we get a fair chance. I think she'll show up and be the same horse she's been."
Summer Sunday debuted in the summer of 2017, winning her first start, a five-and-a-half furlong main track race at the Toronto oval, by five lengths.
She then went on to take back-to-back stakes events, the Nandi on August 6 of that year, and the Muskoka Stakes, 24 days later.
"Before her first race, I knew she could really run," recalled Simon. "And after that first win, how she did it so easily, I thought, 'Well, we do have a nice horse on our hands.' And she's continually progressed and progressed. By the end of her two-year-old season, her numbers had just kept going up."
Summer Sunday raced just twice last year, finishing ninth in the Grade 3 Beaumont Stakes on April 8 at Keeneland, and then a win in the Fury Stakes three weeks later at Woodbine.
"She had her setback last year, but we gave her lots of time," offered Simon, who trained and co-owned 2011 Seaway winner Atlantic Hurricane. "She trained so well in Florida over the winter. We were really happy with that."
After a fifth-place finish at Keeneland this April, Summer Sunday began her current three-race unbeaten streak.
"Horses that continue to win like that get so much confidence. They seem to conduct their everyday business and everything with more and more style. They are like a human athlete that gets on a roll – they just get so much confidence."
Simon, who has recorded 806 career wins, hasn't nearly run out of superlatives for his stable star.
"She's always been such a professional-acting horse and she just seems to do her thing and do whatever you ask of her, regardless of the surface, running style or distance. I don't think you ever get tired of connecting with a horse like that."
Last year, Zilli Racing Stables' Code Warrior teamed with jockey Jesse Campbell to win the Seaway at odds of 7-1. Prospective Dolly won three editions of the race (1991-92, 1994). Jockey Robin Platts won six runnings, and owner Conn Smythe has four Seaway victories.
The Seaway is scheduled as race eight of 10 on Sunday's 1:05 p.m. program.
Fans can also watch and wager on all the live action via HPIbet.com.
$125,000 SEAWAY STAKES
Post – Horse – Jockey – Trainer
1 – Double Medal – Justin Stein – Michael De Paulo
2 – Summer Sunday – Rafael Hernandez – Stuart Simon
3 – Alnilah – Patrick Husbands – Terry Jordan
4 – Mystic Nile – Luis Contreras – Steve Attard
5 – Katie Baby – Eurico Rosa Da Silva – Catherine Day Phillips
6 – Now Play Nice – Kazushi Kimura – Ashlee Brnjas
7 – Devine Mischief – Jesse Campbell – Norm McKnight