TORONTO, June 27, 2018 – Telekinesis, who ran up to his notices with a solid victory in the 1 1/8-mile Plate Trial here June 9, looms as the one to beat in Saturday's $1 million Queen's Plate.
The Queen's Plate, Canada's most famous race, offers a purse of $1 million and has attracted a field of 16 Canadian-bred 3-year-olds, the largest since 2011. This will be the 159th running of the Queen's Plate, the oldest annually-run race in North America.
The 1 ¼-mile Canadian classic will be televised live from Toronto beginning Saturday, June 30 at 4:30 p.m. ET on CTV, TSN, and TSN4K, and streaming live for TSN and TSN Direct subscribers on TSN.ca and the TSN app, and on CTV GO.
The Queen's Plate also is the first leg of the OLG Canadian Triple Crown for Canadian-bred 3-year-olds, which continues with the July 24 Prince of Wales Stakes over 1 3/16 miles of dirt at Fort Erie and wraps up with the August 18 Breeder's Stakes at 1 ½ miles on the E.P. Taylor turf course.
Telekinesis will have another furlong to contend with in the Queen's Plate but was pulling away in the closing stages of the Plate Trial, which was his longest race to date and his first on a synthetic surface. Owned by Barbara Banke's Stonestreet Stable LLC, Telekinesis made his first start a winning one at the relatively late date of February 9 but has progressed rapidly for trainer Mark Casse.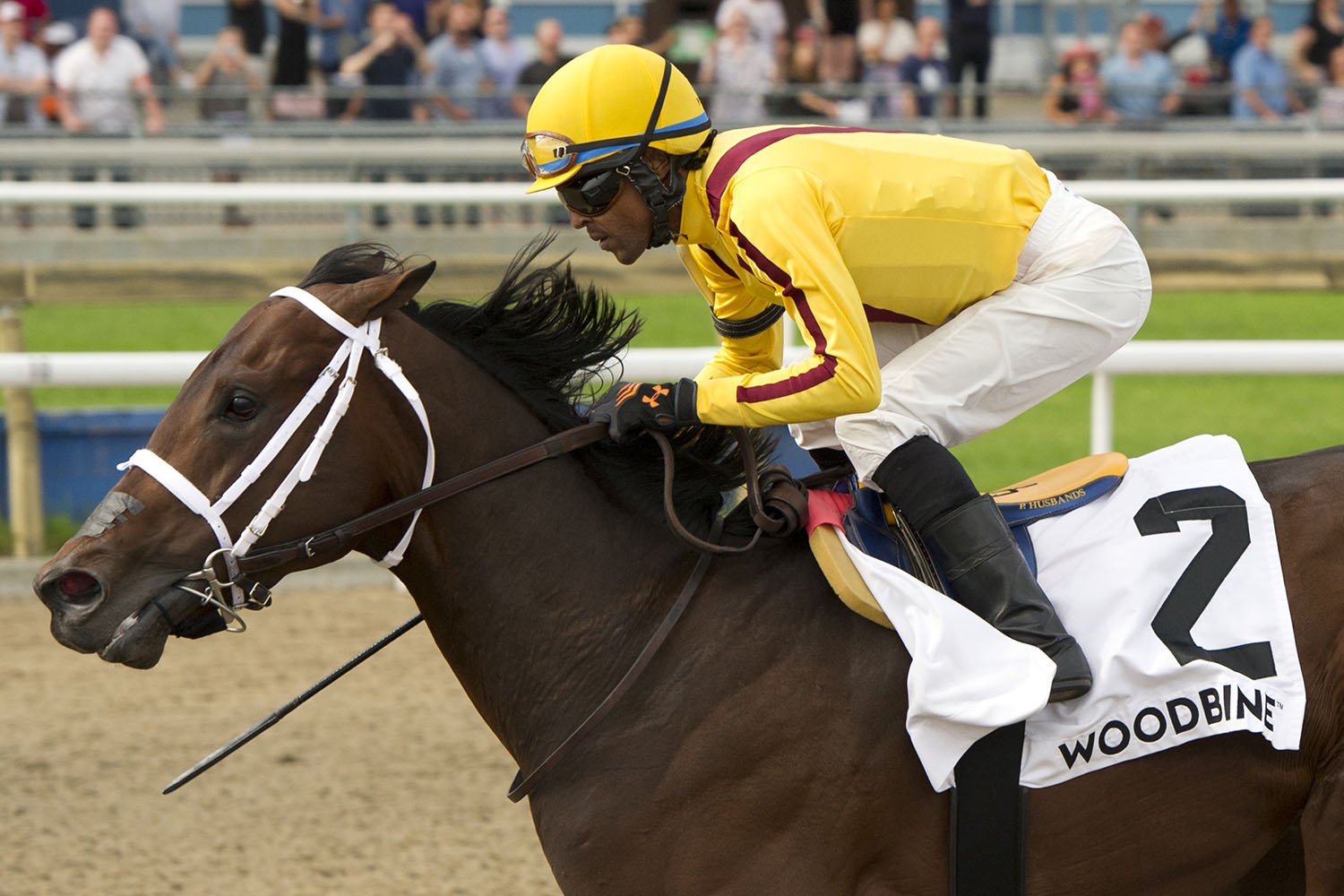 In his start prior to the Plate Trial, which came in Keeneland's Grade 3 Lexington at 1 1/16 miles, Telekinesis was a close second to My Boy Jack, who went on the finish a good fifth in the Kentucky Derby. Patrick Husbands, who piloted Telekinesis for the first time in the Plate Trial, retains the mount.
Telekinesis, who is 5-2 on the morning line set by Woodbine oddsmaker Ernie Perri, had the eighth choice of posts for the Queen's Plate under the double-draw system in which the horses are drawn for the order in which they can select and the connections then choose their own post positions.
Mark Casse selected post 10 for Telekinesis.
"He's going to have speed from out there," said Casse. "He'll be the most forwardly placed of my runners, and it look like the speed is inside us. "The last horse to pull off the Plate Trial—Queen's Plate double was Big Red Mike, who became the third consecutive horse to accomplish that feat in 2010.
Wonder Gadot, also conditioned by Casse but owned by Gary Barber, is coming off a second-place finish as the odds-on choice in the 1 1/8-mile Woodbine Oaks and will be looking to discover a winning touch as she adds blinkers to her repertoire for the Queen's Plate.
Prior to the Woodbine Oaks, Wonder Gadot had been knocking hard against the best in her division south of the border, beaten a total of just over five lengths while compiling an 0-3-2 record from five starts including a head loss to the undefeated sensation Monomoy Girl in the Grade 1 Kentucky Oaks. Hall of Fame rider John Velazquez is shipping in from New York from the mount.
Casse had the seventh pick Wonder Gadot, who is the 3-1 second choice on the morning line, and went with post 11.
"She's goings to be in the 11-path, and she's going to be aggressive," said Casse. "Johnny's always aggressive."
Dixie Moon, the Woodbine Oaks winner, held sway to defeat Wonder Gadot by a head and will look to become the seventh filly to pull off the Woodbine Oaks /Queen's Plate double. A homebred who races for Sean and Dorothy Fitzhenry and is trained by Catherine Day Phillips, Dixie Moon was coming into the Woodbine Oaks off a second-place finish, beaten a head by Kentucky-bred Miss Mo Mentum, here in the Grade 3 Selene Stakes at 1 1/16 miles.
Last year Dixie Moon defeated males when winning the Cup and Saucer for Canadian-breds at 1 1/16 miles on the turf and fellow Ontario-foaled fillies in the South Ocean at the same distance on Tapeta. Regular rider Eurico Rosa da Silva retains the mount on Dixie Moon, who is the 4-1 third choice and will break from post 7 after being third in the selection order.
Day Phillips deferred to Da Silva and the rider's choice was post 7.
"I like to be in the middle of the race," said Da Silva. "Then I can have a chance to see what's going on inside and outside, and decide what I'm going to do.
The time for the Woodbine Oaks was .02 seconds faster than the Plate Trial two races earlier on the same card. Oaks winners have fared very well in the Queen's Plate, according for three of the last seven winners with the latest being Holy Helena last year.
The fillies will carry 121 pounds, five less than their male opponents.
Rose's Vision, a sharp winner of two turf races south of the border earlier this year, was making his Tapeta debut when sixth in the Grade 3 Marine at 1 1/16 miles on May 13. Given a second chance on the surface, Rose's Vision rebounded to finish second in the Plate Trial, pressing Telekinesis throughout and finishing 4 ¾ lengths clear of third-place Aheadbyacentury. The Chiefswood Stable homebred, conditioned by Stu Simon, will be ridden by Hall of Fame import Javier Castellano.
Simon had no choice, selecting only when the No. 16 post was left, but is not unhappy with his position considering that Rose's Vision (12-1) won from the outside post in a 12-horse field at Gulfstream from post 9 in a 10-horse field at Keeneland.
"I didn't want to be inside with him here," said Simon.
Aheadbyacentury (15-1) became a stakes winner here last fall in the 1 1/8-mile Coronation Futurity for Canadian-bred 2-year-olds. A late runner trained by John Ross, who also owns the colt in partnership with Jack of Hearts Racing Stable, Aheadbyacentury also finished third in the Marine. Luis Contreras, aboard when the colt graduated in a 1 1/16-mile maiden race prior to the Coronation Futurity, regains the mount.
Curiously, no horse has been able to pull off the Coronation-Queen's Plate double since Norcliffe in 1976.
Aheadbyacentury would have to do it from post 15 after having the second-to-last choice in the selection process.
"Considering what we had left, I'm not unhappy," said Ross. "He's a big, long-striding horse. You don't want him inside, getting stuck behind other horses."
Neepawa, a third runner for Casse, was the runner-up in the Coronation Futurity and won his maiden over 1 1/16 miles of turf at Gulfstream Park this winter. Owned by Chiefswood Stable, Neepawa finished third when making his only start at this meeting in a 1 1/16 mile first-level allowance on May 20. Florent Geroux will be jetting in for the mount.
"I would have preferred to be a little more inside, said Casse. "It will be up to Florent, whether he wants to go inside with him."
Cooler Mike (30-1) was a sharp front-running winner of that May 20 race in his first try with blinkers. Owned by trainer Nick Nosowenko in partnership with his father, Mike, Cooler Mike finished second here in last year's 6 ½ furlong Simcoe and ran fourth in the Cup and Saucer, Coronation Futurity and restricted Kingarvie Stakes. Jesse Campbell, who returned to the saddle recently at Arlington Park, will ride Cooler Mike for the first time.
The Nosowenko's went with post 2 after selecting 13th.
Sam-Son Farm has a pair of homebreds for the Queen's Plate in Strike Me Down and Say the Word, both of whom area based at Fair Hills, Maryland, with trainer Graham Motion.
Strike Me Down (10-1) has made three of his four career starts on turf, finishing second in both last year's Cup and Saucer at 1 1/16 miles and in Monmouth's Tale of the Cat at the same distance last time out. The colt's lone win came here on the Tapeta in his sophomore bow, a 1 1/16-mile maiden race in which he led throughout. Jose Ortiz Jr., reigning Eclipse Award-winning jockey, has been recruited for this occasion.
Say the Word (20-1) prepped for the Plate with a third here May 27, finishing behind a pair of older horses in that first-level allowance race at 1 1/16 miles. Leading local rider Rafael Hernandez retains the mount.
Sam-Son Farm, which will be looking for it's sixth Queen's Plate win, will have Say the Word breaking from post 9 and Strike Me Down from post 4 with the fifth and sixth selections.
Alternative Route (30-1), based in Kentucky for trainer Al Stall Jr., became a stakes winner when making his synthetic debut in Turfway Park's 1 1/16-mile Rushaway. The $265,000 yearling purchase, who races for Spendthrift Farm LLC and Town and Country Racing LLC, enters the Queen's Plate off a fourth-place finish over a soggy 1 1/16 miles of turf in the Grade 3 Arlington Classic. Mitchell Murrill, aboard for the Rushaway score and a maiden win at the Fair Grounds, gets the call again here.
With the second selection, Alternative Route's connections went with post 8.
Silent Poet (30-1, post 5), a colt of much promise, is 2-for-3 with wins this year over five furlongs of Tapeta and seven furlongs on the turf. Trained by Nick Gonzalez for Stronach Stable, Silent Poet will be trying two turns for the first time with Gary Boulanger back in the irons.
Inge (50-1, post 3) became a stakes winner via disqualification in the open 1 1/16-mile Wando, an overnight stakes here April 21. Claimed last December for $40,000, Inge had campaigned over the winter at Oaklawn for owner Bruno Schickedanz and trainer Norm McKnight.
Inge, who had shown the way early in the Wando, also employed a front-running style in the Marine only to falter and finish fifth, will be piloted again by Chantal Sutherland. Kentucky-based conditioner Mike Maker will be represented by Boyhood Dream, Marriage Counselor, and Pawnbroker, all owned by Ken and Sarah Ramsey. Nolan Ramsey, assistant to Maker and grandson of the Ramseys, handles the outfit here.
Boyhood Dream (30-1, post 1), who was tagged for $30,000 when he won for the first time at Keeneland this spring, missed by a nose when in for $40,000 at the same 1 1/16-mile distance and making his local and synthetic surface debut on May 15. Then, making his first stakes appearance in the Plate Trial, Boyhood Dream finished eight lengths behind the winner in fourth place. Alan Garcia has the call.
The homebred Marriage Counselor (50-1, post 13) is the lone Queen's Plate contestant with experience at 1 ¼ miles but that came in a $25,000 maiden claimer on the turf course, a race which he won in front-running fashion. Jalon Samuel will make his Queen's Plate debut aboard the Overanalyze colt.
Pawnbroker (50-1, post 12), a chestnut son of Gio Ponti, is a maiden after finishing fourth in his debut over six furlongs here May 25. Joel Rosario has the mount.
Real Dude (50-1), a Stronach Stable homebred trained by Sid Attard, is winless after two starts and is coming off a third-place finish behind older rivals in a 1 1/16-mile maiden race. The well-bred son of Ghostzapper, out of the Woodbine Oaks winning mare Ginger Brew, will be piloted by David Moran. Attard had the first overall choice of posts and went with post six.
Post / Horse / Trainer / Owner / Jockey / ML
1 / Boyhood Dream / Michael Maker / Kenneth and Sarah Ramsey / Alan Garcia / 30-1
2 / Cooler Mike / Nick Nosowenko / Mike and Nick Nosowenko / Jesse Campbell / 30-1
3 / Inge / Norm McKnight / Bruno Schickedanz / Chantal Sutherland / 30-1
4 / Strike Me Down / Graham Motion / Sam-Son Farm / Jose Ortiz / 10-1
5 / Silent Poet / Nick Gonzalez / Stronach Stable / Gary Boulanger / 30-1
6 / Real Dude / Sid Attard / Stronach Stables / David Moran / 50-1
7 / Dixie Moon / Catherine Day Phillips / Sean and Dorothy Fitzhenry / Eurico Rosa da Silva / 4-1
8 / Alternative Route / Al Stall, Jr. / Spendthrift Farm LLC & Town & Country Racing, LLC / Mitchell Murrill / 20-1
9 / Say the Word / Graham Motion / Sam-Son Farm / Rafael Hernandez / 20-1
10 / Telekinesis / Mark Casse / Stonestreet Stables LLC / Patrick Husbands / 5-2
11 /Wonder Gadot / Mark Casse / Gary Barber / John Velazquez / 3-1
12 / Pawnbroker / Michael Maker / Kenneth and Sarah Ramsey / Joel Rosario / 50-1
13 /Marriage Counselor / Michael Maker / Kenneth and Sarah Ramsey / Jalon Samuel / 50-1
14 / Neepawa / Mark Casse / Chiefswood Stable / Florent Geroux / 15-1
15 /Aheadbyacentury / John Ross / Jack of Hearts Racing and J.R. Racing / Luis Contreras / 15-1
16 /Rose's Vision / Stu Simon / Chiefswood Stable / Javier Castellano / 12-1