TORONTO, February 22, 2018 – Hall of Fame trainer Mark Casse is blessed with a quartet of Canadian Triple Crown contenders led by Telekinesis, who was today installed the early 4-1 favourite for the 159th edition of The Queen's Plate.
Last year, it was Woodbine Oaks champ Holy Helena who captured the imagination of racing fans worldwide with an impressive turn of foot to beat the boys in the $1-million Queen's Plate, Canada's most famous horse race, by a half-length over the 2017 Queen's Plate Winterbook favourite, Tiz a Slam.
The hypothetical Winterbook, compiled by Ron Gierkink and Alex Campbell of the Daily Racing Form, and Keith McCalmont of Woodbine's communications department, offers early odds on all 109 three-year-olds – 95 colts and geldings, as well as 14 fillies – nominated to the 2018 Canadian Triple Crown.
In addition, an impressive list of 62 fillies are nominated to the 63rd running of the $500,000 Woodbine Oaks, presented by Budweiser, which is slated for Saturday, June 9.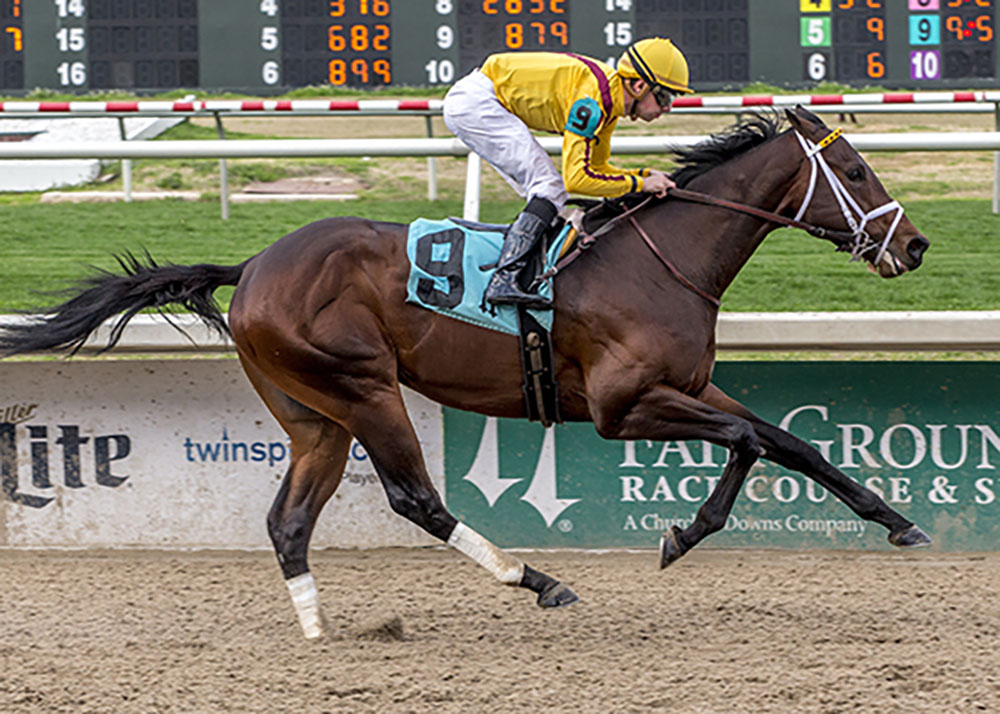 Casse, a nine-time Sovereign Award winner as Canada's leading trainer, captured his first Queen's Plate in 2014 with filly Lexie Lou for owner Gary Barber. The veteran conditioner holds the top four spots in the Winterbook with Flameaway (5-1), Wonder Gadot (6-1) and Neepawa (8-1) rounding out the superfecta.
"You can't ever win too many Queen's Plates," said Casse. "It is the pinnacle of Canadian racing, which has been so instrumental in my career.  It took a long time to win one and I don't want it to take that long to win two."
Grade 1 placed Dixie Moon (10-1), heroine of the Cup and Saucer and Ontario Lassie Stakes for trainer Catherine Day Phillips and owners Sean and Dorothy Fitzhenry rounds out the top five, while Aheadbyacentury (12-1), trained and co-owned by John Ross with Jack of Hearts Racing, will look to become the first horse since Norcliffe to score the Coronation Futurity-Queen's Plate double, a feat the Hall of Fame runner achieved in winning the 1975 Coronation Futurity and 1976 Queen's Plate.
Silent Sting (14-1), Be Vewy Vewy Quiet (16-1), Strike Me Down (18-1) and Kitten's Boy (20-1) complete the top 10.
Unraced as a two-year-old following a minor injury, Telekinesis was then scratched from a potential Jan. 25 debut at Fair Grounds when he flipped in the paddock. While the $470,000 Keeneland November 2015 Breeding Stock purchase is talented, it could be a case of mind over matter for the Ghostzapper colt, who graduated on Feb. 9 at the Louisiana track when 3 1/4-lengths the best in a six-furlong maiden allowance sprint.
Two of the last three Plate winners (Holy Helena, Shaman Ghost) are Ghostzapper progeny, which bodes well for the young colt who will look to stretch his talents around two turns next time out.
"If you look at him, to me, he is what you look for in a two-turn horse. Right now, we're hoping to get a two-turn allowance for him in New Orleans," said Casse. "We had him last year and we thought he was one of the best two-year-olds we had but he had just a minor injury."
A well-related individual, Telekinesis' maternal grand dam, Gold Mover, is a six-time graded stakes winner, which drew the attention of Casse at the Keeneland sale.
"We think he's an extremely good horse. We were actually looking to buy him for Conquest Stables at the time and we were the under bidder on him," recalls Casse. "Barbara Banke (Stonestreet) bought him and I approached her afterwards to say he's a lovely colt and I would love to train him and she said okay."
While Flameaway is a legitimate Kentucky Derby contender following his Grade 3 Sam F. Davis score at Tampa Bay Downs, Casse has still not closed the book on Telekinesis for the first Saturday in May.
"We're not leaving that off the table right now. Of course, everything would have to go right. I will say that Mrs. Banke has said to me that she would love to win the Queen's Plate," said Casse.
And no matter where he goes, jockey Florent Geroux will be in tow after the impressive maiden win, which earned a 90 Beyer Speed Figure.
"Florent said he would go anywhere we run Telekinesis so he's not letting him get out of his sights," laughed Casse, adding, "He (Telekinesis) ran fast, ran a big Beyer number and he ran around. It's not like he was down on the inside and saved ground."
Casse, however, holds a very strong hand should Telekinesis, bred in Ontario by William D. Graham, not move forward.
Flameaway, a chestnut son of Scat Daddy-Vulcan Rose bred in Ontario by Phoenix Rising Farms, is an omni-surface star with wins on dirt, turf and synthetic to his credit. A five-time winner from seven starts, Flameaway graduated at first asking at Woodbine before travelling to Saratoga to take the off-the-turf Skidmore Stakes.  A win in the off-the-turf Grade 3 Bourbon over a sloppy Keeneland surface led the colt to the Breeders' Cup Juvenile Turf, where he was part of the pace before landing eighth, defeated less than four lengths.
The talented individual is perfect in two starts this campaign scoring in the grassy Kitten's Joy at Gulfstream ahead of his Sam F. Davis score over the Tampa Bay dirt.  He'll look to conquer the Tampa Bay Derby next for owner John Oxley.
His two most recent scores have come by a neck and a half-length, respectively.
"That's him. He doesn't do any more than he has to, but he wins," said Casse. "On more than one occasion, we've seen him get in a dog fight and he's usually the top dog. I don't know that we really know how good Flameaway is, but he's won on numerous surfaces and he gets the job done. He's a talented horse with a big heart. He's got a run-on pedigree and all kinds of distance in the bottom of his pedigree."
Popular filly Wonder Gadot, named for the Wonder Woman star Gal Gadot, boasts a record of 3-1-2 from seven starts including scores in the Grade 3 Mazarine at Woodbine and the Grade 2 Desmoiselle at Aqueduct.  Like Flameaway, the talented Medaglia d'Oro dark bay, boasts wins on all three surfaces having graduated over Woodbine's world-famous E.P. Taylor Turf Course.
Bred in Ontario by Anderson Farms Ont. Inc., Wonder Gadot was narrowly defeated in the Grade 1 Natalma at Woodbine when third, beaten less than a length by Capla Temptress when a head behind runner-up Dixie Moon.
"I know Patrick (Husbands) would agree with me that her best surface is synthetic and she's definitely not going to mind the mile and a quarter," said Casse of the big filly, who was a six-length winner of the Mazarine with Husbands
in the irons.
On Feb. 17, Wonder Gadot finished a good third in the Grade 2 Rachel Alexandra Stakes at Fair Grounds and will now focus on the filly Classic first.
"We feel the mile and an eighth of the Oaks is in her realm and I would say we will focus on that and then after that start thinking about the Queen's Plate," said Casse.
Rounding out the quartet of Queen's Plate hopefuls for Casse is Neepawa, who graduated in style on January 27 over the Gulfstream turf with Hall of Fame rider John Velazquez up.
"I thought his Gulfstream race was excellent and Johnny was very impressed with him," said Casse.
The Chiefswood Stable homebred son of Scat Daddy is likely to stick to the turf for his next start and is currently pointed at the Grade 3 Palm Beach Stakes slated for March 3, at Gulfstream Park.
Racing fans can keep track of the latest Queen's Plate buzz, including photos, feature stories and event details, at QueensPlate.com. Tickets for the 159th running of The Queen's Plate are available now on Ticketmaster.
A recap of the Top 10 and the entire list of Canadian Triple Crown nominees and Queen's Plate Winterbook odds follows:
1. Telekinesis (4-1)
2. Flameaway (5-1)
3. Wonder Gadot (6-1)
4. Neepawa (8-1)
5. Dixie Moon (10-1)
6. Aheadbyacentury (12-1)
7. Silent Sting (14-1)
8. Be Vewy Vewy Quiet (16-1)
9. Strike Me Down (18-1)
10. Kitten's Boy (20-1)
25-1
Jack's Memory
Pipers Warrior
It's Fate
Summer Sunday
Hemp Hemp Hurray
Alternative Route
Blueblood
Freedom Warrior
Strike a Beat
Royal Laser
Sable Island
Wandofuhr
Sent From Heaven
Queen's Fate
Scrapper
Rose's Vision
30-1
Cooler Mike
Clickity Clack
Eskiminzin
Latonka
Smooth Talk
Stormfuhr
Handsome Like Me
Viewfinder
Wedgewood
Flight Deck
Redoute's Light
Silent Poet
Theregoesjojo
Hot Cash
Say the Word
Sandy Bay
Zestina
Pool Playa
Loopety Loo
Irish Trouble
Blakey
Inge
Differential
Absolution
Ginger Sky
Octoberfest
Silent Jet
40-1
Lauderdale
Berkeley Boy
Glorious Entry
Timeskip
Magical Breeze
One More Drift
Mighty Zeus
Countryside Drive
Scat Big Dad
Captain Thunder
Malibu Uproar
Smetana
Boyhood Dream
Rock the House
Unbounded Spirit
Ellas My Love
El Tormenta
Finbar
Castle in the Sky
Zephan
Readyforperfection
Chilcotin Hill
Polar Light
Edge of the Nile
Honig
Real Dude
Chestnut Grove
She's Got Fire
Johnny Bayi
Marriage Counselor
Festivus
Pachi the Grey
No Extensions
50-1
Hessenfield
Count Again
On Course
Mr. World Wide
Desolator
Papa D
Pawnbroker
Pool Boy
Queenston Park
Seeyouinthecomics
Silent Cash
Stormy Leo
Top Hat Trick
Western Crusader
Western Trouble
Wolf Ridge
(15) Screamer
(15) Catch That Song
Brew This
Downy Boy
Full Extreme
Qayed
Studio B