Story by Chris Lomon / @ChrisLomon
Joshua Attard knew the dark bay colt would be on the list, but he wanted to see it for himself.
In between his virtual online classes, the 17-year-old high school student from Brampton, Ontario, took a few seconds out of a full day to click on the Woodbine Racetrack website.
After another click, he landed on the page he was looking for, the one that heralded the arrival of the Queen's Plate Winterbook, the annual list of predictive rankings for 3-year-old Thoroughbreds nominated to the Canadian Triple Crown.
Attard scanned the page to find his horse.
That's right… his horse.
"It feels great, to be honest with you," said the son of high-profile Woodbine trainer Kevin Attard. "I never expected at my age that I could own a horse that could be in the Queen's Plate."
His hopes of being represented in Canada's iconic horse race (August 22 at Woodbine) lies on the hooves of Keep Grinding, listed at 25-1 in the Winterbook.
The Ontario-bred son of Tizway broke his maiden in impressive fashion last November to close out his 2020 campaign. Under jockey Justin Stein, Keep Grinding prevailed by a neck in the 1 1/16 mile main track maiden special weight race at Woodbine.
Bred by Huntington Stud Farm Corp, the 3-year-old is trained by Attard's grandfather, longtime horseman Tino Attard.
"I'm proud of my horse and I'm proud to share this journey with my father and his father, my grandfather. I couldn't ask for anything better. It feels really great. I knew he might be a Plate-caliber horse when he started to work as a 2-year-old last year. I worked on the backstretch at Woodbine last summer, so I had the chance to watch him work and he would put on a show. His first race on the grass, I knew he had some talent because he came from far out of it and the race was a little short for him. He's a two-turn horse. When he broke his maiden, that's when I said I had a Queen's Plate prospect."
The name of the horse, who has one win from three career starts, is a nod to Toronto Maple Leafs forward Mitch Marner.
Attard came up with the idea after watching the young NHL star over the past few NHL seasons.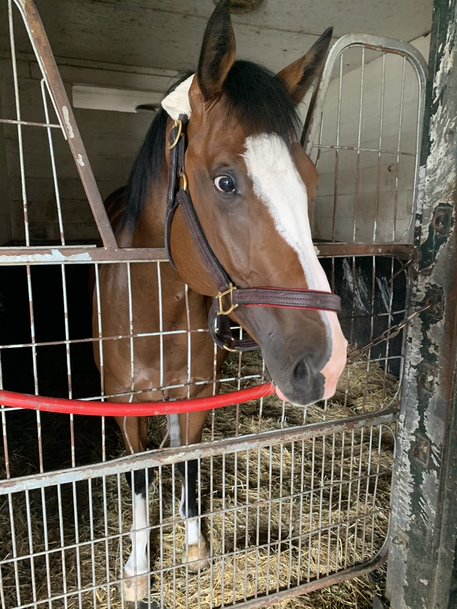 "I wanted to name my horse something that motivated me. I play hockey. When I go into the corners, I always tell myself to keep grinding for the puck. So, if I ever had the chance to own a horse I would name it Keep Grinding. It's something that motivates me and I hope it motivates other people."
The thought of having a horse load into the starting gate for the $1 million classic is anything but a recent goal for Attard.
That dream came to light well before his first year of high school.
"I started going to the racetrack when I was around 10. I remember wanting to go because I was a little bored and I wanted to get out of the house. And the first time I went, it was the greatest feeling. I went to the backstretch to see the horses. I loved them. I would pet them and just enjoy spending time with them. I had a strong connection with them from the start and every year, my love of the horses and horse racing has grown."
Attard, who was three when his father finished second with Alezzandro in the 2007 Queen's Plate, is hoping that this year's edition of the "Gallop for the Guineas" will see his family name written in the history books.
If Keep Grinding isn't the one crowned Plate champion, the younger Attard would be equally ecstatic to see his father lead a horse into the Woodbine winner's circle.
That would hardly be a longshot.
Kevin Attard has a pair of horses, namely, Stephen, and Haddassah, in the top five of the Queen's Plate Winterbook. He also has Truffle King (25-1), a dark bay son of Giant Gizmo, being pointed towards the Plate as well.
A bay son of Constitution-Naughty Holiday, Stephen is the second choice in the Winterbook at 4-1. He ended his 2-year-old campaign in style, taking all the spoils in the $250,000 Coronation Futurity Stakes.
Haddassah, a gelded son of Air Force Blue-Lady Haddassah, is listed as the 8-1 fourth choice in the Winterbook.
Stephen and Haddassah are both owned by the father-son team of Al and Bill Ulwelling.
"I'd still be cheering for whatever horse or horses my dad has in the Plate. If my dad has those three in the race and I have mine, I'll find a way to cheer for all four of them. Just because I own Keep Grinding doesn't mean I won't be rooting for my dad. But I know there's a long way to go before the big day."
Until then, Attard will endeavor to keep the date of August 22nd in the back of his mind. Admittedly, it hasn't been an easy task and he knows it will only get tougher in the days and weeks ahead.
"I never would have expected, to be honest, to have a horse like this at my age. I'm really excited to have a horse that is eligible for the Queen's Plate, and that has a chance to be in the race. I know it's a hard road to get to the Queen's Plate, so we'll just hope the horse keeps developing and getting better each week."
He likes what he's seeing in Keep Grinding.
"He's getting better each day, I think. He's bigger and stronger now and looks like he can handle the mile-and-a-quarter Plate distance. Hopefully, he keeps training well and he can be in the Queen's Plate. If I could win it, that would be even better. I'd probably start crying if we won."
Attard is certain of one thing.
"If he does run in the Plate, I know he'll try his best and I'll be proud of him wherever he finishes. I know he'll live up to his name."