By: Chris Lomon for Woodbine.com
TORONTO, July 21, 2021 – The sight of the red and gold never gets old for Gail Cox.
When Tio Magico shrugged off his rivals down the lane in the $125,000 Queenston Stakes at Woodbine on July 11, the dark bay's trainer was understandably beaming well after the 2 ½-length triumph.
Not just for the impressive effort, not just because the son of Uncle Mo-Magic Broomstick seemed to get his mojo back, and not just because his jockey, Luis Contreras, lavished praise upon the 3-year-old in the winner's circle.
It was all that plus something personally meaningful for Cox, specifically, the iconic colours Contreras wore in the Queenston victory.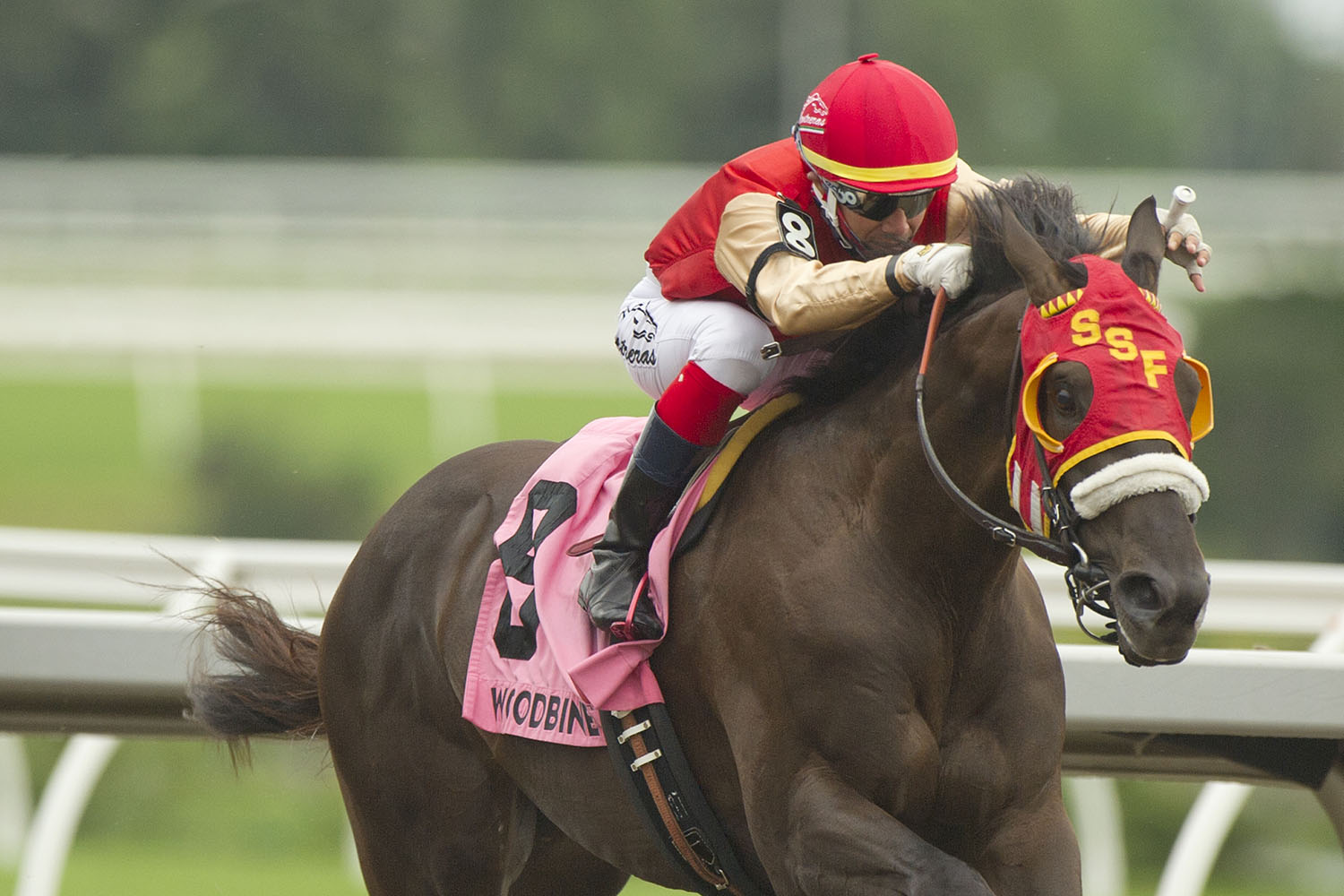 "Sam-Son Farm has been so invested in racing, in Canada and around the world," said Cox. "They've bred so many amazing horses and had so much success. It was heartbreaking when they made that announcement."
This past October, Sam-Son announced it was dispersing its breeding and racing stock over the following 12 to 18 months.
Founded by Ernie Samuel in 1972 and developed into a world-renowned racing and breeding operation, Sam-Son, after Samuel's death, was headed by Tammy Samuel-Balaz, who led Sam-Son to numerous victories and awards until her own passing in 2008.
Sam-Son has bred and raced 44 Graded stakes winners, including 37 Classic winners and 14 Grade 1 winners. They have received 84 Sovereign Awards and four Eclipse Awards, and laid claim to five Plates: Regal Intention in 1988, Dance Smartly in 1991, Scatter the Gold in 2000, Dancethruthedawn in 2001 and Eye of the Leopard in 2009.
Their long list of champions include the incomparable Dance Smartly, the first Canadian owned and bred horse to win a Breeders' Cup race and who, in her undefeated three-year-old season of 1991, became just the second filly in history to win the Canadian Triple Crown. Other champions include Breeders' Cup winner Chief Bearhart, Eclipse Award winner Sky Classic, Dancethruthedawn, Quiet Resolve, Rainbow's for Life, Ruling Angel, Silken Cat, Soaring Free, Wilderness Song and many more. Sam-Son also bred and raced Grade 1 winner and influential sire Smart Strike, a half-brother to Dance Smartly.
"I would love to see them stay longer," said Cox. "What they have done for racing is simply amazing. They do everything the right way and always in the best interest of the horse. To be associated with Sam-Son is something I am truly grateful for."
It's something she was reminded of when Contreras and Tio Magico turned for home and down the lane in the Queenston.
The victory itself was a victory in itself considering Tio Magico had come into the race off a fifth-place performance in a 1 1/16-mile allowance race at Woodbine on June 19.
Cutting back to seven panels, he broke smartly in the Queenston and took the field through fractions of :23.85 and :46.95 before easily keeping his advantage to record the front-running score.
"Luis and I both felt the same way, that "Tio" just needed to get out there and run his race," said Cox. "It seems to be the way he's happiest. "He ran so well last year, and I think we just probably messed around with his style a little bit. This is how he wants to run, and I think he'll run a distance like this. His gallop out was huge. So, it was so nice to be able to win like this."
One of Tio Magico's biggest fans had seemingly endless furlongs of flattery for the horse.
"I just love this guy," said Contreras. "I think you haven't seen the best of him. He has something that attracts me and makes me feel good."
Cox hasn't figured out why horse and rider have developed such a strong bond.
All that matters, offered the conditioner, is that there is one.
"Luis just loves him. He always asks about him and he's always talking about him. I don't know why it is, but he loved him right from last year. He breezed him last year and they just seem to have built this wonderful connection."
Cox was also fond of Tio Magico early on.
After a sixth-place finish to launch his career last September at Woodbine, the Ontario-bred broke his maiden second time out and followed that result with a runner-up effort in the Coronation Futurity Stakes on November 1.
Tio Magico then headed south for the winter where he posted a third and fifth, respectively, in two Gulfstream Park engagements. He was seventh in allowance race at Belmont on May 15 before heading back to Cox's barn on the Woodbine backstretch.
"I'm happy to have him back with me," said Cox earlier in the year. "He's a lovely horse and he's very nice and relaxed in his stall. He's a big horse and his mind is great. Laid-back in the stall, mostly, he eats and sleeps. He has a ton of talent and he's just starting to grow up now. I expect to see big things from him."
That hasn't changed.
Whether that means Tio Magico gets a shot at Queen's Plate glory on August 22 isn't a sure bet. Discussions between his connections are ongoing.
Having options, Cox admitted, is a wonderful position to be in.
"He's a great mover and he goes fast just so easily. He's quite an easy horse to deal with. Everybody has to digest this win and then see where we go from there, what the alternatives are, and things like that. Luckily, he's a seasoned racehorse and off that race [Queenston], we can do what we want."
As for seeing the Sam-Son silks in the 162nd running of the Plate, that would be, Cox admitted, as good as red and gold.
She could have two chances at notching her first win in the "Gallop for the Guineas." Tidal Forces, a son of Malibu Moon and also a Sam-Son homebred, has a record of 2-0-0 from three starts after finishing fifth in the Queenston.
"We know that's it hard to plan these types of things because plans don't always work out as you want them to. It would be wonderful to be in such a historic race with a horse that represents the very best in Canadian racing. Every time you see those Sam-Son colours, it's hard to put into words, but it's a very special feeling."
Cox would certainly know.