Whenever the doting groom and the bay filly are together, time seems to always stand still.
It's a scene that plays out nearly every evening at Barn 28 on the Woodbine backstretch, the one that starts with Peter Lopez pulling into trainer Kevin Attard's barn and then listening for the familiar sound emanating from the shed row.
The multiple stakes winner, the one set to take the Breeders' Cup stage, knows he is here for her.
"Every night, around 7:30, I come to take Moira to the grass outside of the barn and she is so happy to see me," said Lopez. "I can tell she is waiting for me. But I am just as happy to see her. Whenever I come to see her at that time, she pokes her head out of her stall and knickers."
Lopez then gently guides the daughter of Ghostzapper to a patch of grass just a stone's throw from her stall, where the two will stand for the next 30 minutes or so.
But there are times, more often than not, when the pair is out there longer.
One look from this year's Queen's Plate winner is enough to make Lopez stay put, and happily so.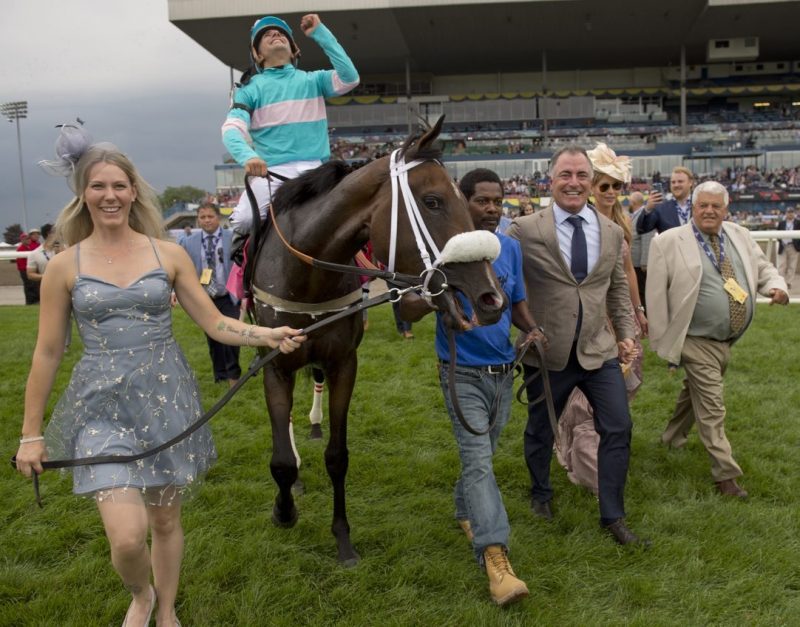 "All she wants to do is eat her grass. As much as she can. Sometimes, she doesn't want to go back in her stall. I'll say, 'Okay, Moira, it's time to go back now.' She'll walk about two yards and look at me as if she's saying, 'No, I don't walk to go in yet. Let's stay a bit longer.' When she gives me that look, I just can't say no to her. I could stay out there all night with her. She loves me and I love her. When I go to the barn at night, she's looking for me and I can't wait to see her so we can spend some time together, maybe about half an hour to 45 minutes. I love it. When she lowers her head and eats the grass, she's so happy. I love to see that because I know she's happy."
Moira, bred in Ontario by Adena Springs, has made plenty of others happy over her six-race career, including her connections and the legion of fans she has attracted along the way.
Owned by X-Men Racing, Madaket Stables and SF Racing, Moira was a $150,000 yearling purchase by X-Men's Donato Lanni from Hidden Brook's consignment to the 2020 Keeneland September Yearling Sale.
She won her debut last October when she took the Princess Elizabeth Stakes at Woodbine by 4 ¼ lengths and closed the curtain on her rookie season with a solid second in the Mazarine Stakes. She launched her 3-year-old campaign in June with a gutsy head victory in the Stella Artois Fury Stakes, prior to an outstanding 10 ¾-length triumph in the Woodbine Oaks Presented by Budweiser on July 24.
The victory was even more impressive considering what happened prior to Moira reaching the racetrack when she had to have her hind shoes removed after she acted up in the walking ring, nearly twisting both shoes off her feet.
"We're trying to work on her antics," Attard noted in the lead-up to the Queen's Plate. "She always schools pretty decently. Obviously on race day, it is a bit of a different story."
Just as it is on the Woodbine backstretch.
"She does have two personalities," offered Lopez. "She can get a little excited after the races, like in the winner's circle, but in the barn, she's very quiet. She's one of the quietest horses in the barn. When you are walking her, she puts her head down and you can lead her to where she needs to be, and she doesn't do a thing. She's a sweetheart."
Three weeks after her mighty Oaks performance, Moira loaded in the gate for the 163rd running of the Queen's Plate. Sent on her way as the 9-5 second choice in the betting, Moira was positioned mid-pack along the backstretch in the 1 ¼-mile classic before gliding up on the far turn and breezing past her rivals en route to a seven-length score. She also set a track record for the distance of 2:01.48 on the Tapeta.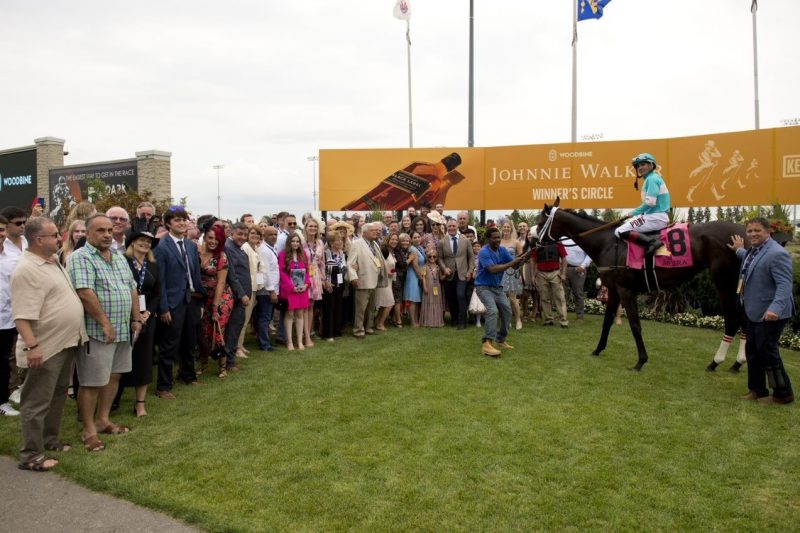 "The only race I was actually very nervous was the Plate," recalled Lopez of the performance that gave Attard his first victory in the "Gallop for the Guineas." "The other races, I was okay. When she was coming down the stretch in the Plate, I think that was the only race where I was screaming. After the race, I said, 'I love you.'  She gives her heart every time and when I watch her, she makes me smile. I tell her that I love her before and after every race."
A troubled trip in the Grade 1 E.P. Taylor Stakes at Woodbine on October 8 resulted in Moira being demoted from second to seventh.
Now, Moira will test her mettle against a tough group in the $2 million Maker's Mark Breeders' Cup Filly & Mare Turf, traversing two turns in the 1 3/16-mile Grade 1 event on Saturday at Keeneland.
Lopez knows she'll be ready for the challenge.
"I love everything about her, to be honest. The way she carries herself, the way she competes… I just love everything about her. She is always a force when she runs, and I know that she will give it her all at the Breeders' Cup."
"You can see the bond the two of them share," Attard shared. "I wish people could see that, the love and care the grooms have for the horses. The work they put in is one thing, but the genuine love they have for the horses is amazing."
In the days before she departed for her date in the Filly & Mare Turf, Moira was quietly standing on the green grass of home, head down, enjoying the moments spent with her devoted companion.
Time is of no concern for those when it comes to the queen of the Attard barn, whether it's grazing or doing anything else for that matter.
"Of course she knows that she's special," said Lopez with a smile. "She's spoiled, and she loves it too."
Her groom is always happy to oblige.
"I love her. To be honest, I love her. I don't know any other way to say it, but I know that's how I feel."
Chris Lomon, Woodbine Communications / @WoodbineComms