TORONTO, October 30, 2021 – The Minkster, under David Moran, looked impressive in taking the 118th running of the $252,400 Coronation Futurity, Saturday at Woodbine.
Heading into his first stakes appearance, first two-turn race and first try over the Tapeta, The Minkster, a son of English Channel, drew high praise from his trainer Dan Vella.
After a sterling performance in the Coronation Futurity, a 1 1/8-mile event for two-year-olds foaled in Canada, the bay juvenile earned even more kudos from his connections.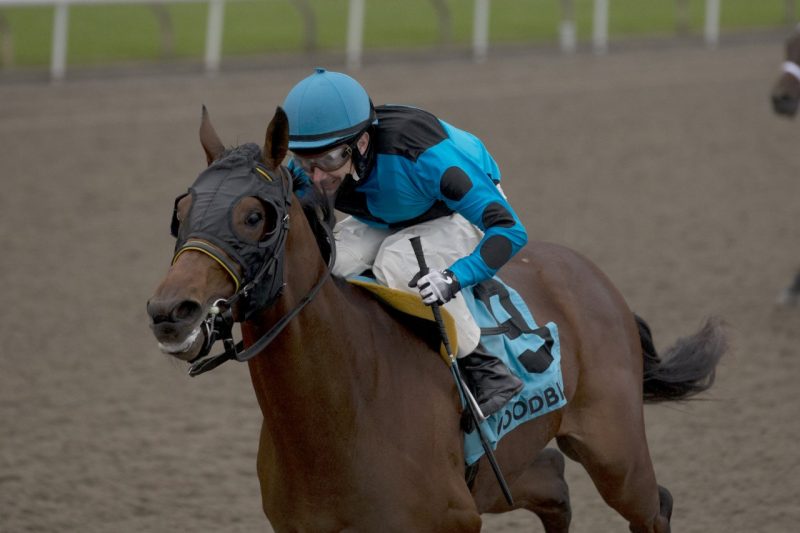 Sent off at 13-1 in the 14-horse field, The Minkster broke alertly and sat third as Dancin in Da'nile took his rivals through an opening quarter timed in :24.28.
Improving to second, just a length behind Dancin in Da'nile after a half in :50.61, The Minkster was within a half-length of the pacesetter through three-quarters reached in 1:16.80.
As the field made the turn for home, it turned into a two-horse race, as the leaders went toe-to-toe down the lane, with The Minkster grabbing a one-length lead at the stretch call as a stubborn Dancin in Da'nile refused to the throw in the towel.
The Minkster eventually drew away to record a 2 ¼-length victory. Dancin in Da'Nile finished three lengths ahead of 89-1 J M R Best of Turf, who was a nose ahead of fourth-place finisher Shamateur.
The final time was 1:52.51.
"We would have rather had extra races going into this, but you know, great horses do great things," raved Vella. "When you get one of this caliber, you just have to go with it and make things work."
Which is precisely what they did.
"He's a lovely horse," said Moran. "I wasn't sure coming from the sprint whether he'd be a bit rank the first time with two turns. He broke sharp He went, and I just got him behind Shaun (jockey Bridgmohan, aboard Dancin in Da'nile) and he went asleep down the back. When I asked him to pick up, he came on the bridle halfway around the corner. He was looking in a little bit on Shaun there for a little bit, and once I got there on Shaun, he just opened up then, once he figured out what was going on. He did the same on the turf. I think he has the makings of a nice three-year-old. Even now as a two-year-old he looks almost like a three-year-old. He's got a nice, big frame to him. So, when he fills into that there's plenty of improvement I would imagine to come."
Bred by Dr. Tan Hyka and owned by Sea Glass Stables, LLC, the Ontario-bred arrived at the Coronation Futurity off a debut score on October 2 in a 6 ½-furlong sprint over the E.P. Taylor Turf Course. After breaking inward and bumping with a rival, The Minkster went on to notch an easy 6 ¼-length score.
Vella, who has two Queen's Plate victories, in 1994 with Basqueian and in 2012 with Strait of Dover, now looks to have another Plate contender in his stable.
The last horse to complete the Coronation Futurity-Queen's Plate double was Norcliffe, who won this race in 1975.
"Those statistics and all that stuff… I mean, I'd rather win than get beat," said Vella.
In other stakes action on Saturday, Hicksy took the $130,000 Display Stakes, while Aubrieta won the $140,250 Glorious Song Stakes.
A bay son of Hootenanny, Hicksy, under Antonio Gallardo, tracked 6-5 choice Ironstone through a quarter in :23.08 and a half in :46.10, before turning up the pressure around the turn for home in the seven-furlong main track race for two-year-old colts and geldings.
The duo slugged it out down the stretch with Hicksy taking over late, going on to notch a three-quarter length win in a time of 1:23.38. Ironstone was second and Optigogo was third.
Trained by Kevin Attard for Lani Bloodstock LLC, the Kentucky-bred colt won his second straight race and notched his first stakes crown in what was his first added-money appearance.
"He was just kind of an unassuming little horse, just kind of a straightforward horse," recalled owner Donato Lanni. "He just looked real kind and classy. I've been active in Kentucky, but I'm from Canada, from Montreal, and I always wanted to come back here and have some horses to run. I have a lot of friends and family in Toronto and it's just great to come back and hang out with my people."
After a troubled fourth in his career bow on September 12 at Woodbine, Hicksy broke his maiden on October 3, in a race also contested at the Toronto oval.
"He's come a long way," praised Attard. "We always thought highly of him. When he came to me from Kentucky, Donato said, 'This horse is really eager, he's been showing promise.' When he got here, he had a few little hiccups, just kind of baby stuff. His first race, we were expecting a little more out of him, but he kind of pulled a shoe off and I think that was a good enough excuse. Obviously, his last start, he put it together with an impressive win."
Hicksy, bred by Richard Forbush, paid $6.60 for the Display victory.
Aubrieta, bred and owned by Conrad Farms, was back in the winner's circle, this time in the Glorious Song Stakes.
Sent on her way at 6-1 in the seven-furlong main track race for two-year-old fillies, the Mark Casse trainee was content to watch the early leaders duke it out before delivering her knockout punch.
Fulminate and Marie MacKay battled out on the front end, leading the field through opening splits of :22.83 and :45.55. Aubrieta, under patient handling from Patrick Husbands, was positioned fourth, well within striking distance of the top two.
When Husbands gave the Ontario-bred daughter of Speightster her cue, the bay responded willingly and sprinted away from her foes down the stretch, crossing the wire a two-length winner. Howdyoumakeurmoney rallied to secure second, a neck in front of Chocolate Addiction.
The final time was 1.22.85.
Aubrieta, who won her debut on September 11, was second in the Shady Well Stakes on October 8.
"You miss the break and Justin (jockey Stein, aboard Marie MacKay) got everything his way," said Husbands, of the Shady Well. "But she showed me after the race that she was the best horse in the race. She galloped out like the winner. I called Mark after the race and said, 'Boss, she wanted to win so bad. She still thinks she won.'"
Husbands is confident Aubrieta can stretch out with ease.
"That (two turns) is what she wants to go."
Woodbine Communications / @WoodbineComms on Twitter