TORONTO, October 27, 2021 – Fourteen hopefuls, including Dan Vella's charge The Minkster, are set to square-off in the $250,000 Coronation Futurity, which headlines a trio of stakes on Saturday at Woodbine.
The 1 1/8-mile Tapeta event for Canadian-foaled two-year-olds is a significant race on the road to the 163rd running of the Queen's Plate, the first jewel of the OLG Canadian Triple Crown of Thoroughbred Racing. The $125,000 Display Stakes, for two-year-olds, and the $125,000 Glorious Song Stakes, for two-year-year-old fillies, will go as races three and nine, respectively. Both are seven furlongs on the Tapeta.
Dan Vella, in search of his first Coronation Futurity crown, will send out The Minkster. The bay son of English Channel impressed in his career bow on October 2, a 6 ½-furlong sprint over the E.P. Taylor Turf Course.
Under David Moran, who will be in the irons again on Saturday, The Minkster, at 5-1, broke inward and bumped with a rival, but recovered to hold a slim lead along the backstretch. After forcing the pace from the rail on the turn, the colt took the lead in the stretch, widened his advantage down the lane and coasted home a 6 ¼-length winner.
The final time over good ground was 1:17.19.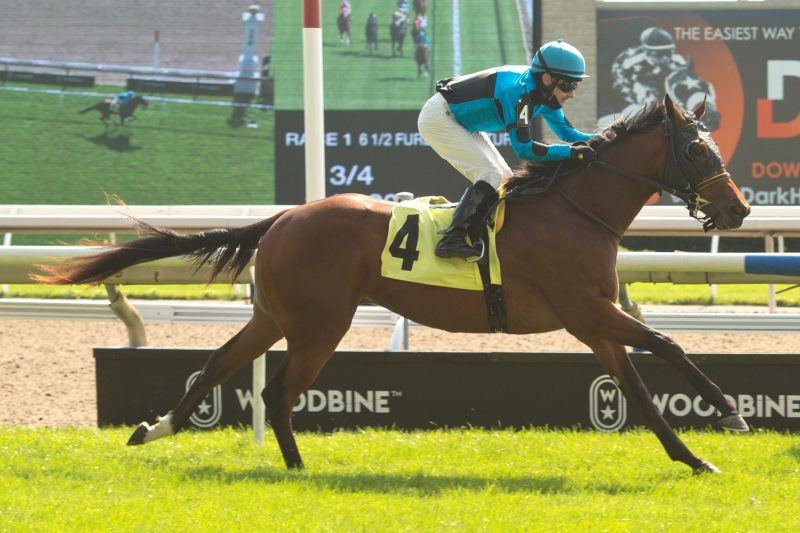 "I was expecting a really big effort," said Vella. "You never quite expect it to be that easy. That win was even easier than it looks on paper. He was pretty much geared down and ran green, but he's a very talented horse. I don't know what the limit is on him. I don't know if there is one. When they came back, David said that he still had a lot of horse. He said, 'Wait until he figures out how to run in a straight line.'"
Bred by Dr. Tan Hyka and owned by Sea Glass Stables LLC, The Minkster will now tackle a series of firsts, including two turns and a run over the Tapeta.
Vella, a lifetime winner of 858 races, is confident his juvenile, a $52,000 yearling purchase at the 2020 CTHS Ontario Sale, can handle the assignment.
"I couldn't ask him to get ready any better. He's very happy with the time between races. He's not a really big horse. He's very athletic, but he's not a giant. I was very happy to have the four weeks to get him ready to where I want him. We're ready and we're excited.
"I've had a few English Channels and they are late to mature mentally and physically. He matured a lot from that race, but he has a lot more to do. Very few English Channels reach their peak in the first race of their life. They get nothing but better with age and racing. He's got some learning to do yet, but he can run."
Vella has similar high praise for his Glorious Song contender Marie MacKay.
The bay daughter of Noble Mission (GB), bred and owned by Donald Whalen and Track West Racing, took the Shady Well Stakes on October 8 at Woodbine.
"We're going to take a shot at the open company and seven-eights. She's a lovely filly. We don't know what her limits are. We haven't reached them. She has a load of talent. She's training super, so we're going to give it a go."
Other Coronation Futurity starters include a trio of Mark Casse starters, Fast Feet, God of Love, and Lament, and three Kevin Attard trainees, Hidden Honor, Kiddie Holiday, and Laraque, as well as Stronger Together, trained by Sid Attard.
Stronger Together, a chestnut son of Liam's Map, has posted a pair of bronze medal finishes in his two career starts.
Bred by Jim Dandy Stable and owned by Spruce Park Stable, the colt's most recent effort came in the Cup & Saucer Stakes on October 10 at Woodbine.
With Justin Stein in the saddle, Stronger Together stumbled at the start of the 1 1/16-mile turf event, but was able to regroup and finish third, 2 ¾-lengths behind God of Love.
One race prior, the chestnut, steadied at the start of the 1 mile and 70-yard Tapeta race, then ninth and 12 lengths behind the leader at the half-mile junction, rallied to net the show award, only a neck behind the winner, Shamateur, at the wire.
"This is a very nice horse," said Attard. "I thought he has run two very good races. He's doing very well coming into this race and hopefully he builds off those first two starts and has a big race."
Ayrshire Lad won the first running of the Coronation Futurity in 1902. The late Avelino Gomez won four straight (1964-67) editions of the race, a feat duplicated by Sandy Hawley (1973-76). The last horse to notch the Futurity-Plate double was Norcliffe in 1975-76.
The 118th running of the Coronation Futurity is slated as race eight on Saturday's 11-race card. First post time is 12:55 p.m. Fans can also watch and wager on all the action via HPIbet.com and the Dark Horse Bets app.
$250,000 CORONATION FUTURITY
Post – Horse – Jockey – Trainer
1 – J M R Best of Turf – Christopher Husbands – Steven Chircop
2 – Brutality – Daisuke Fukumoto – Michael De Paulo
3 – Dancin in Da'nile – Shaun Bridgmohan – Gail Cox
4 – Shamateur – Emma-Jayne Wilson – Michael Doyle
5 – Laraque – Eswan Flores – Kevin Attard
6 – God of Love – Rafael Hernandez – Mark Casse
7 – Mad Mocha – Sahin Civaci – Stuart Simon
8 – Kiddie Holiday – Antonio Gallardo – Kevin Attard
9 – The Minkster – David Moran – Dan Vella
10 – Fast Feet – Kazushi Kimura – Mark Casse
11 – Rum Cup – Patrick Husbands – Barbara Minshall
12 – Lament (S) – Gary Boulanger – Mark Casse
13 – Stronger Together – Justin Stein – Sid Attard
14 – Hidden Honor – Luis Contreras – Kevin Attard
$125,000 DISPLAY STAKES
Post – Horse – Jockey – Trainer
1 – Ironstone – Ademar Santos – Willie Armata
2 – Heat Merchant – Gary Boulanger – Ralph Biamonte
3 – Optigogo – Kazushi Kimura – Eoin Harty
4 – Souper Legacy (S) – Patrick Husbands – Mark Casse
5 – Hicksy – Antonio Gallardo – Kevin Attard
6 – Twenty Four Mamba – Rafael Hernandez – Mark Casse
7 – Dancin in Da'nile – Shaun Bridgmohan – Gail Cox
$125,000 GLORIOUS SONG STAKES
Post – Horse – Jockey – Trainer
1 – Aubrieta – Patrick Husbands – Mark Casse
2 – Chocolateaddiction – Luis Contreras – Josie Carroll
3 – Elegant Joy – Emma-Jayne Wilson – Eoin Harty
4 – Howdyoumakeurmoney – Antonio Gallardo – Michael Trombetta
5 – Fulminate – Patrick Husbands – Mark Casse
6 – Fifth Anniversary – Keveh Nicholls – Ricky Griffith
7 – Skylerville – Kazushi Kimura – Jonathan Thomas
8 – Marie MacKay – Justin Stein – Dan Vella
Woodbine Communications / @WoodbineComms on Twitter