Get to know the equine stars of Woodbine Racetrack, as we go beyond the chart lines and stat sheets to deliver three fascinating facts about a horse who will look to make their mark in 2022.
This week, Ontario-bred Rondure, who broke his maiden in style on May 14, steps into the Woodbine spotlight.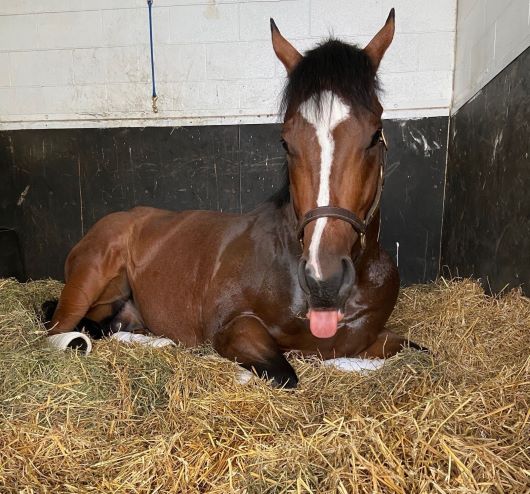 Rondure
Age: 3
Sire: Oxbow
Dam: Carat Weight
Record: 3 starts 1-0-0
Earnings: $49,349 (U.S.)
Trainer: Katerina Vassilieva
Owner: Borders Racing Stable Ltd.
Breeder: Borders Racing Stable Ltd.
Need to know: Sent off at 10-1, Rondure, under Shaun Bridgmohan, converted a three-length lead at the stretch call into a 10 ¾-length romp to record his first win.
'Wow' Factor: "When I had been talking with [fellow Woodbine trainer] Dan Vella over the winter, he told me he liked the horse, and the two races he had were both troubled trips, and not to read too much into those. He said the horse is much better than what he was showing, and that I might want to nominate him to the Queen's Plate. This is before I ever laid eyes on the horse, so Dan had a really good evaluation of the horse already. I always kept that in the back of my mind. I was really happy with the way he was training this spring. He was working by himself, and he was working really well. I never really pressured him with another horse, and he did all of his works very easily. I expected him to run well because he had an extra year of maturity, and those two races. Did I expect him to run that well? No. That was a pleasant surprise, but I did think he would have a good effort."
Food (and sleep) for thought: "He's a really laid-back, cool dude. Not much stresses him out. He loves to sleep. Every day, around 10:30 or 11, like clockwork, he eats his breakfast and then goes to sleep. You will find him around that time, every day, sprawled out in his stall. Which is always a good sign to me, that he knows how to rest and relax. He definitely does that. He's just really cute. He's not really big in stature, but he's stout and he has this really adorable forelock, which makes him look like a Shetland pony. He's got a very cute look to him and a really good mind."
Are you talking to me?: "The way he quickened when called on really stood out to me in his win. His turn of foot was really impressive. He came home so well, and the fact that he could rate and be patient until called on by the rider. It's funny. Shaun [jockey, Bridgmohan] told me after the race that the jockey on the horse beside him, coming out of the gate, he yelled to his horse, and Rondure thought that was for him. Before the race, when we were discussing the tactics, I was guessing that the horse would want to be somewhere mid-pack and make a run. Shaun came out of the gate and Rondure thought the yelling from the jockey next door was for him, so he took off. Shaun was remembering my words and thinking, 'Katerina said to be mid-pack,' so he was worried, took him back and halfway through the race, he knew he had lots of horse left, and that he could call on him any time. So, he was very happy with him and said he was very professional."
Woodbine Communications, Chris Lomon