TORONTO, November 26, 2021 – Suzanne Drake is seeing grey ahead of the $50,000 Crimson Handicap, Saturday at Woodbine.
Nine hopefuls, including Told It All, a grey son of Big Screen, are set to go postward in the Crimson, a seven-furlong Tapeta race for three-year-olds and upward, who have started for $20,000 or less since January 1, 2020, and started three times at the 2021 Woodbine meet.
Drake, who trains and co-owns with Joseph Pollard and Paul McLean, claimed Told It All – the price tag was a mere $9,500 – for the partnership in his second start of the 2021 campaign, on July 11.
The conditioner deflects praise for the astute claim of the now four-year-old, who won the Elgin Stakes last year, but endured a rough patch last fall.
"It was one of the owners of the group we have that came up with the idea to make the claim," said Drake. "Our horse, Benlion, finished second (at 73-1) to Told It All when he won the Elgin."
A change in scenery has led to a change in fortunes for Told It All. After winning his first start, at 27-1, for Drake and co. on August 27, he finished sixth in another turf race on September 19.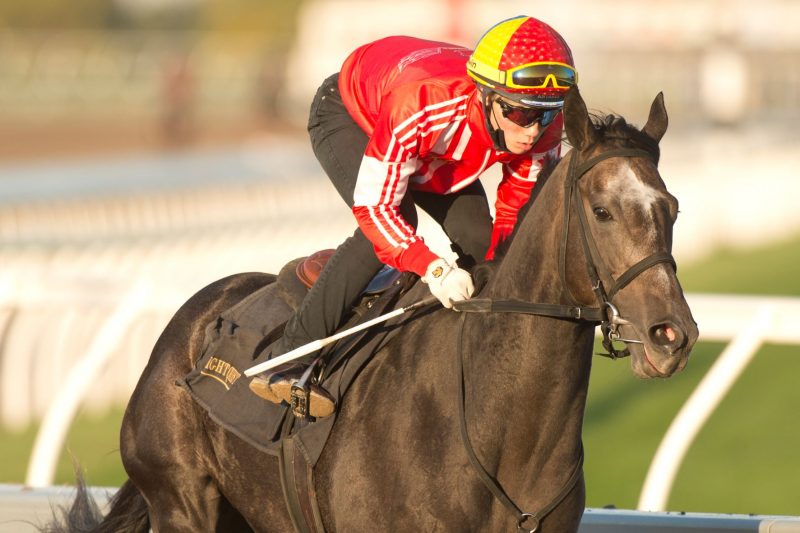 Soon after, the Spring Farm-bred gelding hit his best stride.
Three weeks after his off-the-board finish, Told It All stepped up to the stakes ranks to tussle with some of the Toronto oval's most decorated competitors.
He finished third to multiple stakes winner Not So Quiet in the Overskate on October 9 and second to Canadian sprint superstar Pink Lloyd (who will contest his final race in the Grade 2 Kennedy Road, also on Saturday) in the Ontario Jockey Club Stakes on November 7.
"Isn't that something?" offered Drake. "They were both really great efforts. He's just been great, a very honest, hard-trying horse and a really fun horse too. I can't say anything ill about him. He's just a very nice horse."
Now, Told It All will travel seven panels on the Tapeta and go after his fifth win in his 16th lifetime start.
"I'm really looking forward to the Crimson Handicap," said Drake. "When he gets the trip he kind of needs, you're going to get a really nice run from him. He really tries. I can't say enough good things about him. He's marvelous. He's a real crowd-pleaser. He's a bit of ham and he knows when people are looking at him. He's really, really cool."
The Crimson is complemented by the $50,000 Scarlet Handicap, mirroring the same conditions, but for fillies and mares, three-year-olds and upward.
First post is 12:55 p.m. The Crimson is slated as race seven and the Scarlet as race nine. Fans can watch and wager on all the action through HPIbet.com and the Dark Horse Bets app.
FIELD FOR THE $50,000 CRIMSON
Post – Horse – Jockey – Trainer
1 – Sunspear – Keveh Nicholls – Ian Black
2 – Lapochka – Shaun Bridgmohan – Willie Armata
3 – Told It All – Daisuke Fukumoto – Suzanne Drake
4 – Kitten's Solution – Rafael Hernandez – Steven Chircop
5 – Shangassah – Luis Contreras – Alison Crook
6 – Sir Seamus – Gary Boulanger – Alexander McPherson
7 – Selfmade – Emma-Jayne Wilson – Zeljko Krcmar
8 – Brass Compass – Mauricio Malvaez – Harold Ladouceur
9 – Sandy Bay – Sahin Civaci – Martin Drexler
FIELD FOR THE $50,000 SCARLET
Post – Horse – Jockey – Trainer
1 – A Little Voodoo – Luis Contreras – Denyse McClachrie
2 – Leon Azul – Kirk Johnson – Alison Jennings
3 – Mopolka – Emma-Jayne Wilson – Steven Chircop
4 – Cool Society – Gary Boulanger – Steven Chircop
5 – I'll Take the Gold – Skye Chernetz – Bonnie Eshelman
6 – A Broken Breeze – Rafael Hernandez – Norman McKnight
7 – Marais – Sahin Civaci – Don Pleterski
8 – Antigone – Kazushi Kimura – Martin Drexler
Woodbine Communications / @WoodbineComms