TORONTO, September 30, 2020 – Nine three-year-olds, including Shirl's Speight, take to the E.P. Taylor Turf Course for the $100,000 Toronto Cup Stakes, while 10 three-year-old fillies travel the Tapeta in the $100,000 Duchess Stakes, Saturday at Woodbine.
Charles Fipke's homebred Shirl's Speight will look to get back on the winning track after a seventh-place effort in the $1 million Ricoh Woodbine Mile (G1) on September 19.
It was the first defeat for the son of Speightstown, who won his first two starts in impressive fashion.
"The last one, he just didn't get to run his race," said Hall of Fame trainer Roger Attfield, of the Mile. "He didn't break that smartly, and therefore, he dropped in behind the other horse and there was speed on the outside of him. So, those are two situations he'd never been in before. He was running a little rank, where he couldn't get to run early, so it sort of all didn't work out very well for him."
Attfield is hopeful the bay colt, who won his career bow by eight lengths in a seven-furlong race over the E.P. Taylor Turf Course on July 4, can return to winning form on Saturday.
Although the quick turnaround presents a challenge, the conditioner likes what he's seen in his sophomore star ahead of this weekend's one-mile grass engagement.
"He's doing well. I'm a little reluctant to [come] back this quickly, but I put him in there, and he seemed to come out of his last race really well. I wanted to put him in a race where we could get him back on track. There aren't too many chances near the end of the year now."
Shirl's Speight will look to add another stakes crown to his résumé after a victory in the 1 1/16-mile main track Marine (G3) on July 25.
Sent off as the even-money choice in the Marine, Shirl's Speight was 2 ¾ lengths the best.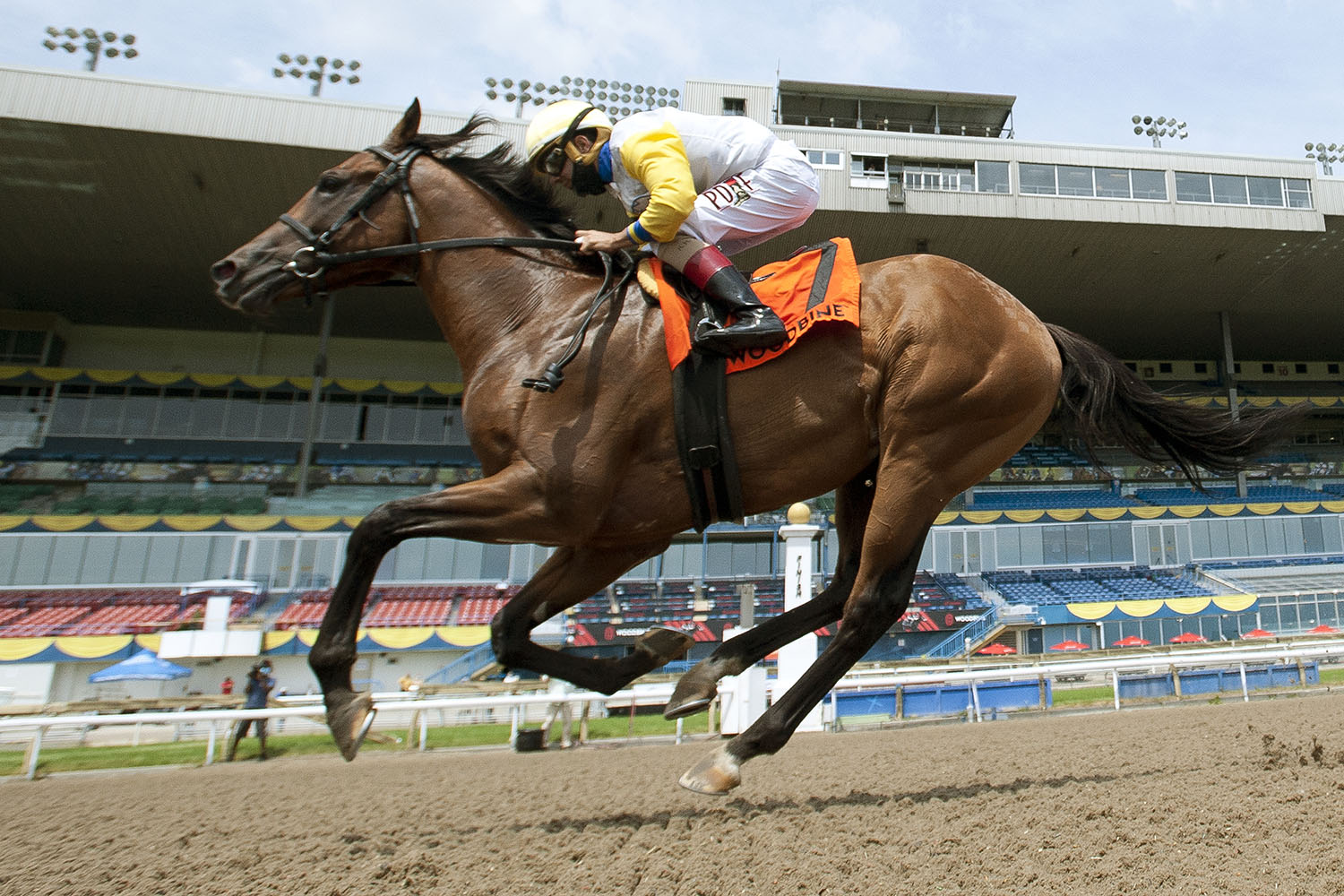 On Saturday, he'll face Lucky Curlin, who was second in the Marine. Bred and owned by John Oxley, the son of Curlin has a 2-1-3 record in 10 starts for trainer Mark Casse.
Casse will also send out graded stakes placed Proven Strategies, a Florida-bred son of Sky Mesa. The dark bay has a 3-3-1 record from 12 outings.
In 2018, March to the Arch gave Casse his fifth Toronto Cup triumph. Attfield won in 2017 with Final Copy.
***
Ten starters chase top prize in the Duchess Stakes, a seven-furlong main track event for three-year-old fillies.
Graded stakes placed Avie's Samurai (3-2-2, from 11 starts), Boardroom (2-0-1, from 3 starts), Diamond Sparkles (1-1-1, from 8 starts), 2019 Stewart Manor Stakes winner Fly So Pretty (2-0-1, from 7 starts), stakes placed Our Secret Agent (2-3-2, from 7 starts), multiple stakes winner Owlette (4-3-1, from 8 starts), Raison d'Etre (2-1-1, from 4 starts), Runway Dreamer (2-1-0, from 8 starts), graded stakes winner Two Sixty (4-1-1, from 12 starts) and Windracer (2-0-0, from 5 starts) comprise the field.
Last year, La Feve, owned by Madaket Stables, Robert LaPenta, Lindy Farms and Team Hanley, made her Canadian debut a winning in one in taking the Duchess.
The Toronto Cup is scheduled as the eighth race on Saturday's 1:10 p.m. program. The Duchess is slated as race nine of 11.
Fans can watch and wager on all the action through HPIbet.com.
$100,000 TORONTO CUP
Post – Horse – Jockey – Trainer
1 – Proven Strategies – Justin Stein – Mark Casse
2 – Told It All – Luis Contreras – Norm McKnight
3 – Duke of Carthania – Steven Bahen – Mark Casse
4 – Bexar – Sheena Ryan – Pat Parente
5 – Lucky Curlin – Patrick Husbands – Mark Casse
6 – Shirl's Speight – Rafael Hernandez – Roger Attfield
7 – Lookinatamiracle – David Moran – Sandra Dominguez
8 – Runway Dreamer – Daisuke Fukumoto – Josie Carroll
9 – Clear Destination – Emma-Jayne Wilson – Ashlee Brnjas
$100,000 DUCHESS STAKES
Post – Horse – Jockey – Trainer
1 – Fly So Pretty – Patrick Husbands – Mark Casse
2 – Avie's Samurai – Daisuke Fukumoto – Josie Carroll
3 – Windracer – David Moran – Jack Sisterson
4 – Owlette – Justin Stein – Wesley Ward
5 – Raison d'Etre – Patrick Husbands – Mark Casse
6 – Runway Dreamer – Daisuke Fukumoto – Josie Carroll
7 – Two Sixty – Emma-Jayne Wilson – Mark Casse
8 – Our Secret Agent – Emma-Jayne Wilson – Mark Casse
9 – Diamond Sparkles – Rafael Hernandez – Mark Casse
10 – Boardroom – Luis Contreras – Josie Carroll