TORONTO, October 11, 2018—Artistico already has nailed down the honours in this year's Turf Endurance Series at Woodbine, with victories in two of the first three legs giving him 20 points and an insurmountable lead.
That means that Artistico's owners, 4U Thoroughbred Racing Stable Inc., will be collecting a $25,000 bonus and trainer Sylvain Pion will receive $15,000.
But that certainly doesn't mean that the five-year-old Niigon gelding will be resting on his laurels when he goes postward against eight rivals with a purse of $50,000 up for grabs in the 2 1/4 mile series finale here Sunday.
"It's a little far for my liking," said Pion. "Two and a quarter miles, from a mile and five-eighths—that's a big jump.
"But, I don't think that it will be an issue. He's got great stamina."
Artistico had kicked off the series, which is open to three-year-olds and upward who have started for $25,000 or less in 2017-2018 or are entered to be claimed for $45,000, with a come-from-behind win at 1 3/8 miles on July 1.
After contesting a pair of allowance races with mixed results, Artistico returned to the Turf Endurance game and led throughout the 1 5/8-mile third leg on September 9.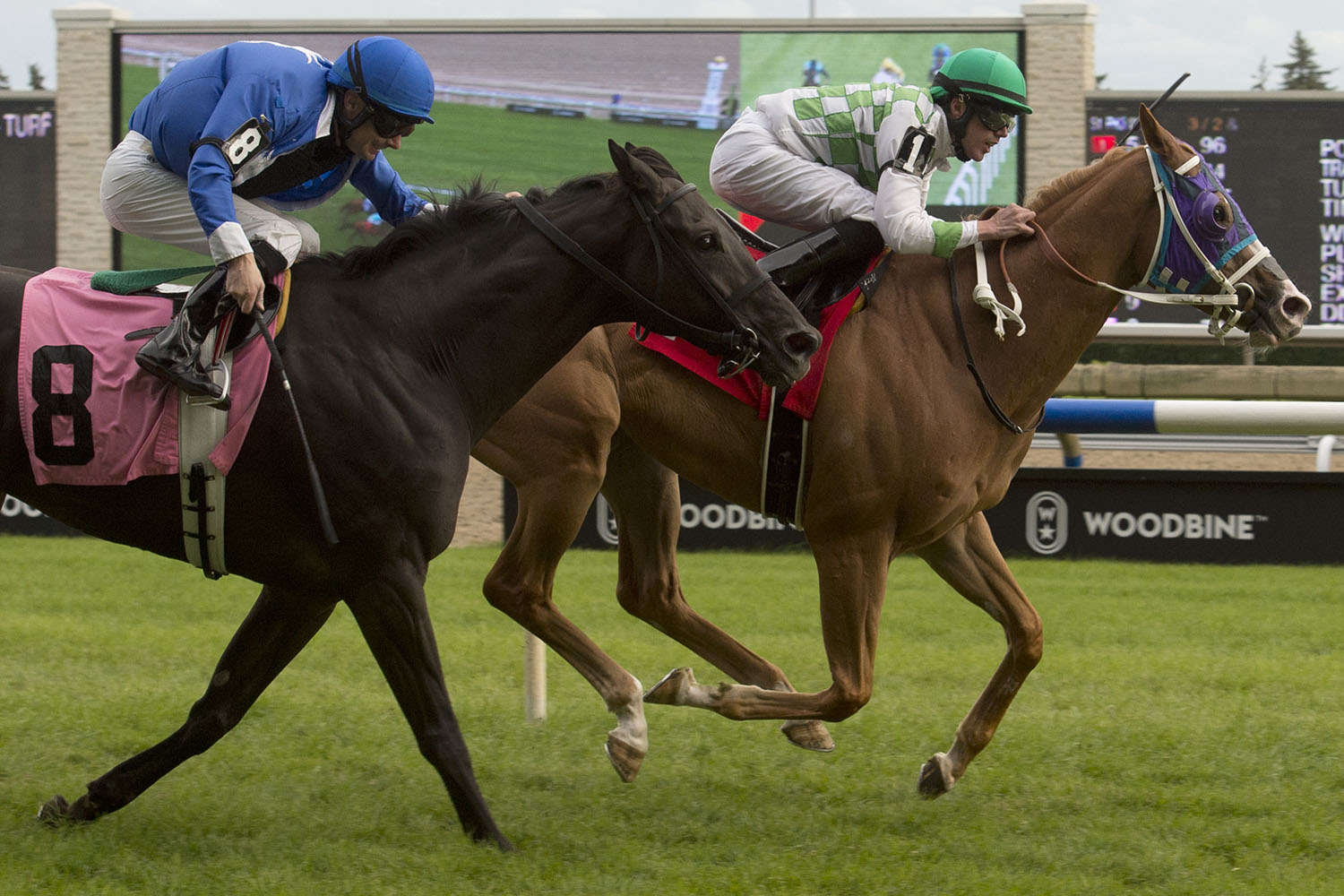 Royal Intrigue, the runner-up that day after winning the 1 1/2-mile second leg on August 5 in Artistico's absence, is not in Sunday's lineup.
That leaves Camp Creek and Sine Metu, the 3-4 finishers in the third leg, as the likeliest candidates to spoil Artistico's victory lap.
Camp Creek, a five-year-old Dunkirk gelding, won the Breeders' Stakes over 1 1/2 miles of turf as a three-year-old but is 0-for-8 in with several layoffs in the interim.
The Turf Series race here was the first for Camp Creek since March 24 and his first for trainer Kevin Attard.
"He ran a pretty good race last time, off a layoff," said Attard, who had watched Cam Creek finish 2 1/4 lengths shy of the winner.
"I think he should move forward off that race. He worked well in the interim, so he should be coming up to a good race."
While acknowledging that Sunday's 2 1/4-mile distance is a unknown, Attard believes Camp Creek has the right profile.
"He's a horse that just kind of plods along," said Attard. "Obviously, it's a challenging distance but I do think it's within his realm."
Sine Metu gets full marks for attendance as he finished fourth in each of the opening three legs of the series, ending 3 3/4 lengths back in the latest.
Owned by Glenn Thomas and trained by Julie Belhumeur, the seven-year-old Rebellion gelding already had confirmed his Iron Horse credentials when contesting the entirety of the series last year, finishing second in each of the middle legs and third in the final.
"The horse is doing great," said Belhumeur. "He's in great shape; he's ready for this race. I know it's not going to be an easy race but he's ready to compete."
Belhumeur, wanting to leave nothing to chance in that regard, sent out Sine Metu to finish fourth in a 1 1/16-mile optional claiming/starter allowance race on the Tapeta here September 26.
"He hasn't been putting out so much, breezing in the mornings, so we gave him a race to keep him fitter and keep him happier," said Belhumeur.
Here is a complete look at the lineup for the $50,000 Turf Endurance Series final, scheduled as the ninth of 11 races on Sunday's 1 p.m. program.
$50,000 Turf Endurance Series Final
Post/Horse/Jockey/Trainer
1/Seeking the Bay/Emma-Jayne Wilson/Ron Potts
2/Twentytwentycrest/Omar Moreno/Saul McHugh
3/Leopard Cat/Kazushi Kimura/Kevin Attard
4/Strongbox/Luis Contreras/Matt Frazier
5/Camp Creek/Rafael Hernandez/Kevin Attard
6/Sine Metu/Simon Husbands/Julie Belhumeur
7/J M R Silent Sam/Isabelle Wenc/Ken Albu
8/Artistico/Jesse Campbell/Sylvain Pion
9/Itstartswithadrink/Daisuke Fukumoto/Anthony Pottinger