TORONTO, June 29, 2019 – Wet Your Whistle, ridden by Alex Cintron, stormed home down the long E.P. Taylor Turf Course to take top honours in Saturday's $304,800 Highlander Stakes, at Woodbine.
The Grade 1 feature, first run in 1954, drew nine starters for the six-furlong turf race for three-year-olds and upward.
Yorkton and Extravagant duked it out early in the Highlander, dueling through early splits of :22.44 and :44.87, as Cintron and Wet Your Whistle watched the proceedings from near the back of the pack.
Turning for home, Wet Your Whistle, third choice on the tote board, was taken to the outside and began to pick up steam as the real running started.
The four-year-old gelded son of Stroll continued to gather momentum and struck front with authority, going on to notch a 1 ½-length win. Extravagant Kid was second, White Flag was third and El Tormenta took fourth.
The final time for the sprint was 1:07.88 over 'firm' going.
"The last couple times he did not get out so well," said Cintron of the rough starts out of the gate. "I just left him alone. He's been running great that – I just tried not to change anything in this race. I just tried to ride the same race I rode the last time. And I think he ran better than the last time. I was impressed with the last quarter of a mile… he was flying. He floated."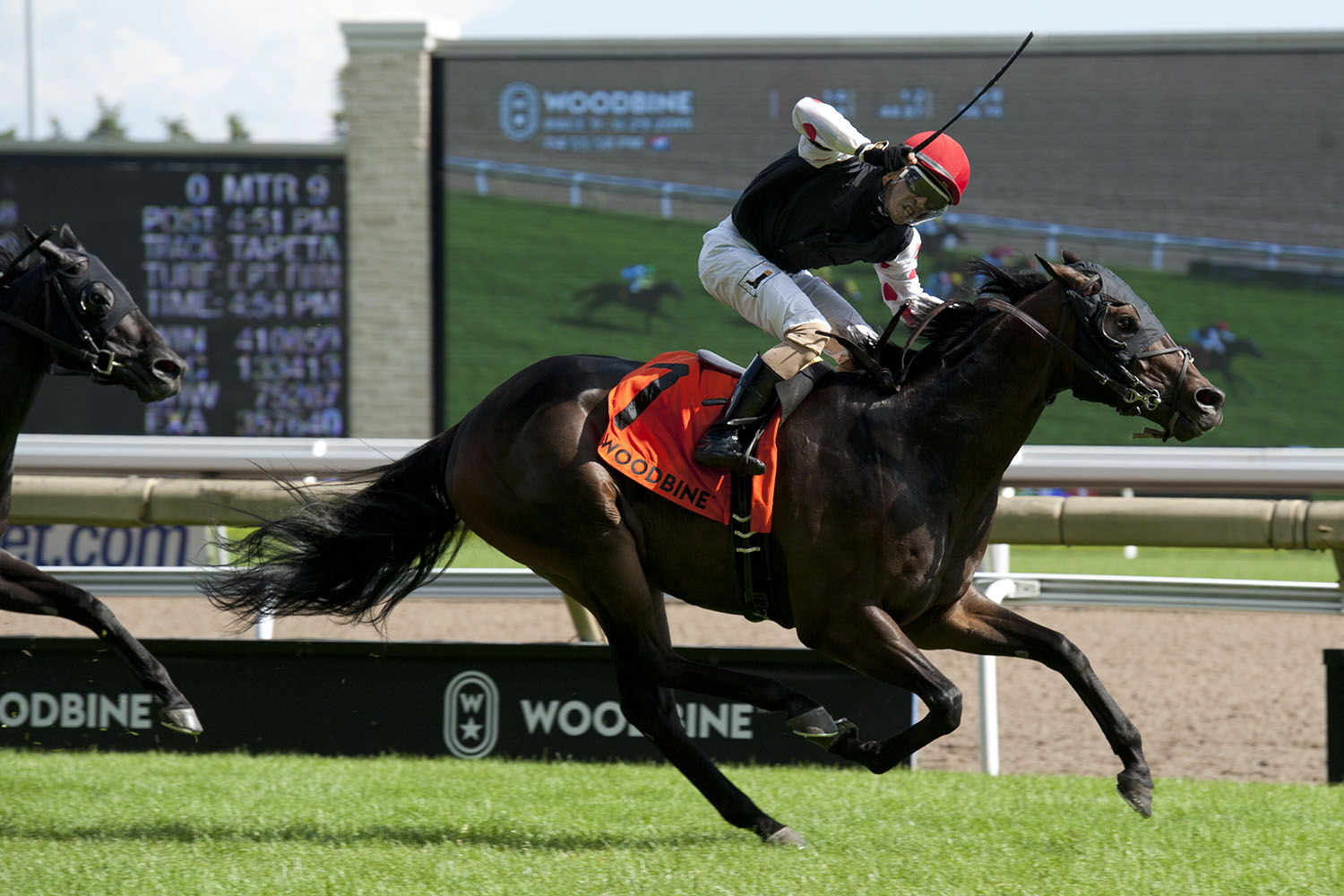 It was fifth career score in 11 starts and fourth straight winner's circle trip for the Michael Trombetta trainee, who came into the Highlander off a dazzling 3 ¼-length victory in the Get Serious Stakes at Monmouth.
On Saturday, the David Palmer silk bearer was all business.
"You know he just learned to settle himself down just enough," said Trombetta. "He's a high-strung type of individual and he's learned to run when he's supposed to and it's been a lot fun.
"He is one of those kind of horses. He can do five-and-a-half (furlongs) and probably up to a mile. I think he definitely prefers one turn, but there's lots of options for him. You know, he will do synthetic as well. So there are lots of choices."
The dark bay, who notched his first Grade 1 score, was bred in Kentucky by E.H. Lane III.
Wet Your Whistle returned $9.30, $4.50 and $3.50 and topped a 7-1 exactor with Extravagant Kid ($4.30, $3.10) worth $38. A 7-1-8 trifecta with White Flag ($3.20) paid $90.40. A 7-1-8-3 superfecta capped by El Tormenta was worth $445.15 for $1.