TORONTO, March 18, 2021 – The Winterbook Edition of The 2021 Queen's Plate Power Rankings was released today featuring a list of 125 three-year-old Thoroughbreds nominated to the Canadian Triple Crown, topped by Chiefswood Stables' homebred Weyburn.
Weyburn has been pegged as the early 3-1 favourite in this year's set of predictive rankings for the 162nd running of the iconic $1 million Queen's Plate, first jewel of the Canadian Triple Crown, set for Sunday, August 22 at Woodbine Racetrack. Woodbine's annual Winterbook is assembled by Ron Gierkink and Alex Campbell of the Daily Racing Form.
Weyburn stepped into the three-year-old spotlight with a gutsy nose nod in the Gotham Stakes at Aqueduct on March 6. Under Trevor McCarthy, the son of Pioneerof the Nile-Sunday Affair was sent off at 46-1 in the Grade 3 event. After a fifth-place finish in his career bow last October and a second in his next start in November, the dark bay has reeled off consecutive wins, including a maiden-breaking performance last December at Aqueduct. Chiefswood won the 2004 'Gallop of the Guineas' with Niigon. Trainer Jimmy Jerkens won the 2017 Plate with Stronach Stables' filly Holy Helena.
"He was a big, good-looking horse, very athletic and he was showing the signs early," said Canadian Horse Racing Hall of Fame jockey and Chiefswood Stables' General Manager, Robert Landry, who was aboard Niigon for the Plate score 17 years ago. "He actually wanted to do more than he was ready to do as a young horse. "Obviously, seasoning-wise, he's still a big kid, and it [Gotham] was a big step up for him, going from a maiden win to a graded stakes race. "It wasn't the plan, but good horses overcome those kinds of things. Jimmy [trainer, Jerkens] was really happy with the way he was training and it all worked out."
The 2021 game plan for Weyburn is still being mapped out by his connections.
His next start will most likely come in the Grade 2 $750,000 Wood Memorial on April 3 at Aqueduct. The 1 1/8-mile main track event is a key race on the road to the Kentucky Derby.
"Right now, our main focus is on the U.S. Triple Crown races, but we're not ruling out the chance that he could run in the Plate," said Landry. "His next race will tell us a lot and we should have a clearer picture of what the plans are after that."
Stephen, a bay son of Constitution-Naughty Holiday, is the second choice at 4-1. He ended his two-year-old campaign in style, courtesy of a polished performance in the $250,000 Coronation Futurity Stakes. The victory was a maiden-breaking score for the bay owned by Al and Bill Ulwelling. After an eighth-place finish in the Simcoe Stakes to launch his career at the end of August, Stephen rallied to finish second in his next engagement, a 1 1/16-mile event in October. Bred by Trackwest Racing Inc., the sophomore is one of two (Haddassah) high-profile hopefuls for the Ulwellings and trainer Kevin Attard, both in search of their first Plate triumph. Attard, whose best finish in the Queen's Plate to date was with 2007 runner-up Alezzandro, was third last year with Clayton.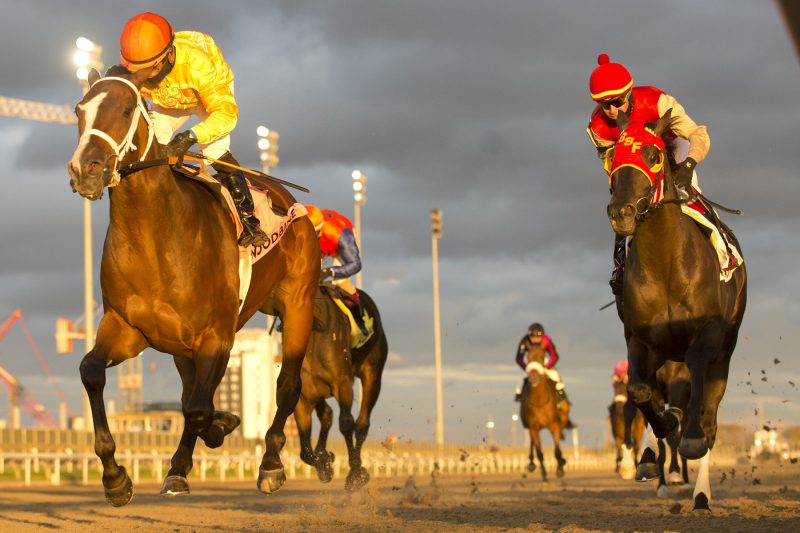 "In Stephen's second start, he got into a little bit of trouble and he had to wait, regain momentum, and then he came with a furious run at the end," said Attard, of the finalist for Canadian champion 2-year-old male honours. "I was pretty impressed to see that, especially from a younger horse in his second start. Even though he didn't win that day, he ran a winning race. That's pretty exciting to see, obviously when you're going two turns and you have a Canadian-bred, then everything starts to ring in your head that maybe this could be the horse."
Ranked number three at 6-1, Tio Magico could deliver iconic Canadian owner-breeder Sam-Son Farm with its sixth Plate crown. A son of Uncle Mo-Magic Broomstick, the Gail Cox trainee swept aside a troubled first start on September 7 to win his second appearance, on October 4, by a half-length, as the 2-1 choice. Tio Magico followed that effort up with a game second to Stephen in the Coronation Futurity. He made his 2021 debut on March 11, finishing third at Gulfstream in a 1-mile main track race. Sam-Son Farm, who will receive a special Sovereign Award at this year's annual ceremonies, notched their most recent Plate win with Eye of the Leopard in 2009.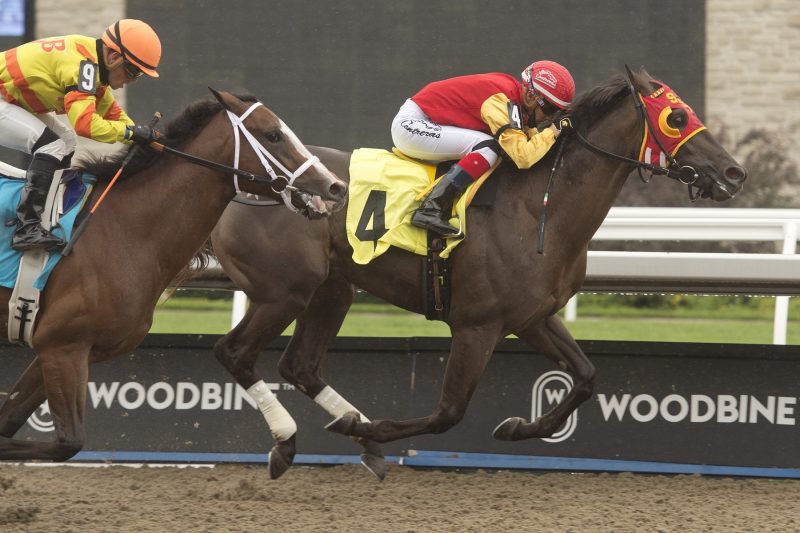 "I thought it [most recent race] was a great effort," said Cox. "I was really impressed. When he shipped here [Florida], he didn't put a foot wrong, had a great pre-race performance and I thought he ran really well. The winner [Prevalence] is a monster. He's a really nice horse. I was talking to the connections and they hope they are on the Kentucky Derby trail with that horse. I thought 'Tio' didn't give up after those fast fractions. He kept running. He still runs a little green. Junior [jockey, Alvarado] said he had a pretty good look at the horse before he got running again. His two races before, he fooled around a little in the stretch and ducked to the rail. This time, he was way more mature.
"I think he's maturing with every start," continued Cox. "He had a pretty good gallop out too. This is what you want to see [on the road to the Plate]. I think his speed can be harnessed. I think he's going to become a horse that could possibly sit in behind a little bit or be the speed if nobody else is there. I think he's going to be quite manageable. The plan is that we'll be back to Woodbine around mid-April."
Haddassah, a gelded son of Air Force Blue-Lady Haddassah, represents the Ulwellings (who also bred the bay) and Attard's other top Plate prospect. He is listed as the 8-1 fourth choice in the Winterbook. Sent off at 9-5 in his career bow last November at Woodbine, Haddassah didn't disappoint in his only start to date, making a strong late surge to record a half-length win in a 1 mile and 70-yard Tapeta race originally scheduled for the turf. The Ontario-bred (and Stephen) stayed with Attard in Ontario over the winter.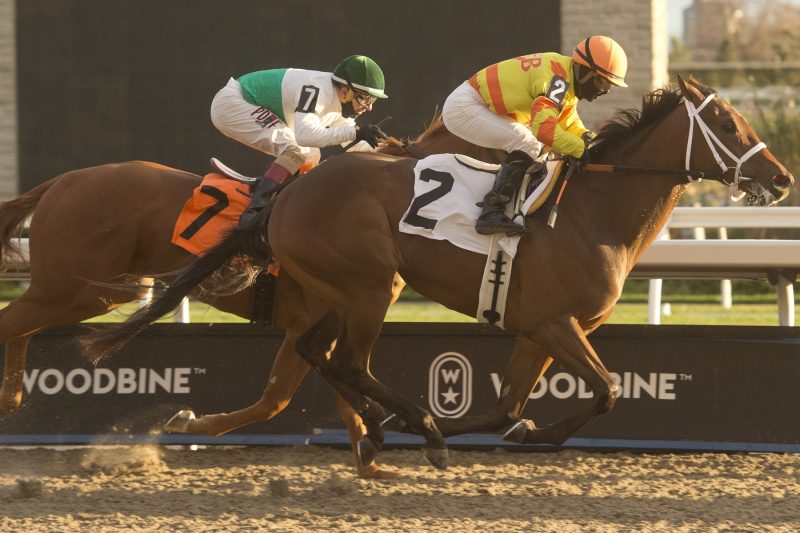 "He had trained really well coming into that race," recalled Attard. "If he wasn't going to win that race, a good horse was going to have to beat him. So, there weren't any surprises with him in terms of that first race just because he had shown a lot of talent from the get-go, and you anticipate that kind of effort. Luckily, that transpired. Both Haddassah and Stephen are settled in nicely at Woodbine. This week, you'll start to see them get into a routine now. We let them do a little bit last week, just stretching their legs, so that we can see where we're at. We'll start those foundation breezes and increase things as we go along.
"They [Ulwellings] are great guys. They are supportive of Canadian racing, they foal their mares here – it's nice to have those types of people, who put in the investment, get rewarded."
Like his namesake, Gretzky the Great (10-1 in the Winterbook) has been just that over his six-race career, a resume that features three wins, one second and a third. Bred by David Anderson, the Mark Casse trainee contested his first four races at Woodbine, making three trips to the winner's circle, including the Soaring Free and Grade 1 Summer Stakes, to go along with a runner-up effort. After a sixth in the Breeders' Cup Juvenile Turf to close out his 2020 season, the colt, owned by Eclipse Thoroughbred Partners and Gary Barber, finished third in his 2021 curtain raiser, the John Battaglia Memorial Stakes at Turfway Park on February 26. He is also a finalist for Canadian champion 2-year-old male honours. Casse has two Plate trophies, both with fillies, in 2014 with Lexie Lou and in 2018 with Wonder Gadot.
Dreaming of Drew, a daughter of Speightster-Dreaming of Liz, is one of several strong fillies found on this year's Winterbook list. Campaigned by champion trainer Barbara Minshall, the Hoolie Racing Stable LLC and Madaket Stable LLC rising star fashions a record of 2-2-0 from five career starts. The chestnut, who broke her maiden with a six-length score in her second start last July, was equally impressive in her final start of last year. Bet down to 4-5, Dreaming of Drew led throughout, en route to a 3 ¾-length victory in the $250,000 Princess Elizabeth Stakes. Listed at 12-1 in the Winterbook, she is a finalist for the 2-year-old female Sovereign Award.
A total of 78 fillies have been nominated to the 66th edition of the $500,000 Woodbine Oaks Presented by Budweiser. Woodbine will host the first leg of the Triple Tiara on Saturday, July 25, along with the Plate Trial.
The top 10 and complete Winterbook rankings, listed in alphabetical order, can be viewed below.
Canadian Triple Crown Stakes Nomination Past Performances (from Equibase)
Woodbine Oaks Presented By Budweiser Stakes Nomination Past Performances (from Equibase)
Visit QueensPlate.com and follow @WoodbineTB for the latest updates on #QP21.
Top 10
Weyburn 3-1
Stephen 4-1
Tio Magico 6-1
Haddassah 8-1
Gretzky the Great 10-1
Dreaming of Drew 12-1
Safe Conduct 14-1
Riptide Rock 16-1
Smiley Sobotka 18-1
Curlin's Catch 20-1
The Queen's Plate Power Rankings – Winterbook Edition (All horses)
(18) Launch the Rocket (75-1)
(18) Oxbow Lake (75-1)
All Canadian (30-1)
Alpha Beta Gama (40-1)
Alpha Predator (40-1)
Arquebus (50-1)
Avoman (25-1)
Awesome Remix (40-1)
Belentime (30-1)
Beyond My Dreams (30-1)
Billy Yank (30-1)
Blast in the Snow (75-1)
Bodie (50-1)
Breaking Alone (30-1)
Breathlessnthesand (40-1)
British Royalty (30-1)
Candy Overload (30-1)
Careful Java (50-1)
Chairman (50-1)
Classified Trouble (50-1)
Collective Force (50-1)
Core (40-1)
Cousin Bob (50-1)
Credit River (25-1)
Cruden Bay (25-1)
Curlin's Catch (20-1)
Dance Some Mo (30-1)
Danish Ekati (50-1)
Dejas Too (30-1)
Derzkii (25-1)
Doc Fishman (75-1)
Dominant Factor (75-1)
Download (30-1)
Dreaming of Drew (12-1)
Dunsandle (50-1)
Dynamite Duke (50-1)
Executive Giant (40-1)
Flex (40-1)
Four Bounce (75-1)
Free Shipping (40-1)
Ga Ga Gizmo (40-1)
Galvaston (40-1)
Giant Waters (25-1)
Go Take Charge (25-1)
Gretzky the Great (10-1)
Greyshott (40-1)
H C Holiday (40-1)
Haddassah (8-1)
Harlan Estate (25-1)
Here Comes Gianni (75-1)
High Heat (75-1)
Hombre (50-1)
Houdini's Awesome (30-1)
Il Malocchio (25-1)
Jilli Marie (30-1)
Jojomar (40-1)
Justintimegosnorth (30-1)
Karakontie Pat (75-1)
Keep Grinding (25-1)
Lenny K (30-1)
Lion of the Sea (25-1)
Lomaki's Gem (25-1)
Macallan Gal (50-1)
Maclean's Posse (30-1)
Mail Order (25-1)
Maritime Mission (40-1)
Mason's Gamble (40-1)
Master McGrath (40-1)
Master Spy (25-1)
Maverick Man (40-1)
Moonquest (50-1)
Morethansoultitle (40-1)
Mr Souperstitious (75-1)
Mr. Dydyk (75-1)
Mt Logan (30-1)
Musk (40-1)
Niagara Skyline (50-1)
Nikolaou (50-1)
Nonno's Little Boy (75-1)
One Flint (30-1)
Orange Sky (75-1)
Palio (25-1)
Patron d'Oro (30-1)
Petawawa (50-1)
Pharaoh's Triumph (75-1)
Pipers Dynasty (50-1)
Polyanthus (25-1)
Queen Cordelia (50-1)
Race for Pinks (50-1)
Ready At Dawn (40-1)
Red River Rebel (25-1)
Repentance (75-1)
Right to Strike (50-1)
Riptide Rock (16-1)
Rookie Radar (40-1)
Route One (50-1)
Runninforcover (30-1)
Safe Conduct (14-1)
Saturday George (30-1)
Saturday Value (30-1)
Scotty From Italy (75-1)
Siakam (75-1)
Silent Fire (50-1)
Smiley Sobotka (18-1)
Stephen (4-1)
Sugar Ray (75-1)
Sunrise Drive (75-1)
Three Mile Limit (40-1)
Threefiftyseven (30-1)
Thru the Vine (30-1)
Tidal Forces (50-1)
Tio Magico (6-1)
Took a Wrong Turn (30-1)
Traveller (40-1)
Trebuchet (75-1)
Trigger's Bay (30-1)
Truffle King (25-1)
Ultimate Storm (75-1)
Valhalla Air Base (40-1)
Verrazano Narrows (50-1)
Vivid Vixen (50-1)
Wasaga (75-1)
Wenjack (75-1)
Weyburn (3-1)
Workin Out (75-1)