TORONTO, October 28, 2019 – Multiple award-winning jockey Emma-Jayne Wilson is nearing her return to racing at Woodbine after being injured in action early last month.
Wilson, a career winner of more than 1,500 races, suffered a broken left clavicle and fractures to her right hand when she was dismounted during a spill on September 8.
Approximately six weeks removed from routine reparative surgery on her clavicle, her recovery progress has been steady.
"The shoulder injury is doing well," said Wilson. "Because it was a surgical repair, rehabilitation on that starts fairly quickly with a lot of range of motion work and then strengthening. I've been doing that for maybe the first week or two weeks post-surgery. I've been doing some physiotherapy on that and each week we progress with a little more detail and strength-oriented stuff."
Last Monday, doctors also removed the immobilization brace that was facilitating proper healing for her hand injury.
"Since Monday's appointment, I've been allowed to take the brace off fulltime and start rehab on my hand," explained Wilson. "The progress has been significant in just a couple days with it off. I can use my hand and it's just nice to see progression."
If all goes to plan, racing fans will see Wilson back in the saddle before the Woodbine meet ends and as early as the second weekend of November.
"I'm pretty happy with the way things have been going," said Wilson, who has another follow-up appointment with doctors this week. "I'm anticipating maybe the second weekend in November, barring any major issues, but in the next week to 10 days we'll know more.
"My agent, Mike Luider, has been in action out on the backstretch and keeping people updated. We have calls for races further down in the condition book. Everyone is still aware of the situation, so I guess it's just a day-to-day kind of thing until I get my clearance and the doctors are completely happy. They're aware of the extent of the game so we want to make sure that everything is 100 per cent before we get back playing."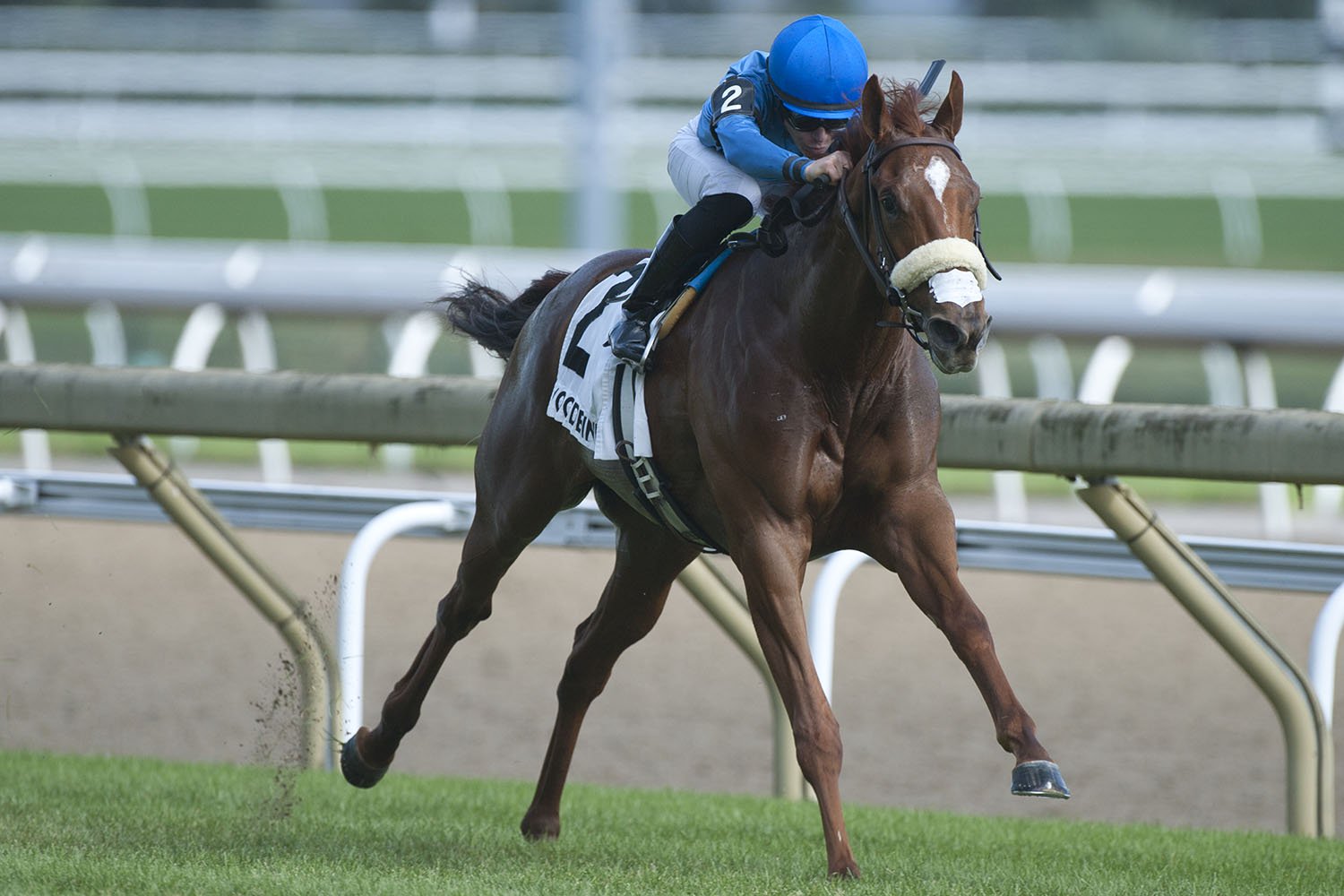 Wilson added that she is grateful for the support that she has received from the horse racing community during her recovery.
"I've had a lot of support from the people on the backstretch. I've had a lot of messages and phone calls, a lot of well wishes. My agent passes along the messages from the people at the track and I've gone in a couple times. The support has been tremendous in terms of the people stopping and seeing how I'm doing. That kind of stuff may seem simple, but people voicing how they are looking forward to seeing me back in the tack, that's the motivation that really pushes you along on some of the tougher days."
All the while, Wilson has been working with her longtime personal trainer and physiotherapist Matt Munroe and his team to maintain her riding form and fitness levels via the Equicizer and lower body workouts.
"I'm pretty keen, I'm pretty excited," said the resilient rider. "To get that brace off the other day and to get the reigns in between my fingers on the Equicizer was really, really satisfying."
Wilson earned 49 wins at the Woodbine meet prior to the accident and holds sixth-place in the jockey standings as of Oct. 28. Among her six stakes wins, she reigned the Breeders' Cup-bound filly Fair Maiden to victory in the Catch a Glimpse Stakes in August.
Feels pretty great to have the reins back in my hands! No more cast, no more brace ?? #HealingStrong pic.twitter.com/LjBOC6KJ2J

— Emma-Jayne Wilson (@EJWilson81) October 23, 2019
Training hard, moving forward!! #GetTiedOn #HealingStrong #SeeYouSoon pic.twitter.com/1Gn0sTclFC

— Emma-Jayne Wilson (@EJWilson81) October 18, 2019