Woodbine horse people are always ready to go to bat for a good cause, especially when it's for one of their own.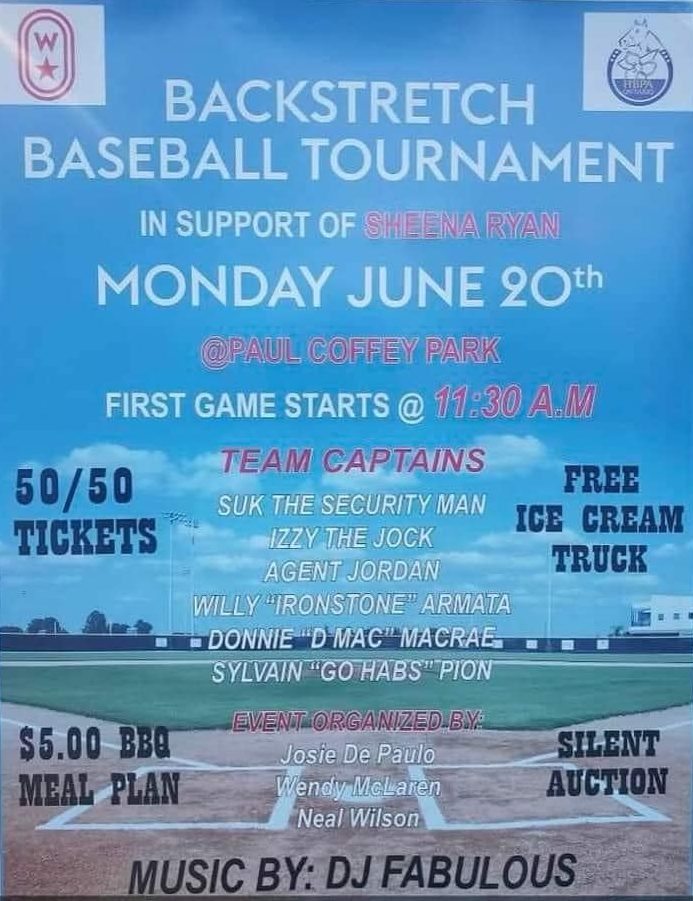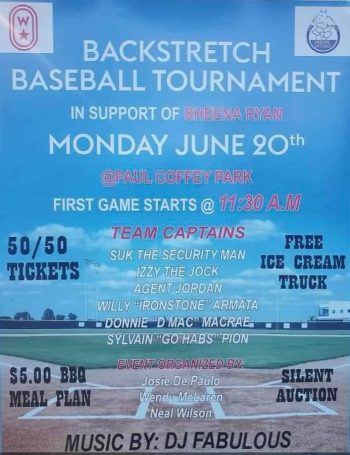 Fellow jockeys, exercise riders, trainers, owners, grooms and several other members of the Woodbine horse racing community will come together on Monday, June 20, for the 'Backstretch Baseball Tournament' at Paul Coffey Park in Malton to raise money for jockey Sheena Ryan, who suffered serious injuries in a morning training accident in the backstretch in early May, injuries that required major surgery at Sunnybrook Hospital.
The event, which includes six teams playing in the tournament, a $5 BBQ lunch, free ice cream truck, DJ Fabulous, a silent auction, and a 50/50 draw, is open to the public. The first game is at 11:30 a.m. with the championship at 4:00 p.m.
"We'd love to see people come out to see the jockeys in a much different way than they're used to seeing them," said jockey agent Neal Wilson. "We have a large picnic area and plenty of great things for families to enjoy. It's going to be a great day and we encourage everyone to come out and join in the fun."
The Woodbine racing community has banded together to raise funds for the popular rider, who was getting back on horses after suffering a concussion last fall. A GoFundMe (www.gofundme.com/f/help-injured-exercise-rider-may-rivas-in-recovery) was organized by fellow jockey and close friend, Isabelle Wenc.
"She has a very long road to recovery, and I know times are tough for everyone, but any little donation would be greatly appreciated," Wenc wrote on the GoFundMe page, which has brought in over $15,000 in donations to date.
Josie De Paulo, one of the organizers of the baseball tournament, and assistant trainer to her husband, Mike De Paulo, is grateful for the many who have stepped up to help Ryan.
"So many people have come together to help out Sheena. It's not surprising, but it's wonderful to see. This business has given us a great life and it's important to support each other. When Daren Gomez [Executive Director, Jockeys' Benefit Association of Canada] came to me, I had a lot of experience in helping to assist with these types of fundraisers. I had helped organize a fundraiser for Lanscott Fray, who was paralyzed after a morning training accident. So, when Daren came to talk with me, I was only too happy to help."
Mike De Paulo, who has 926 career wins, reached out to several horsepeople to ask if they would support the cause.
All of them did.
"It's a competitive business, but it's a family back there," he noted. "There are a lot of people you know and although Sheena didn't ride for us, she is part of that family. We have a bunch of TVs donated from people and one of my owners, Robert Marzilli, paid for an ice cream truck. It's been great to see everyone band together to want to help."
Gomez, nephew of the late Hall of Fame rider Avelino Gomez, echoed De Paulo's thoughts.
"Well, simply put, we are a racing community and when someone gets hurt, we should help. I might also add, happy to help.
It makes you feel good and proud to be part of something so strong. Simply put, Sheena is an integral part of our community, very happy, a positive attitude and loves the horses."
Ryan, Canada's Sovereign Award-winning apprentice in 2014, took to social media to share her gratitude for the outpouring of support.
The lifetime winner of 197 races, including five stakes victories, will be on-hand for the tournament.
"Huge thank you to Josie De Paulo, Neal Wilson and [Woodbine's grounds manager] Wendy McLaren for putting this together!  It's going to be a fun day – good for everyone to get out and play some softball! I will be there and I'm excited to see everyone!"
As for the tournament itself, expect the competitive side of horsepeople to come out ahead of the first pitch.
"I can't wait to see it," said Josie De Paulo. "This is fun competition. When you're racing, you could be racing against family members, and you are all competing to win. There could be times when you feel guilty if you nose out someone you're close with, but for something like this, you love it if you beat them."
Chris Lomon, Woodbine Communications / @WoodbineComms