TORONTO, May 12, 2021 – Each week, in the lead-up to Opening Day of the 2021 Woodbine Thoroughbred season, we'll follow some of the top storylines of key horses and horsepeople, and also share other important news, notes and highlights. From horses on the Queen's Plate trail, to horses to keep tabs on ahead of the upcoming Woodbine season, to catching up with Woodbine jockeys and trainers, the weekly report keeps racing fans and the racing community in the loop.
In this week's report, jockey Justin Stein talks 2021 goals, trainer Katerina Vassilieva gives the inside track on her promising 3-year-old Jilli Marie, Ones To Watch with Julia Carey, Lady Grace's rallying Grade 2 Royal North score, and more.   
*
Path to the Plate: Jilli Marie (30-1 in the Queen's Plate Winterbook)
Sire: Dynamic Sky
Dam: Jilli's Cape
Trainer: Katerina Vassilieva
Owner: Kevin Drew
Breeder: Brian Wright
Record: 2-0-0 from 2 starts
*
Early signs: "I think I knew that she was a talented horse when I started working her at Woodbine. Whenever I put her in company with another horse – frequently, you do that with babies – she always showed a competitive nature. She always tried to stick a neck in front or was more game than the others. Even if it wasn't a brilliant time – we never actually set her down and asked her to breeze fast because that's just not my style – she always did her breezes very easily. She was always very professional and always had that competitive spirit. I had an inclination then that she might have some talent, but you never really know until you get to the races whether they're going to handle the whole day. The nerves sometimes get the better of them even if they do have the talent."
Familiar scene: "In her first race, she did get loose when they were handing her off to the pony, which, coincidentally, the best horse I ever trained until her, Big Bazinga, did the exact same thing in his first start. He reared up and got loose in the tunnel, then won his first start."
Dazzling debut: "After her first race, the things I thought I was seeing in her in the morning were justified. She won pretty easily and she was very professional in how she handled the race."
Tiny but mighty: "She's very small. When you first look at her, it's not the image you get of a quote unquote big horse or special horse. Most people picture a very large, very muscular, majestic-looking horse. She's very well balanced, she's very correct and she's a pretty filly. But she's not big and striking. She might fly under the radar in that sense."
Survivor: "She definitely has a fighting spirit. That's the biggest thing that comes through. She has this scrappiness. I love her story of resilience. She was an orphaned foal… her mother died when she was born. Right from the get-go she had to fight to survive. She has that grittiness to her, that sassiness and personality. She definitely has sass to her."
Question marks: "There is still a long road ahead to discuss any of those races [Queen's Plate and Woodbine Oaks]. If anything, we would target the Woodbine Oaks first because she is a 3-year-old filly. She's never run past 6 ½ furlongs, but I think she can stretch out. The way she's run her races tells me she would appreciate more distance. Would she like a mile-and-an-eighth? I don't know. It's one step at a time. We had a schedule for her, but you can crumple up that paper and start all over again. The Queen's Plate is a very lofty goal and the Oaks might be lofty, but more logical. We're targeting the Fury Stakes for now and we'll see how that goes."
*
Jock Talk: Justin Stein
2020 goals: "I wanted to be in the top three, for sure. I thought I had a good year prior that helped set that course to achieve that goal. That was my top goal."
Fast start: "I knew pretty much right away that it would be a good year. Things went very well early and I caught a lot of people's attention. [Trainers] Kevin Attard and Sid Attard, I pretty much rode all of their horses. That was awesome."
Horsepower: "You're fortunate because you're getting to ride some very nice horses who give you confidence and an excellent chance to win the race. It was nice to be in the position I found myself in."
Winning mindset: "It was my approach to my job and the passion I was able to put into it. The ability to focus and to be in that moment is so huge. I'm very content. It was a funny year because the atmosphere was so different than what we were used to. To not have fans, and a different socialization with the trainers, owners and other horsepeople, all kind of added up to a very unique year."
Thinking big: "You never know what could have happened if the season had kept going. I'm better prepared for that goal of being leading rider, to get that title. It's something I strived for all of last year and something I'm striving for this year."
Shooting for a second Queen's Plate (Stein won in 2012 with Strait of Dover): "That would be great. I like the horses I've been working. I really like them. They're very live and I'd love to do it again. I know it's not easy, but if you have the right horse, it's not that hard. No rain this time, though."
*
Ones to Watch: Julia Carey
From Canadian Thoroughbred's Jennifer Morrison…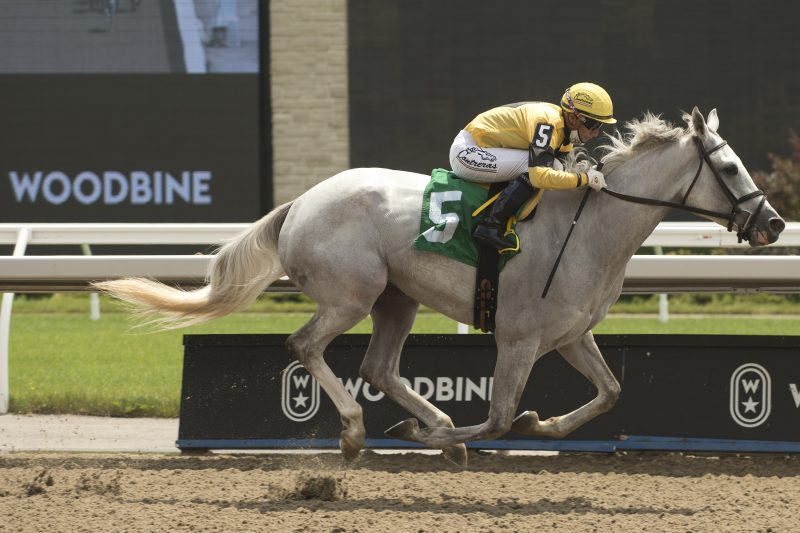 Julia Carey is a trainer to watch every time she sends a horse to the post. The Mississauga, Ontario, resident has maintained a winning percentage of nearly 16 percent since sending out her first winner 22 years ago. Her stable usually numbers 12 to 15 horses and racing fans know to respect each one.
Carey comes into 2021 with the exciting, stretch-running gelding Mnemba Island ready to tackle stakes company as a newly turned 4-year-old. The almost-white son of Ontario sire Conquest Curlinate won his first three races at Woodbine last summer at the allowance or optional claiming category before a respectable fifth-place finish in the tough Ontario Derby (G3) behind American colt Field Pass, Breeders' Stakes winner Belichick and Queen's Plate winner Mighty Heart.
Mnemba Island is a homebred for Frank Mermenstein's Discovery Racing and co-owned by Goldie Stables.
Other Carey horses to watch for this season include turf-loving mare Gea and the consistently good mare Vespolina.
2020 Race Rewind: Click here to watch as Lady Grace makes the grade in the Grade 2 $175,000 Royal North Stakes, on July 18, 2020.
HPIbet: Click here to check out the latest promotions from HPIbet.