TORONTO, February 10, 2021 – Each week, in the lead-up to Opening Day of the 2021 Woodbine Thoroughbred season, we'll follow some of the must-read storylines of key horses and horsepeople, and also share other informative news and notes.
From horses on the Queen's Plate trail, to horses to keep tabs on ahead of the new Woodbine season, to catching up with Woodbine trainers, the weekly report will keep racing fans and the racing community in the loop.
In this week's report, hall of fame trainer Mark Casse talks Sovereign Award finalist Gretzky the Great, fellow trainer Rachel Halden looks back on her 2020 Woodbine season and ahead to the 2021 campaign, the last remaining son of Canadian Triple crown champ Wando still standing at stud, plus much more.
Path to the Plate:
Dual hall of fame trainer Mark Casse has two Queen's Plate scores on his impressive résumé, the first coming in 2014 with Lexie Lou and the most recent in 2018 with Wonder Gadot.
Woodbine spoke with Casse about his sophomore star, currently in Palm Meadows, Florida, who was recently named as one of the finalists for Canadian top two-year-old male honours.
Horse: Gretzky the Great
Sire: Nyquist
Dam: Pearl Turn
Trainer: Mark Casse
Owner: Eclipse Thoroughbred Partners & Gary Barber
Breeder: Anderson Farms Ont. Inc.
Record: 3-1-0 from 5 starts
First impressions…
"I thought he was a little bit on the short side, short in length. I thought maybe he just might be a quick sprinter, but as he's gotten older, he's gotten taller and longer. The success of his father, Nyquist, has been tremendous. They all seem to stretch out and run farther."
On when Casse knew he had good one in his barn…
"Early on. Pretty well from the time we started breezing him. I kind of grade them, A,B,C,D – and he's always been an A. But you never know. A lot of times those A's, as you go along, end up not keeping that status. But he's never lost it. He looks like a good horse, he trains like a good horse and he runs like a good horse."
On last year's performances…
"Last year, he did extremely well. We were a little disappointed in the Breeders' Cup [sixth in the Juvenile Turf], but when he came back, he could hardly open his eye after the race. The next day, he was a little off, so we decided to give him some time off."
On the game plan for 2021…
"He's back training. I sent him down to Palm Meadows [Florida]. We're probably going to try him on the dirt at some point. I'm optimistic that he can run on the dirt and he should be able to get a route of ground. What happens so many times with our Canadian-bred two-year-olds is that it makes more sense for me to have the Canadian-breds at Woodbine. If you have a two-year-old at Woodbine, the biggest prize out there is either the [Grade 1] Summer or the [Grade 1] Natalma. When I send them there, that's always my goal. It had nothing to do with that he had never shown me he couldn't run on the dirt, it's just more that we started him on the grass and the Summer was our goal. It doesn't happen very often, but we were able to achieve our goal. It was more circumstance as to why he hasn't run on the dirt."
On a possible date in the Queen's Plate…
"For sure. It's always on our radar. We did nominate him to the American Triple Crown, so we'll see about that. As I've always said, training horses is putting the puzzle together. We'll try some pieces, see how they fit, and see what kind of picture we get after that."
Trainer Talk:
Rachel Halden
Career wins: 95
Stakes wins: 9
Winter home: "I made the decision to stay here in Ontario. We have to plan so far in advance to go south – you need to put a stall deposit down, and rent for your accommodations, we just didn't know where things were heading with this pandemic. I was very fortunate with the few horses that needed to go south, they went to Ocala and the rest have wintered here. I haven't lost any horses, which was my biggest concern."
Last season: "It was a little bit of a rebuilding year for me to a degree because a lot of my older horses were retired – Niigon's Bay, Ambitious Moon, Nipigon – those good, hard-knocking Ontario Sired horses that always seem to jump up and win a few for you each year. I didn't have that many two-year-olds the year before, so going into the spring, I wasn't too sure about the quality and quantity of horse I would have.
"It was a slow start, but things got rolling, and we finished up quite well. Everything was falling into place for me right at the end when we got shut down, which was unfortunate. But my year finished up okay from what was looking to be my worst year early on."
This season: "This year, we've done our stall applications [at Woodbine] already. I have more on there than I have had in a while. I had a number of two-year-olds that never even got to start last year, so a number of unraced three-year-olds and it's looking like I'll have more two-year-olds this year also."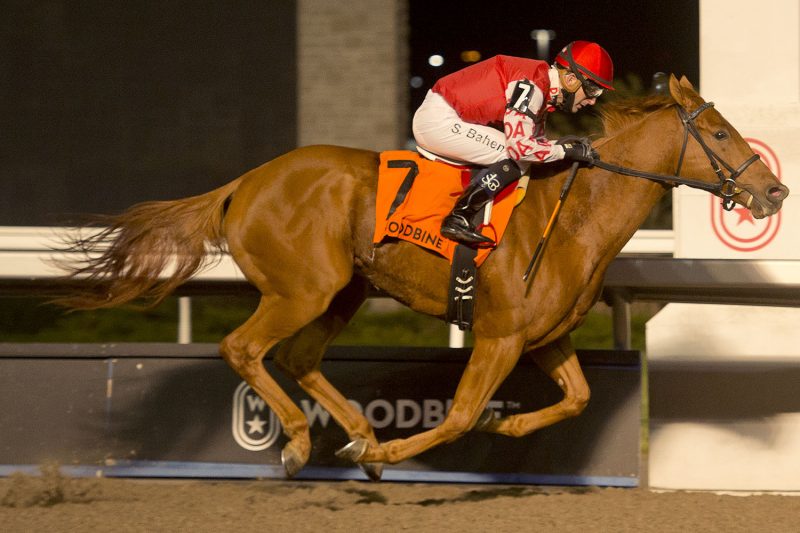 Key horses: "Obviously, Red River Rebel [an Ontario-bred chestnut son of Reload, who won the Frost King Stakes in November]. He was definitely a horse that I was very happy with. He needed a lot of time, so I didn't get to run him until late in the season. He had a great effort in his first start and then won the stake. I'm looking forward to his three-year-old year. I had a couple of two-year-olds for Chiefswood that I never did get to run, Pipers Dynasty and Collective Force. I liked what I saw from both of them. Then there's Pitching Fast [a four-year-old Kentucky-bred son of Munnings], who won his last start of the year very well. I'm excited about him as well. I've got lots to look forward to."
Final furlong: "I'm hopeful to build off how I finished off last year."
Ones to Watch:
From Canadian Thoroughbred's Jennifer Morrison…
The first crop of runners for Ontario stallion Reload hit the track in 2020 and were an instant success, landing him atop the freshman sire list in Canada.
One of his impressive winners was stakes placed Candy Overload, owned by breeders Denny Andrews and Sherry McLean's Northern Dawn Stables, and co-owned by trainer Krista Cole.
Candy Overload won his maiden in his second career start with a flashy stretch run from 11th to first at odds of 37-1. He had a similar late rally when third in the Frost King Stakes in his final start of 2020.
Cole is excited about the newly turned three-year-old who is on a winter break in the sunshine in Ocala, Florida and will soon be on his way back north to her Woodbine barn. Cole says the bay gelding is "all grown up," and has been nominated to the Queen's Plate.
Ontario Stallion Spotlight:
Click here to get to know D's Wando, the multiple stakes placed son of 2003 Canadian Triple Crown champion Wando.
2020 Race Rewind:
Watch Canada's very own Starship Jubilee land in the winner's circle after a brilliant performance in the Ricoh Woodbine Mile. Click here to check out the 2020 Ricoh Woodbine Mile.
HPIbet:
Find out more about the latest promotions and HPIbet Rewards on HPIbet.com! Click here to learn more.
Key Woodbine Dates:
Monday, February 22, 2021 – Backstretch re-opens for set-up
Wednesday, February 24, 2021 – Horses begin shipping in
Thursday, February 25, 2021 – Sand Ring and Training Track open- weather permitting
Saturday, March 2021 – Main Track opens – weather permitting and date TBD based on spring thaw
Saturday, April 17, 2021 – Scheduled Opening Day