TORONTO, December 5, 2021 – It was a fitting result for Woodbine's leading trainer Mark Casse on Sunday, as Sir Winston and Frosted Over went one-two, respectively, in the Grade 3 $155,700 Valedictory Stakes on the final card of the 2021 Thoroughbred season at the Toronto oval. The Woodbine meet also concluded with a record setting handle of $8,530,593.
Jockey Patrick Husbands guided 8-5 choice, Sir Winston, to a game score in the 1 ½-mile Tapeta test, edging stablemate Frosted Over by a hard-fought half-length to take all the spoils in the event for three-year-olds and upward.
Collective Force, who was third in the Breeders' Stakes in October, took control of the early proceedings, as Jelgo settled into second, with Frosted Over third and War Bomber fourth, through an opening quarter-mile reached in :24.78.
At the half-mile juncture, Collective Force was a head in front of War Bomber, as Frosted Over was still third, while Sir Winston moved up one spot into fourth.
It would become a two-horse race soon after, as the Casse duo began a prolonged duel that would last to the wire.
Well ahead of their rivals as the field turned for home, Sir Winston, to the outside, and a game Frosted Over, matched strides to the finish line, with the 2019 Belmont Stakes winner going on to collect his sixth win from 19 starts. Collective Force stayed on gamely to secure third.
The final time was 2:31.51.
Husbands, one of Woodbine's most successful and decorated riders, was emotional after the race, noting that he will contemplate retirement over the winter months.
"I want to say thanks to Mark…time out," said Husbands, who teamed with Casse to net the most jockey-trainer stakes victories at the meet with 10. "I had a hard week. I texted Mark around 11:30 on Wednesday night and Mark returned my call Thursday morning and I would not answer the phone. I said, 'Mark, I'm done.' And he said, 'You can't do this, Patrick. You can't go out like this. You have to let Woodbine know that you are finished.' In my heart, I want to be here. I wanted to make today, right now, my last ride at Woodbine. Woodbine was great to me. But Mark told me I had the whole winter to think about it. I tip my hat off to Mark. He was there for me from day one. Everyone was there for me through my injuries. So, I will think about it through the winter."
Whatever his decision, the Barbados-born champion rider, who has won some of Canada's biggest races, including the 2003 Canadian Triple Crown with Wando, will look back fondly on his Valedictory victory.
(To watch Patrick Husband's post race interview and stretch drive click on the links:  Interview Part 1 and Interview Part 2 and Winning Valedictory Stretch Drive)
"From looking at the racing form, there's not really much speed in the race, and drawn so wide, I want to cut the first corner," said Husbands, who now has a record five Valedictory crowns. "I never had ridden him in my life yet and all the years riding at Woodbine, Mark never gave me instructions. He hired me to do a job and we've been successful all these years. So, I made sure I can get him out of there, cut the first turn and then play it by ear, and he relaxed right off the bat."
Bred and owned by Tracy Farmer, Sir Winston, a five-year-old son of Awesome Again, paid $5.30 for the win.
Kazushi Kimura earned his first Woodbine jockey crown – the first Japanese-born rider to achieve the feat – with 138 wins at the meet, while his mounts earned $6,360,203 million
"It's a special achievement, and it was one of my dreams," said the 22-year-old Kimura. "Everybody wants to be a leading rider, but it's not easy. We just need great riding skills and good horses, good support from the trainers and owners for the whole season to be able to get the title. This year, I'd say I improved, and I got good support from trainers and owners. I appreciate that help for me to get the riding title."
Born in Hokkaido, Kimura joined the Woodbine jockey colony as a 19-year-old apprentice in 2018 and made a strong first impression. He finished his first Woodbine campaign sixth in the standings with 89 wins and his mounts totaled more than $2.3 million in earnings. His first victory came aboard 70-1 longshot Tornado Cat, and his first stakes win came aboard Speedy Soul in the Muskoka. The Eclipse Award winner as North America's outstanding apprentice, Kimura also won the Sovereign Award equivalent in both 2018 and 2019.
His Woodbine successes include Gretzky the Great (Grade 1 Summer Stakes) and Lady Grace (Grade 2 Royal North). Another local highlight was his second-place finish aboard Magnetic Charm, owned by Queen Elizabeth II, in the 2019 Canadian Stakes.
This year, Kimura won eight stakes at the Toronto oval, including Corelli in the Grade 3 Singspiel, Our Secret Agent in the Grade 3 Hendrie, Frosted Over in the Grade 3 Ontario Derby and Swinging Mandy in the Victorian Queen.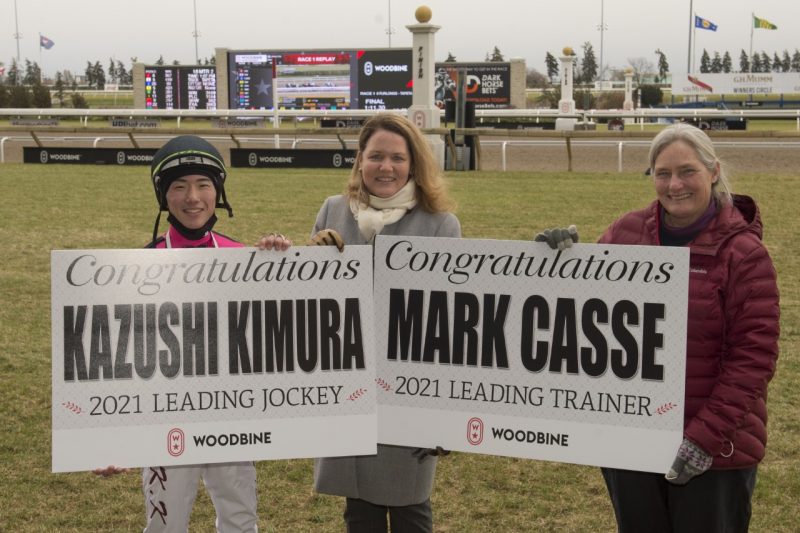 Mark Casse topped the trainer leaderboard for the 13th time courtesy of 110 wins. Martin Drexler took second spot in the standings with 56 wins, while Kevin Attard was third with 55 victories. Casse led all conditioners in purse earnings with $8,189,186, followed by Attard and Josie Carroll.
Highlights were many for Casse, who recorded 27 Woodbine stakes victories, 19 more than his closest rival.
A lifetime winner of 3,226 races, the dual Hall of Fame horseman has plenty of reasons to be thrilled with his 2021 campaign, Woodbine and beyond.
"For us, not just in Toronto, and all over, it's been a really good year. I'm excited because we have a lot of nice young prospects too with God of Love winning the Grey and Cup and Saucer, Mrs. Barbara winning the Mazarine, Golden Glider – those kinds of horses. The horse I ran on Saturday at Woodbine, Sir for Sure, he's a maiden, but he's a really nice horse, and it will be fun to watch him going long next year."
When did Casse know it was going to be a prosperous campaign?
"You never know. I'm kind of like the gambler playing poker. I never count my money when I'm sitting at the table."
Casse has high praise for his team at Woodbine.
"We have wonderful people that have been with us for a long time. They are very dedicated and passionate in what they do, day in and day out. A lot of people might not know, but our entire staff are all Canadians. This was a trying year for everybody because of the late start, but we made sure the horses were ready."
Casse is hopeful the 2022 Woodbine racing season brings with it a return to normalcy.
"Our season is geared towards Woodbine. Obviously, we run at different places, but over the years, we've built up a strong Canadian group, not just in horses, but owners. They want to see their horses and get out there and enjoy the racing, so hopefully, in 2022, we can all have the type of year everyone is used to."
Before the start of the new season here, Casse, a 13-time Sovereign Award winner as Canada's outstanding trainer, will continue to speak highly of his attachment to Woodbine.
"Wherever I go, Woodbine and my name seem to go hand-in-hand. And that is something I am very proud of."
Gary Barber was the leading money-winning owner of the meet for the third straight campaign, followed by Live Oak Plantation and Ivan Dalos.
Live Thoroughbred racing will return to Woodbine next spring, opening day tentatively scheduled for Saturday, April 22, 2022, while Standardbred racing will continue to run four days a week at Woodbine Mohawk Park all-year-round.
Woodbine Communications / @WoodbineComms