LAS VEGAS, Nevada, February 7, 2019 – Last year, Ontario's Chris Littlemore became the second straight Canadian to take the NTRA National Horseplayers Championship (NHC) Presented by Racetrack Television Network, STATS Race Lens™ and Treasure Island Las Vegas. If Littlemore can repeat that spectacular effort this weekend at the 20th edition of the tournament, he would become the first in the history of the event to win the title twice.
In the days leading up to this year's NHC whirlwind, Littlemore shared his thoughts on how being the Horseplayer of the Year changed him and what he needs to do to make history this week.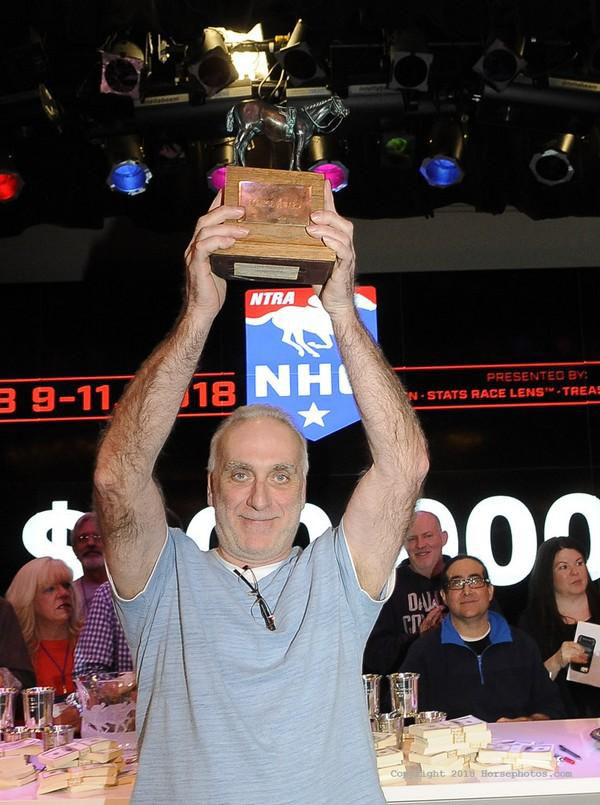 Q: How has winning the NHC changed things for you?
A: "Oh it changed everything. One of the things I was able to do is I was able to visit all the racetracks from basically coast to coast that I'd never thought I'd ever get to in my life. Churchill Downs, I had never been to. Gulfstream I had never been to, Keeneland, Saratoga, all kinds of tracks. I play tournaments all year long so that was really cool. And financially, when you get to pay your mortgage off and help your kids out, it makes life a little bit easier."
Q: What was your mindset going into last year and heading into the final table? Did you ever feel comfortable with the lead you had?
A: "Well I had a substantial lead heading into the last day so there was a bit of comfort there. But you never feel comfortable when you play contests and see some pretty good handicappers there that just come up and blow right by you. I didn't like the races that day that much. I felt comfortable going along and then one of the names that just popped up halfway through was Garett Skiba, who came on the scene in the top 10 or something like that. I thought, 'This guy was nowhere to be seen two hours ago and now all of the sudden he's right there. He could come up and go right by me.' But I was lucky enough that it didn't happen. I had a $51 lead heading into the last day and close to $15 with one race to go so I still could have gotten beat, but I managed to pick the right horse in the last race. So it worked out."
Q: How does your mentality for a tournament compare to the mentality you bring to a regular day at the races?
A: "Tournaments, especially the NHC, is a process. You take it step by step to see where you are after each day. You try to keep yourself in position to be able to get to the Final Table. There are a lot of races to look at, a lot of winners out there, you just have to make the right decisions. And it comes down to a lot of that. Of course, there is luck involved. You just have to hope everything lines up for you. For instance, I played the Pegasus tournament last weekend and was seventh after the first day. I was in position there but then it came up sloppy and I don't do well when the races are over a wet track so I fell back the next day. But that happens. There is nothing you can do about that."
Q: No one has ever won the NHC twice, much less gone back to back. How do you feel about your chances of being the first to do that?
A: "I feel confident, but the odds are extremely high. There are so many good handicappers out there. Your weekend has to basically be flawless. But when you win a tournament like that – and I've won the consolation as well – when you beat that amount of people you feel confident you can do it again. I'm confident. I'm a competitive guy so I'm going to give it my best shot. I'm looking forward to seeing what I can do and seeing if I can have another good weekend."
Q: How did you first get involved in horse racing?
A: "Oh I've been doing this for decades, since at least my early 20s. I used to follow it in high school, I used to read the results in the paper. I did that for two, three years and then one day a friend of mine (used to go to the track) and I went with him. I finally went and just loved it after that. And the tournament scene has brought a whole new dimension to it, which is great."
Q: How has the NHC as a whole changed things for horseplayers over the years?
A: "Well they're making dreams come true, actually. I never went to the track imagining that one day I'd walk out with $800,000 in my pocket. And the NHC gives you that opportunity. It brings a whole new dimension to the horseplayers' side of it. I like competing against other people, I like doing that. It's satisfying when you see your name at the top, whether it's a tournament anywhere or online. I think people should join the NHC. For $50, I mean, you spend that on a round of beers. It gives you a chance, if you like horse racing, to win some big money."
***
Whitby resident Littlemore became the second straight Canadian to win the NHC following a similarly dominant performance by 2017 champion Ray Arsenault of Thornhill, Ont. Looking to keep that win streak alive, Russ Wilkes, Gary Blair and Allan Schaffer are also among the Canadian contenders in this weekend's tournament.
Wilkes, a retired liquor store manager from Stittsville, Ont., has had an amazing amount of tournament success in a short amount of time since playing his first tournament in August 2016. Wilkes finished 40th on the NHC Tour this year and is a first-time NHC qualifier based partly on the strength of his victory in the Woodbine Spring Tournament on June 16.
Toronto-based Gary Blair, who manages a five-pin bowling centre, finished 49th on the NHC Tour. He is a first-time NHC qualifier as well and regular Woodbine tournament player.
Schaffer is a commercial real estate executive based out of Toronto and earned his first of many NHC berths after winning a Woodbine tournament back in 2005. He returns to take another shot at the championship title after finishing 92nd on the NHC Tour and posting a pair of second-place finishes in the Woodbine Mid-Summer Tournament on July 21 and the Woodbine Mile Tournament on September 15.
The field of talented horseplayers also includes New York resident Nick Noce, who was named the 2018 Sovereign Award-winning Horseplayer of the Year for his successful tournament play at Woodbine. Other horseplayers competing in the NHC who qualified through Woodbine tournaments include Scott Carson, Louis Cavalaris, Jack Dicenso, Barry Kerbel, James Metzger, Anthony Peterkin, Ken Zelin and Tony Zhou.
(With files from NTRA)