In this month's edition of Nom de Course, Chef de Cuisine Michael Mortensen discusses his years working for the Queen of Denmark and offers a royal-standard recipe for fans to prepare in honour of the 159th Queen's Plate, set for Saturday, June 30 at Woodbine.
TORONTO, June 26, 2018 – As we celebrate the historic Queen's Plate this Saturday, a race that has a long and proud connection to British royalty, it made me recall the time when I worked for the Queen of Denmark.
It was part of my journey in becoming a chef, where I ended up dating a girl whose dad was a very famous pastry chef. He and his son were running a catering company, and his son was actually the chef for the Queen of Denmark.
They worked in Copenhagen at the castle, which is called Amalienborg Palace. When I would go and work with the father and son – from 1982-1987 – I would be making the same dishes they would be providing for the Queen, which was a mix between French and Danish cuisine. Everything was made from scratch.
When they would have parties for important dignitaries and heads of state, some of the parties would take three or four weeks to prepare for, just like it does with the Queen's Plate.
I did this work on the side, not for the money, but to be exposed to that side of cooking. That's where I learned to do our style of the famous Beef Wellington that we serve here at Woodbine. It was an experience I will never forget.
***
In honour of the 159th running of the Queen's Plate, here is this dish I would offer to the Queen for our afternoon tea during Saturday's big day of racing.
The Queen has afternoon tea every day and is served savoury and sweets. Her favourite is this chocolate biscuit cake. It has been known to be the only cake that always gets eaten to the last crumb. The Queen will request a slice every day until it is gone.
Our version has the added Canadian touch of our fresh elderflowers that are blooming right now here in Ontario. We turn these pink and sensational smelling flowers into a decadent cordial for a refreshing sherbet that will make you and the sun dance on Queen's Plate day.
Try it out yourself and enjoy a cake that's fit for a Queen!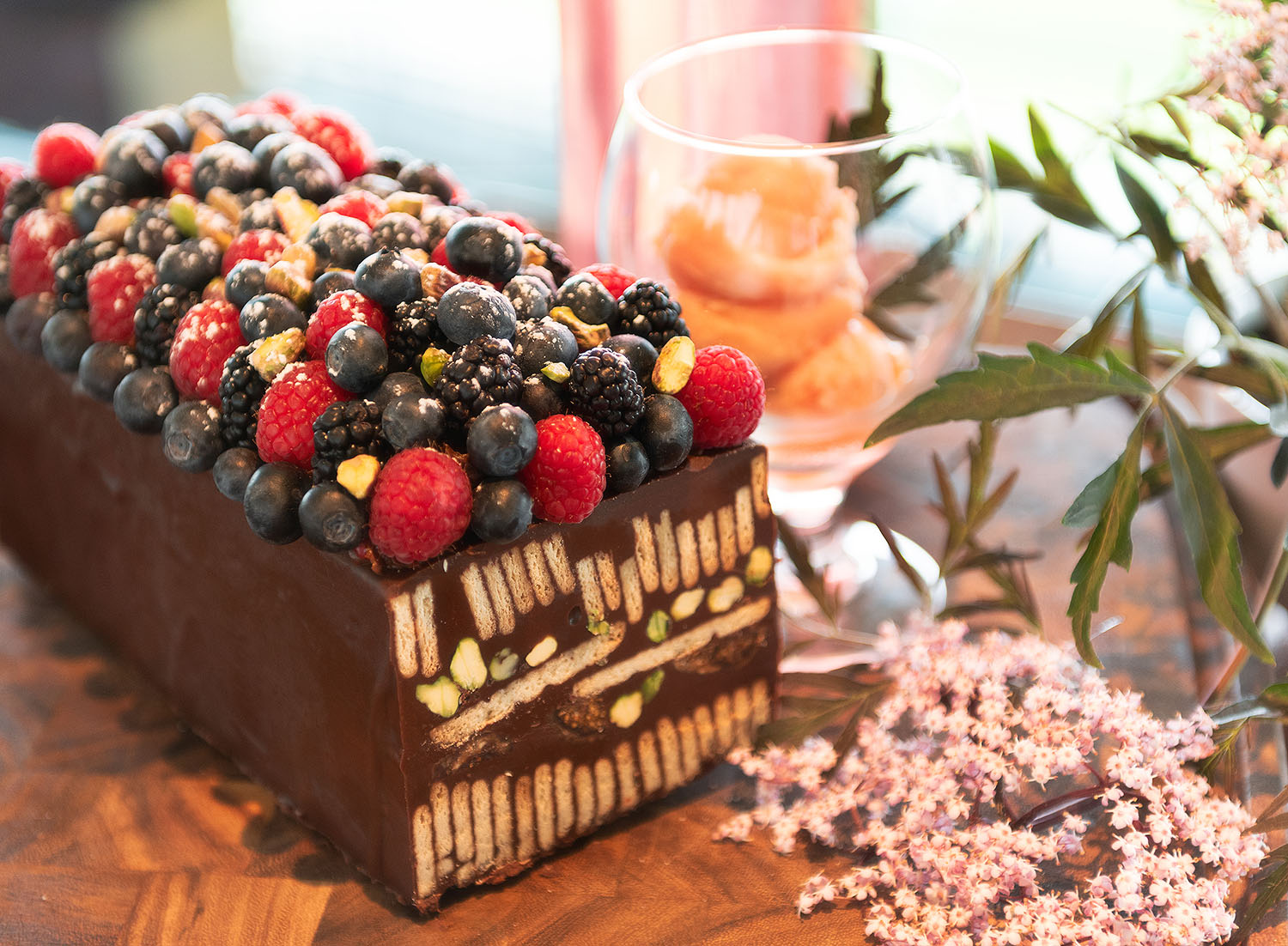 RECIPE: CHOCOLATE BISCUIT CAKE WITH ELDERFLOWER SHERBET
This recipe makes one Chocolate Biscuit Cake with 10 portions and 1.5 liters of Elderflower Cordial.
Ingredients for Chocolate Biscuit Cake

4 oz dark chocolate

4 oz white sugar

4 oz soft unsalted butter

1 egg

4 oz pistachios

3 oz chopped dried figs

8 oz rich tea biscuits

0.5 teaspoon butter – for greasing pan

1 oz dark chocolate – for decoration

8 oz dark chocolate – for coating

Preparation

Cream butter and sugar in a bowl until the mixture is light and fluffy.

Add the chocolate and butter.

Add the egg.

Fold in the biscuits – dried figs and pistachios until all are coated.

Spoon the mixture into the pan.

Chill the cake in refrigerator for three hours.

Take the cake out of the pan.

Cover the cake with melted chocolate.

Decorate the cake with chocolate garnish.
Ingredients for Elderflower Cordial

20-30 pc. bunches of elderflower crowns

3 sliced organic lemons

650 grams cane sugar

1 litre water

Preparation

Bring water and sugar to a boil then add lemon slices.

Pour the mixture on top of elderflowers and place into refrigerator for four days.

Strain the cordial through a coffee filter.

Add cordial to ice cream maker and churn until fully frozen.

Keep in freezer until service.