TORONTO, August 23, 2019 – Several notable Canadian Premier Yearling Sale graduates will be in the spotlight on Wednesday evening (August 28) as Woodbine showcases six yearling sales stakes with $750,000 in purses on the line.
Sponsored by the Ontario Lottery & Gaming Corp. (OLG), the Canadian Millions Sales Stakes annually features past Canadian-bred sale graduates on the eve of the Canadian Thoroughbred Horse Society's yearling sale, to be held on Thursday, Aug. 29 at noon in the Woodbine Sales Pavilion.
Canada's 2017 Horse of the Year Pink Lloyd will look to win his third straight edition of the $100,000 Kenora Stakes. Owned by Entourage Stable and trained by Hall of Famer Robert Tiller, the seven-year-old son of Old Forester heads into the six-furlong main track event a perfect four-for-four on the season, including a pair of graded victories, namely, the Grade 3 Jacques Cartier and Grade 3 Vigil. The millionaire gelding, bred by John Carey, has a record of 20-1-1 from 25 starts. "He's just such a great horse," said regular rider Eurico Rosa Da Silva. "People love him too. I can feel the energy when we come on the racetrack. He walks so relaxed to the track, but when he steps on it, he transforms himself. You can feel his confidence."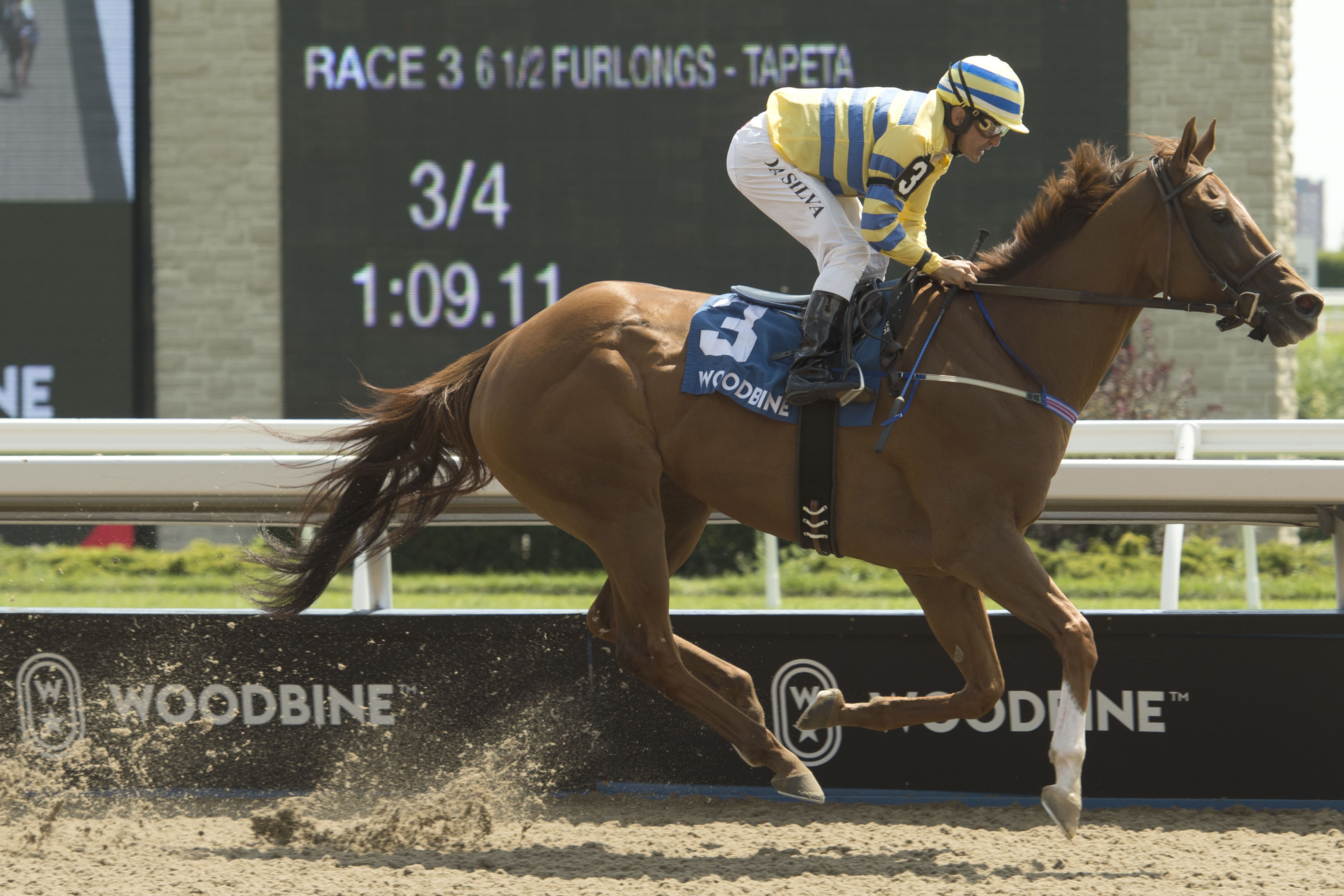 Kingsport, owned by Goldmart Farms and Royal Laser Racing Inc., can join the millionaire ranks with a win in the 1 1/16-mile main track ($100,000) Elgin Stakes. Trained by Sid Attard and bred by Richard Moylan, the seven-year-old son of Milwaukee Brew is no stranger to the Elgin. In 2016, Kingsport finished third to recently retired multiple stakes champ Melmich. Two years later, the dark bay took all the spoils. He heads into Wednesday night's added-money tilt off a win in the Steady Growth Stakes, contested on June 15 at Woodbine. Sporting a record of 12-7-3 from 32 starts, Kingsport will meet five rivals in this year's Elgin. "We could tell he was going to be a very good horse right away," said Attard. "He's a very special one for us. He goes out there and gives you his best every race."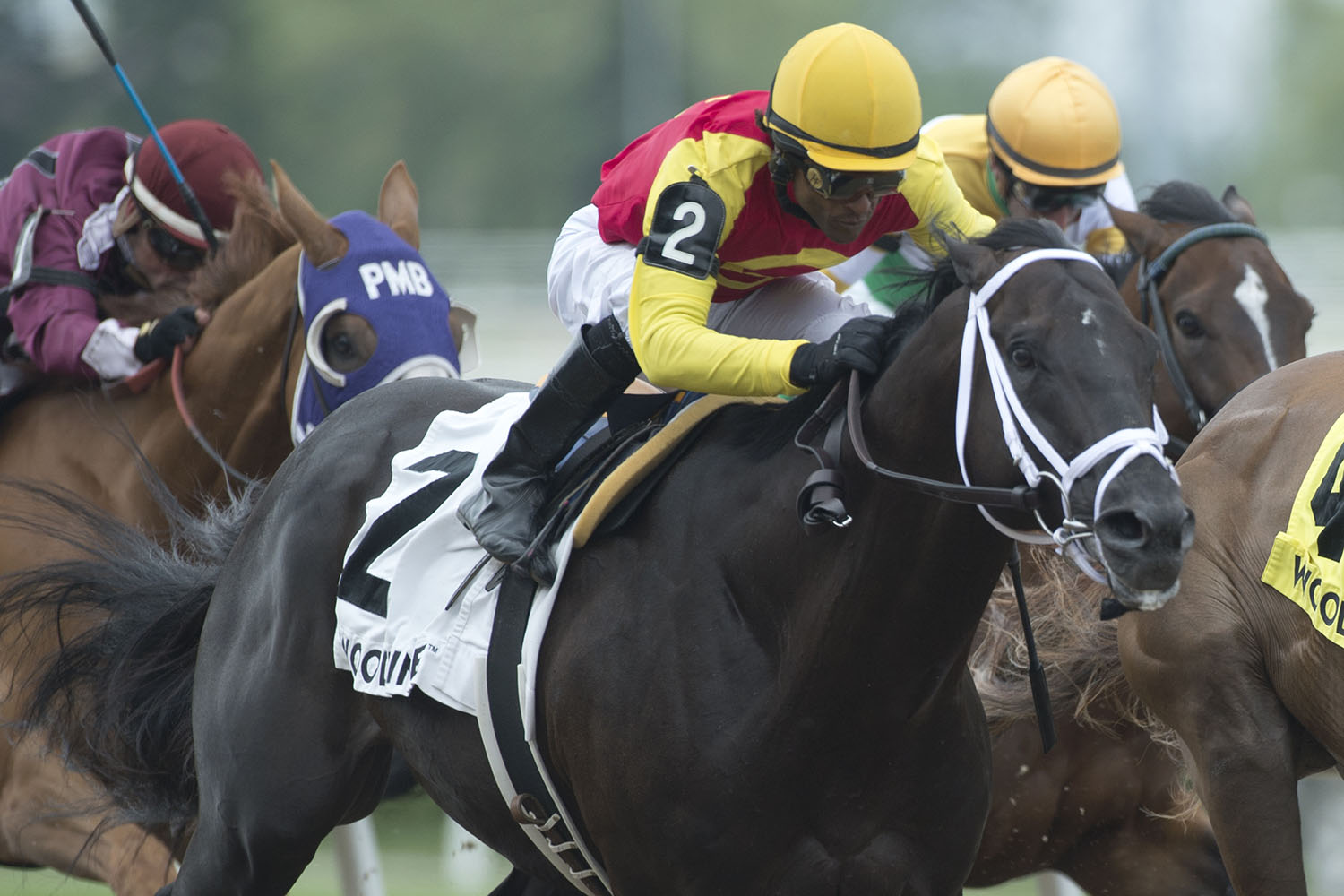 Goldmine Cat and Rockcrest will line up beside one another, post five and post six, respectively, in the $175,000 Simcoe Stakes (six-and-a-half furlongs over the Tapeta) for two-year-old colts and geldings. Trained by Hall of Fame conditioner Mark Casse, Goldmine Cat, a bay son of Goldencents, built off a second-place finish in his career bow on May 10 at Woodbine to reach the winner's circle in his next start. Under Gary Boulanger, the colt, bred by Bernard and Karen McCormack, triumphed by 2 ½-lengths at five panels on the Woodbine main track on June 2. Trained by Nigel Burke, Rockcrest was rock-solid in his debut, a five-and-a-half furlong race on July 28 at the Toronto oval. Dismissed at 14-1 on the tote board, the Paul Mouttet silk bearer crossed the wire 1 ½-lenghts ahead of his nearest rival. Pinky Dude and Lakeside Park are also one-time winners in the field of eight.
The field of 10 two-year-old fillies for the six-and-a-half-furlong (main track) $175,000 Muskoka Stakes features first-time winner Bambarra Bay, owned by Stacey Van Camp and trained by Mike Mattine. A bay daughter of Sligo Bay, Bambarra Bay notched a 1 ½-length triumph in her career bow, a five-and-a-half furlong race over the Toronto oval Tapeta on July 27. The wide-open affair also includes Tara Dawn, a daughter of graded stakes winner Bear's Kid. Trained by Abraham Katryan, the Tara Horse Farm Inc.-bred miss has a trio of seconds and a third from five starts, including a head loss in a five-and-a-half furlong main track race on June 29.
Trainer Sylvain Pion could have a prominent one-two punch in the $100,00 Halton Stakes, set for 1 ½-miles on the E.P. Taylor Turf Course. English Illusion, who took last year's running of the Halton, makes his return to the races after a sixth-place finish in the Valedictory Stakes last December. The six-year-old son of English Channel was third in the Grade 1 Northern Dancer Turf Stakes in 2018, and boasts a record of 4-3-6 in 30 starts for 4U Thoroughbred Racing Stable Inc. His stablemate, King and His Court (cross-entered in the Elgin), has a 5-4-8 record from 30 starts for Beat The Feet Racing Stable. A five-year-old son of Court Vision, the dark bay gelding counts the 2016 editions of the My Dear Stakes and Coronation Futurity Stakes among his biggest victories. Five other rivals are set to go, including Cooler Mike (also cross-entered in the Elgin), third in both the Queen's Plate and Prince of Wales Stakes last year.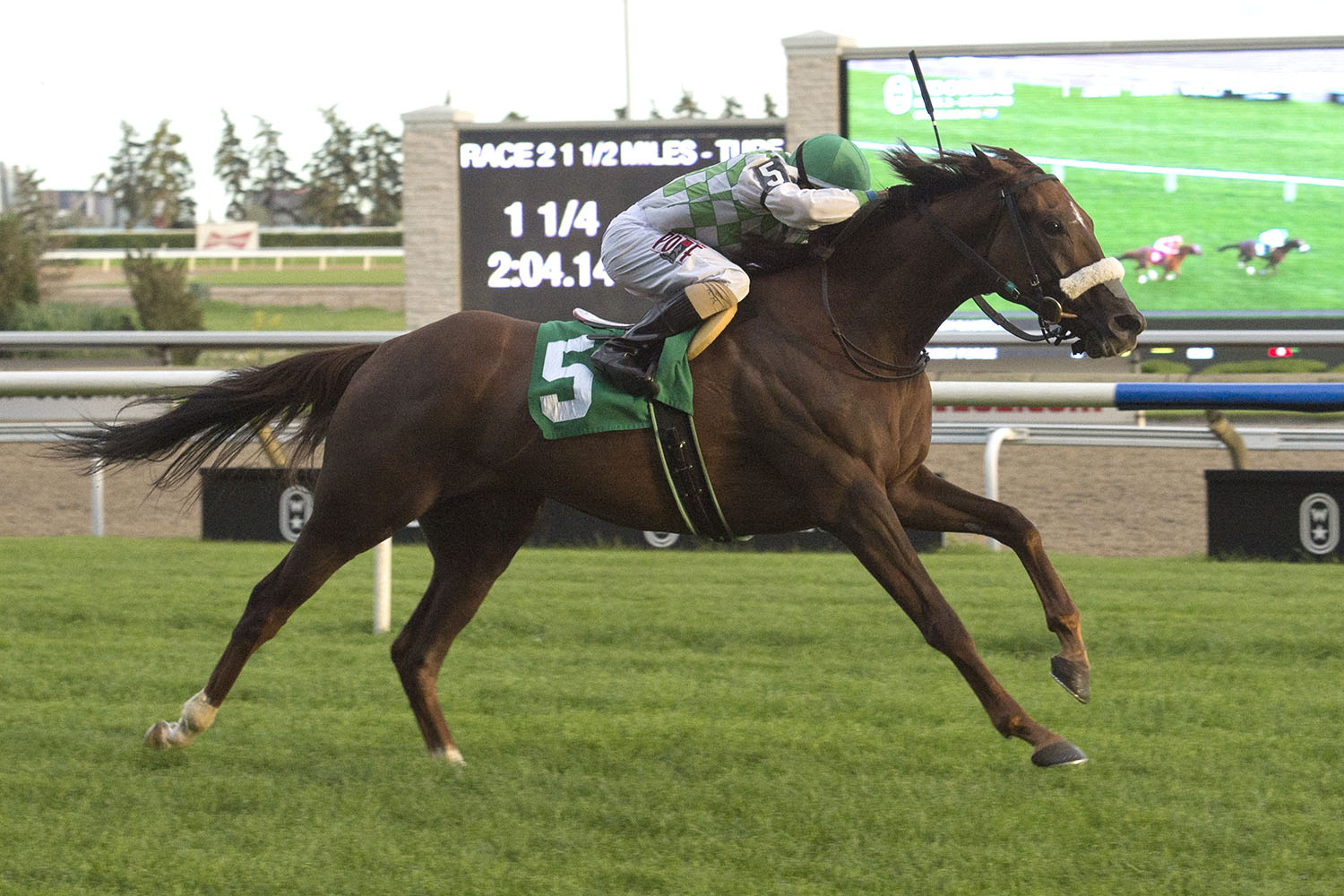 Eight head to the gate in the $100,000 Algoma Stakes. Piano Bar Racing's Red Cabernet looks to uncork another victory after an impressive score in the Eternal Search Stakes on August 14 at Woodbine. The five-year-old daughter of Signature Red will face seven foes in the 1 1/16-mile main track event, including last year's Algoma runner-up Bear Paw, a four-year-old daughter of Bear's Kid who has 10 top-three finishes from 14 career starts.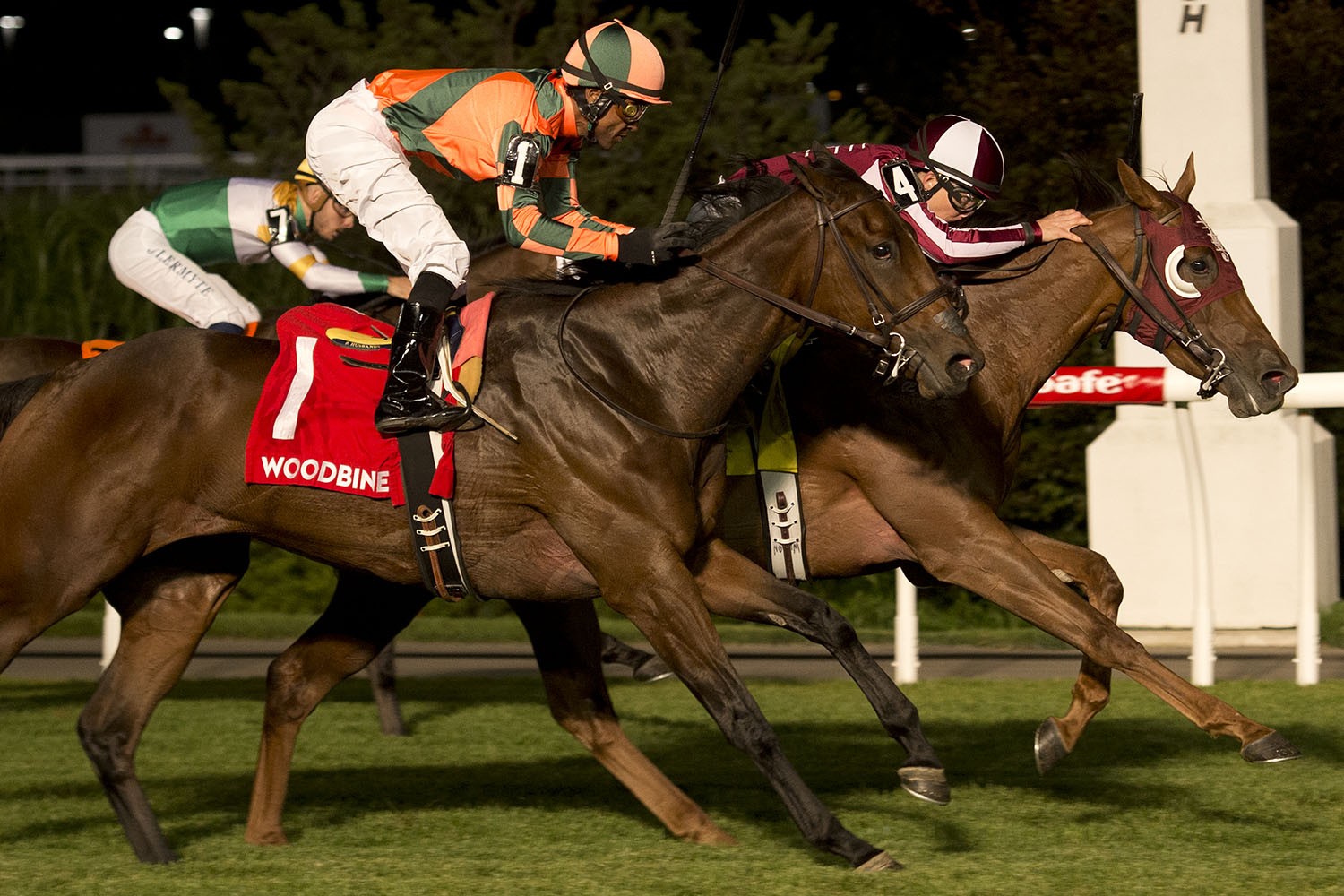 First race post time for Wednesday evening's eight-race card is scheduled for 6:45 p.m.
Fans can also watch and wager on all the live action via HPIbet.com.
$100,000 OLG HALTON STAKES PRESENTED BY TIPPERARY EQUESTRIAN – RACE 2
Post – Horse – Jockey – Trainer
1 – Eskiminzin – Jeffrey Alderson – Carlos Grant
2 – Ethical Funds – Eurico Rosa Da Silva – George Billers
3 – English Illusion – Rafael Hernandez – Sylvain Pion
4 – Cooler Mike – Luis Contreras – Nick Nosowenko
5 – Prideofdistinction – Justin Stein – Ron Sadler
6 – King and His Court – Gary Boulanger – Sylvain Pion
7 – Full Extreme – Kazushi Kimura – Sid Attard
$100,000 OLG KENORA STAKES PRESENTED BY HBPA OF ONTARIO – RACE 3
Post – Horse – Jockey – Trainer
1 – Magical Man – Steven Bahen – Gail Hughes
2 – Circle of Friends – Patrick Husbands – Robert Tiller
3 – Pink Lloyd – Eurico Rosa Da Silva – Robert Tiller
4 – Lokinforpursemonee – Rafael Hernandez – Martin Drexler
5 – Dixie's Gamble – Luis Contreras – Josie Carroll
6 – Hold'emforransom – Gary Boulanger – Ian Black
$100,000 OLG ALGOMA STAKES PRESENTED BY CTHS (ONTARIO) – RACE 4
Post – Horse – Jockey – Trainer
1 – Hell N Wild – Kazushi Kimura – Lorne Richards
2 – She's Got Fire – Luis Contreras – Josie Carroll
3 – Crumlin Queen – Rafael Hernandez – Michel Doyle
4 – Red Cabernet – Emma-Jayne Wilson – Ian Black
5 – Bear Paw – Davy Moran – Ashlee Brnjas
6 – Alice's War – Sunny Singh – Warren LeBlanc
7 – Katie's Fury – Daisuke Fukumoto – Gord Colbourne
8 – March of Dreams – Gary Boulanger – Sarah Ritchie
$175,000 OLG SIMCOE STAKES PRESENTED BY SAMUEL, SON AND CO. LIMITED – RACE 5
Post – Horse – Jockey – Trainer
1 – Canadian Secret – Christopher Husbands – William Tharrenos
2 – Pinky Dude – Davy Moran – Michael Doyle
3 – Lakeside Park – Patrick Husbands – Mike Mattine
4 – Red Astaire – Emma-Jayne Wilson – Julia Carey
5 – Goldmine Cat – Gary Boulanger – Mark Casse
6 – Rockcrest – Sahin Sivaci – Nigel Burke
7 – Forester's Fortune – Leo Salles – Laurie Silvera
8 – Mister Oakley – Jesse Campbell – John Charalambous
$100,00 OLG MUSKOKA STAKES PRESENTED BY CTHS (ONTARIO) – RACE 6   
Post – Horse – Jockey – Trainer
1 – Bambarra Bay – Emma-Jayne Wilson – Mike Mattine
2 – Kit Kat Katie – Jorge Vargas Jr. – Jeremiah Englehart
3 – Staronthehorizon – Omar Moreno – Barbara Minshall
4 – She's a Dream – Luis Contreras – Josie Carroll
5 – Laxmi – Justin Stein – Clint Abraham
6 – Blessed Truly – Eurico Rosa Da Silva – Kevin Attard
7 – Gelato Amore – Jesse Campbell – Ricky Griffith
8 – Tara Dawn – Kazushi Kimura – Abraham Katryan
9 – Sterling Speed – Davy Moran – Ashlee Brnjas
10 – November Fog – Rafael Hernandez – Sarah Ritchie
$100,000 OLG ELGIN STAKES PRESENTED BY CTHS (ONTARIO) – RACE 7
Post – Horse – Jockey – Trainer
1 – Cooler Mike – Luis Contreras – Nick Nosowenko
2 – Aheadbyacentury – Eurico Rosa Da Silva – John Ross
3 – Split My Pants – Emma-Jayne Wilson – Catherine Day Phillips
4 – Thor's Rocket – Justin Stein – Paul Buttigieg
5 – Kingsport – Patrick Husbands – Sid Attard
6 – King and His Court – Gary Boulanger – Sylvain Pion