By Chris Lomon for Woodbine.com
TORONTO, July 8, 2021 – Krista Cole-Simpson has Candy Overload in mint condition.
The handsome bay gelding, listed at 30-1 in the Queen's Plate Winterbook, isn't shy when it comes to getting his daily fill of peppermints.
"At the barn, he's quite a character," said Cole-Simpson, who trains and co-owns Candy Overload. "When you go by, he'll grab your clothes or try and pull you in. He's not mean. He's just playful. He's just so great to be around and he does love his candy. He'll eat quite a few of them."
His appetite for sweet treats is rivaled by a competitive hunger, a never-throw-in-the-towel attitude that has contributed to a 1-1-1-1 mark from four starts and a possible date in the Queen's Plate starting gate.
Whether he'll contest the 162nd running of Canada's most famous horse race on August 22 is still to be determined, but for his trainer and co-owner, there is one certainty with her talented 3-year-old.
"He tries his best every time. He puts everything he has into his breezes and his races. Those are the type of horses you love to have."
Cole-Simpson, who co-owns Candy Overload with co-breeders Northern Dawn Stables and Denny Andrews, saw that determination in his 2021 debut on June 20 at Woodbine.
Sent on his way at odds of 11-1 in the 6 ½-furlong main track optional claimer, the son of Reload, under Daisuke Fukumoto, was tenth at the quarter-mile mark and eleventh after a half-mile.
Although Candy Overload had moved into seventh spot at track announcer Robert Geller's stretch call, Cole-Simpson figured, at least for a few seconds, that a top-four finish was a longshot hope.
And then the Ontario-bred found a second gear.
One by one, he began picking off his rivals, gaining steadily on the frontrunners with every stride.
At the wire, Candy Overload finished second, 1 ¾-lengths behind the winner.
"I was quite pleased with him," said Cole-Simpson. "He was eleventh at the head of the lane and once he got out of the traffic, he really came flying. It was quite impressive. He was pretty far back and then Daisuke got him out of there and he just put it all out there. The other owners, they called me after the race and were quite happy with the effort too."
Cole-Simpson has always liked what she's seen from Candy Overload.
"When he came off the trailer from Florida last year, he was gorgeous," she told Woodbine this April. "He was training at Niall Brennan's farm, and when he got here, he really stood out. He had a lot of muscle on him… he's one of those pretty bay horses. I immediately thought, 'Wow! This is a good-looking horse.' Everybody liked him. He spent the winter in Florida again with Niall and he came back up to Woodbine. Everybody that sees him says he's such a nice-looking horse.
"He had a very good mindset. Everything that we asked him to do, he always did it right. The first race he ran, he was hit in the face with a clump of grass and his eye swelled up. I was expecting much more from him in the race and when he was flat, we all wondered what had happened. When we got him back to the barn, his eye swelled up and we had the vet come. I couldn't ride him for two weeks. Then, we had him gelded, so we didn't run him back until October. But it all worked out."
And then some.
While his latest engagement was a draining effort – he slept for three days after the race – Candy Overload was back to his playful self soon after, making his presence known around the barn on the Woodbine backstretch.
"He's quite laid-back. He's pretty funny. He scrunches up his nose if he thinks you're bothering him. You know when he doesn't like something, but he's not mean or anything like that. The lady that comes to massage him always notices that. He's quite a nice horse to ride, all-around just a pleasure to be with."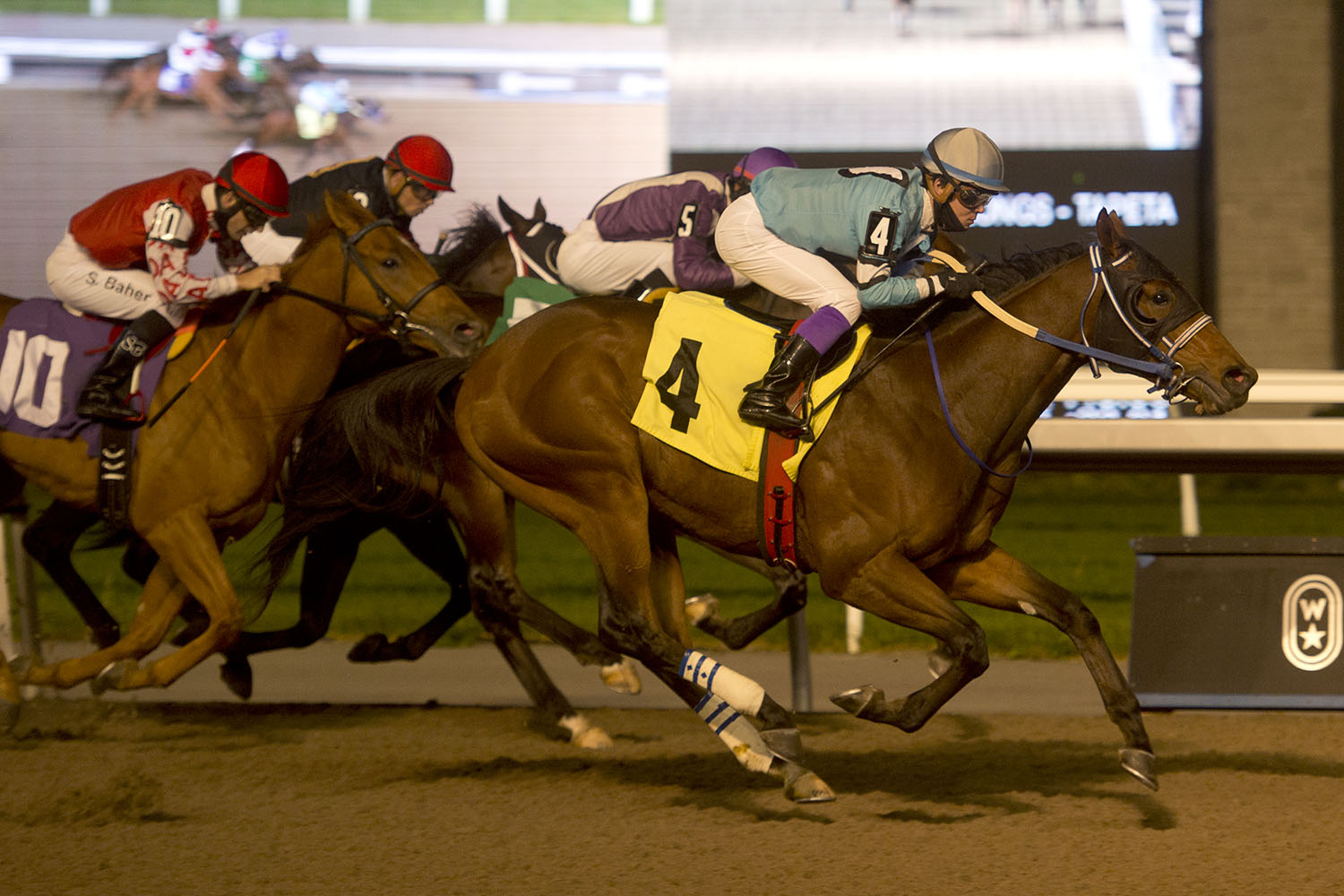 With less than two months before the Queen's Plate, his connections are plotting a path for their star, which could possibly include a shot at contesting the $1 million "Gallop for the Guineas."
It's an inviting thought, admitted Cole-Simpson.
"I don't know if he'll go to the Queen's Plate because I'm not sure about the distance. We'll just have to see. Obviously, any trainer or owner would love to be in that race. It's really about just seeing how everything continues to unfold."
For the time being, it will be a steady diet of morning preps and plenty of extra peppermints for Candy Overload.
"He's pretty smart and he's a good boy. He's pretty playful in the morning and all business when he races. You feel pretty lucky to have that kind of horse in your barn."