TORONTO, October 12, 2019 – Desert Encounter, who trailed through much of Saturday's 1 ½-mile Pattison Canadian International, found a seam in deep stretch under Andrea Atzeni and recorded his second straight score in the Grade 1, $800,000 turf race for 3-year-olds and upward.
"The plan was to jump slow and he probably jumped a stride slower than I would have liked," said Atzeni, who was riding Desert Encounter for the first time since their success here last year. "But it's a mile and a half, it's a long way, it's a small field. So we were never panicking. The plan was always to sit last and come through them. So I wasn't too worried about it.
"He's a good horse, he likes it here. He loves the ground. And, I think he's actually a better horse than he was last year."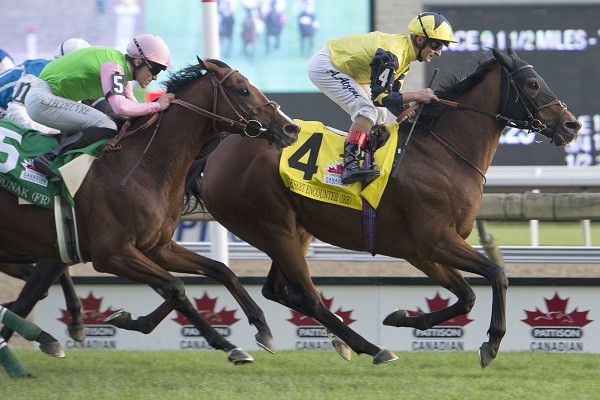 Ziyad, the even-money French invader, set a measured pace of :26.31 for the quarter and :52.26 for the half ,while holding a one-length lead over Woodbine-based Pumpkin Rumble.
Pivoine, from England, and Kentucky shipper Nessy stalked in third and fourth, respectively, with German raider Alounak and Desert Encounter racing within striking distance.
The order remained unchanged through three-quarters in 1:16.93, but the field had begun to tighten up as they reached the mile in 1:41.23 and both Desert Encounter and Alounak were beginning to zone in with a quarter of a mile to run.
"Coming into the straight, obviously, I had options," said Atzeni. "I could have gone around them but I decided to go inside. I thought the French horse (Ziyad) was the one to beat and I tracked him up through the straight and picked him up very nicely. He was the best horse in the race."
In high gear at the eighth pole, Desert Encounter was too hot to handle in the closing stages, winning by a half-length, as Alounak battled on gamely to hold second money by a neck as Ziyad gave way grudgingly to finish third.
Pivoine, yet another neck in arrears, ran well to nail down fourth money with Pumpkin Rumble and Nessy completing the order of finish. The final time on "good" turf was 2:28.62.
For Alounak, who is conditioned by Waldemar Hickst, the Canadian International represented a career-best effort.
"First of all, we are very happy," said Holger Faust, racing manager for owner Darius Racing. "We expected to come for good prize money and that worked out.
"He didn't break that good because we actually wanted to be more with the front. We wanted to be in the second position behind Ziyad because we knew Ziyad would try to make it post to post. That plan didn't work out, so the jockey took 'Plan B' and we are happy with the result.
"To be honest, I was always looking with one eye on our horse and one eye on Desert Encounter because I really expected Desert Encounter to be very strong and I had the feeling – because I do know my horse – that he would catch Ziyad. But I saw that Desert Encounter was traveling a little bit better in the straight so that's why I was fighting for the second place."
"Jamie Spencer (on for the past three starts, all wins), unfortunately, couldn't ride him today, so I was lucky enough to get back on him," said Atzeni. "He's been winning in England, but dropping back to last. I spoke to David (Simcock) before the race, and he was very keen for me to get the horse to relax."Desert Encounter, owned by Abdullah Al Mansoori, came into this year's Canadian International off three consecutive Group 3 wins in England.
The Irish-bred seven-year-old gelding follows Joshua Tree (2012-2013) and George Royal (1965-1966) as Canadian International repeaters.
Philip Robinson, racing manager for owner Abdulla Al Mansoori, left the door open for Desert Encounter to return next year and attempt to join Joshua Tree, who also won the race in 2012,  as the only three-time International winners.
"It would be lovely," he said. "I dare say if he's still a happy horse like he is now, for sure, he'll be back. He enjoys it here, why not?
"The last three of four races he's just never stopped improving, he's still improving. You expect it maybe from a four- or five-year-old but I think mentally he's improving so much. He's enjoying his racing . . . he's just in a very happy place this moment."
Desert Encounter was a fifth Woodbine graded stakes crown for the Simcock yard, with Trade Storm (Grade 1 Woodbine Ricoh Mile), Sheikhzayedroad (Grade 1 Northern Dancer), and Caspar Netschar (Grade 2 Nearctic) all visiting the winner's circle here in 2014.
Atzeni has to be developing a fondness for Woodbine, as he also won last year's Grade 1 E.P. Taylor Stakes with Sheikha Reika.
"It's beautiful ground, really – good ground," said the jockey. "It's a beautiful track, and I've been very lucky here. It's a fair track. It's always a pleasure to come back."
Desert Encounter returned $5, $3.60 and $2.20 with Alounak ($10.90, $4.60) completing a 4-5 exacta worth $41.70. Ziyad ($2.10, to show) rounded out a 4-5-1 triactor of $91.70 worth with the 4-5-1-2 superfecta completed by Pivoine coming back at $133 for $1.