TORONTO, August 19, 2020 – Nine starters, including four-year-old Royal Wedding, will travel 1 1/16 miles on the Inner Turf in the $100,000 Eternal Search Stakes featured on Saturday at Woodbine.
Trained by Nathan Squires, Royal Wedding, an Ontario-bred daughter of Court Vision, goes after her first stakes crown in the Eternal Search.
Owned by William Thompson Jr., Royal Wedding hasn't finished lower than fourth in her past 11 starts, a run that includes two wins, three seconds and a trio of third-place efforts.
The bay began her 2020 season on June 21 with a third in a one-mile race over the E.P. Taylor Turf Course, following it up with a half-length score over "yielding" E.P. turf on July 12. Royal Wedding's most recent effort came on August 1 when she was second at the same distance and on the same course the Eternal Search will be contested at.
"She's really doing great," said Squires, of the filly who has run all of her races at Woodbine. "I got her back here [Woodbine] about six or seven weeks ago because she was in Kentucky, training most of the winter, and she shipped up here five or six days before her first race this year. She needed that one, and then we ran her in open company and she won. That didn't surprise me at all because she was training so well. We decided to take a shot in her most recent race and she almost won… she was just outgunned by a better horse on that day."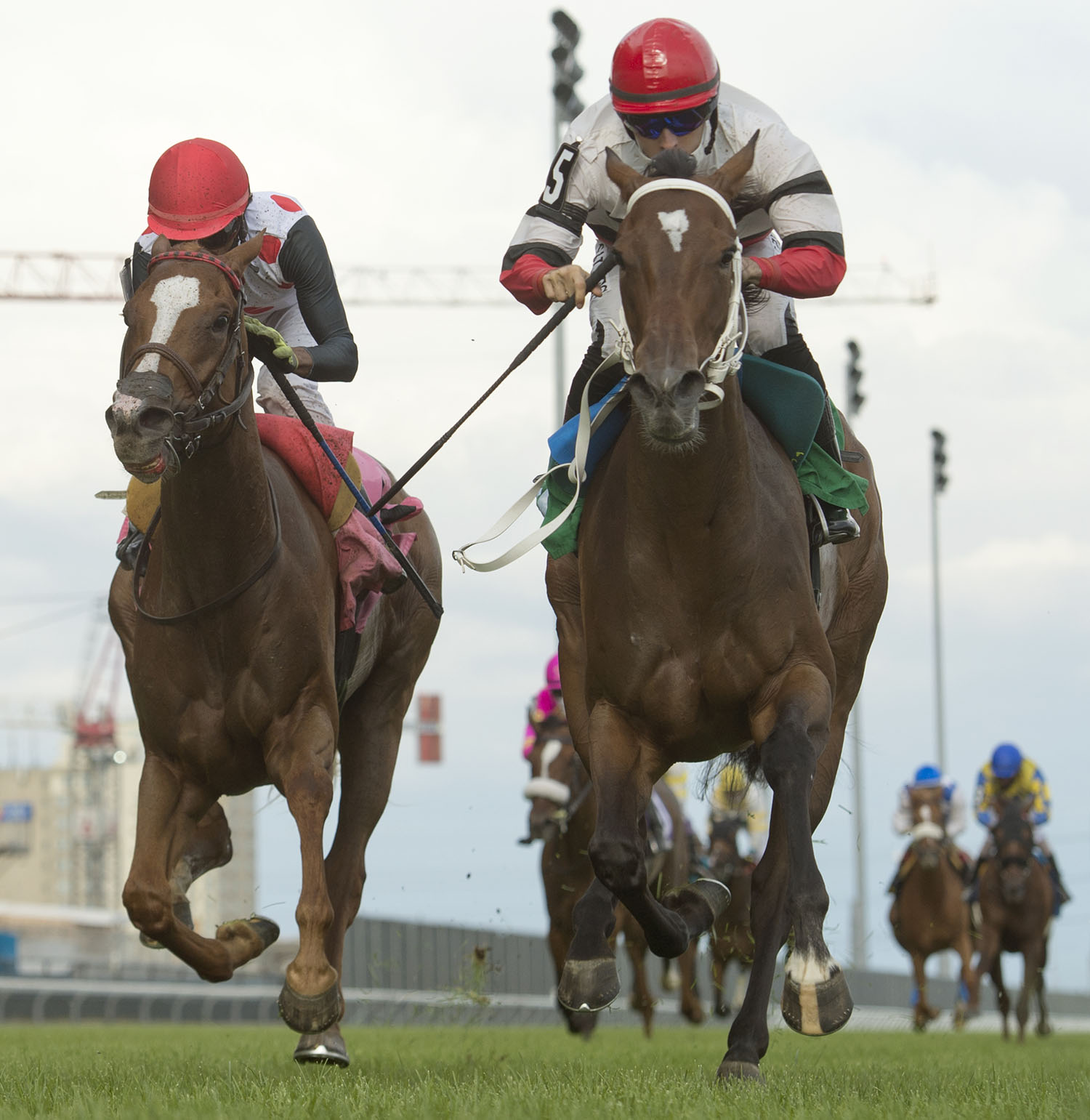 Squires, who won the 2012 Duty Free Cup Stakes with Don't Think Twice, is particularly pleased with how Royal Wedding has performed this year.
Although she was ninth in her first stakes engagement – the 2018 running of the Muskoka – and fourth in last year's La Prevoyante, Royal Wedding, bred by Michael Byrne, is showing signs she's ready to take a shot at all the spoils on Saturday.
According to her trainer, she's also looking the part.
"Her form speaks for itself. She's going into the race in good order, so I expect a good run from her. She's older and stronger now. This race was the goal from the time Mr. Thompson sent her to me. Hopefully, she retains her form and it pays off."
While her demeanor around the barn might suggest otherwise, Royal Wedding, who finished fourth in her career bow on July 28, 2018, is all business once she steps onto the racetrack.
"She's a doll," said Squires. "[Jockeys] Simon Husbands and Emile Ramsammy, they get on her every day, and they love to ride her. She's very, very quiet. She's no problem at all. She does just her thing. No big fuss, no big excitement. She trains, comes back, gets her bath, grazes, and goes into her stall and just relaxes. That's just her. She takes things as they come. She's very laid back, but she's ready to go when that gate opens."
Bramble Queen, a nine-time winner from 28 starts, Court Return, who won her last start on July 2, three-time winner Desdemona, 2019 South Ocean Stakes champ Gun Society, two-time winner March of Dreams, two-time winner Piper's Legacy (third in last year's Eternal Search), multiple stakes winner Red Cabernet, and three-time winner Silent Tango complete the field.
The race is named after the three-time Canadian champion, purchased at age two for $50,000 by Mel Lawson, who raced her under his Jim Dandy Stable banner. Eternal Search retired from racing with 15 stakes victories and posted a record of 18-11-2 from 44 starts. She was trained by Canadian Horse Racing Hall of Fame inductee Ted Mann.
The Eternal Search is scheduled as race eight on Saturday's 10-race card.
Fans and can watch and wager on all the action via HPIbet.com
$100,000 ETERNAL SEARCH STAKES
Post – Horse – Jockey – Trainer
1 – Court Return – Daisuke Fukumoto – Josie Carroll
2 – Royal Wedding – Leo Salles – Nathan Squires
3 – Desdemona – Simon Husbands – Anthony Pottinger
4 – Red Cabernet – Emma-Jayne Wilson – Ian Black
5 – Piper's Legacy – Patrick Husbands – Don MacCrae
6 – Bramble Queen – Luis Contreras – Michael Dini
7 – Gun Society – Kazushi Kimura – Roger Attfield
8 – Silent Tango – Justin Stein – Richard Morden
9 – March of Dreams – Davy Moran – Sarah Ritchie