TORONTO, May 28, 2018 – Emma-Jayne Wilson, who continues to make her mark on the racetrack and in the community, has been named the 2018 recipient of the Avelino Gomez Memorial Award.
The 36-year-old jockey has won numerous high-profile awards and races throughout her distinguished career, including the 2007 Queen's Plate with Mike Fox, while also lending her time and support to several charitable and public relations endeavors.
Those are just a few examples of why Wilson, who celebrated her first win as a rider with Ali Olah on August 28, 2004 at Fort Erie, has drawn a large and loyal following over the years.
It's also why the native of Brampton, Ont. is a popular selection as this year's recipient of the coveted Gomez Award.
"My initial reaction was…I was speechless," said Wilson. "It got me a little emotional and it still does. It's really hard to put into words. I was speechless and humbled. But I'm so honoured."
Where does this rank in her list of accomplishments?
"Pretty high," she said. "I'm so fiercely patriotic to represent Canada as an athlete and this award truly embodies what it means to be Canadian. I'm just so grateful."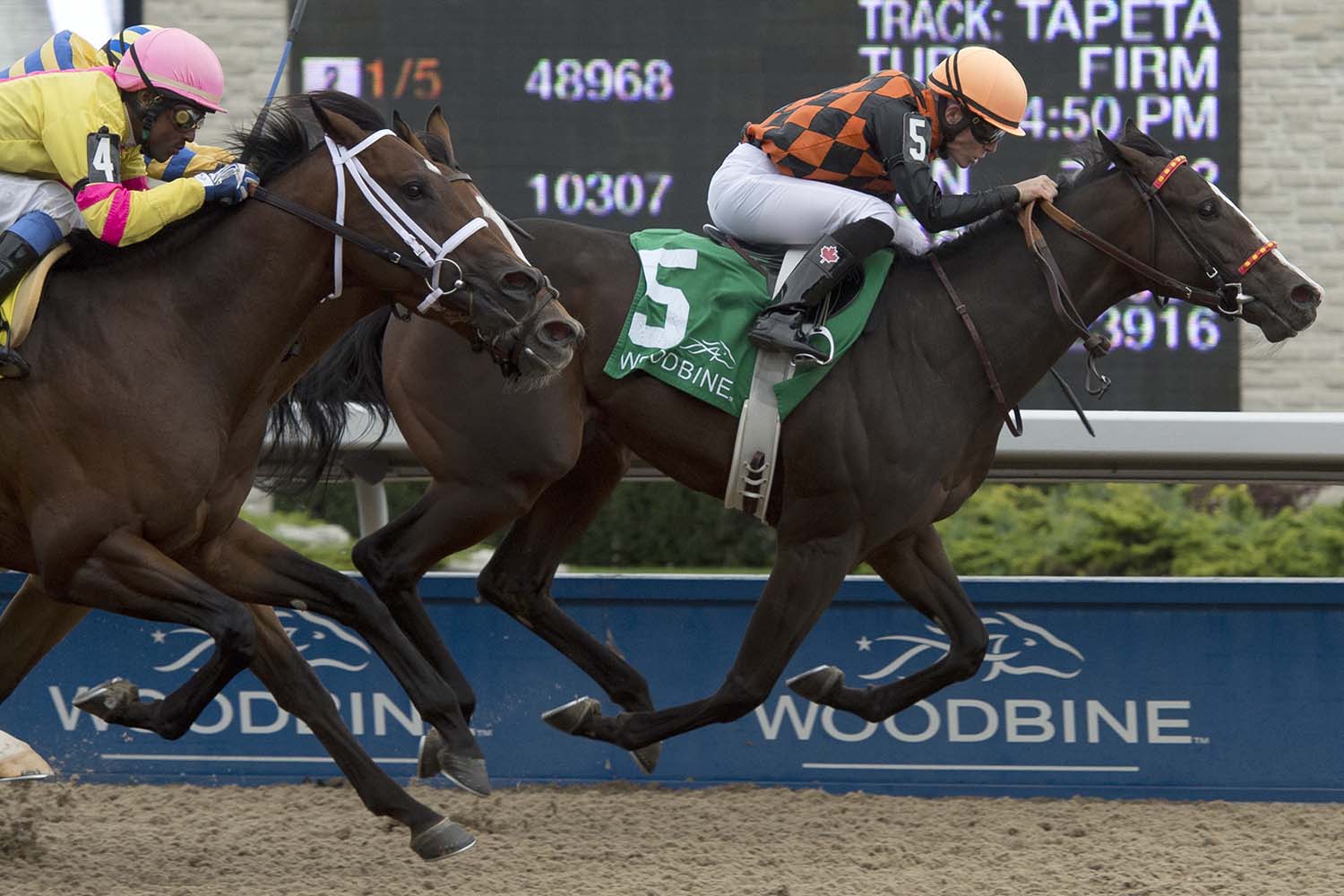 Wilson wasted little time getting out of the gates in impressive fashion, turning heads with her skills in the saddle and forging a close bond with thoroughbred fans, young and old.
She recorded her first Woodbine victory when she guided Tudy's Choice to the winner's circle on September 3, 2004.
Wilson was recognized with the Sovereign Award for top apprentice in 2005 and 2006, earning the Eclipse Award in the same category in 2005, after winning a colony-leading 175 races. She became just the third apprentice (Sandy Hawley and Mickey Walls are the others) to win the Woodbine riding title.
Wilson was inducted into the Brampton Sports Hall of Fame in 2006, an achievement made even more impressive considering the hall's requirement that a jockey be retired for three years before induction. She was also named one of the most influential women in sport by the Canadian Association for the Advancement of Women and Sport and Physical Activity.
It was 11 years ago when she enjoyed the biggest highlight of her career to date, when she won Canada's most famous horse race and put her name in the history books as the first female rider to win the 'Gallop for the Guineas.'
Teaming with Morgan Firestone's Mike Fox, Wilson took the 148th running of the Queen's Plate with the Ian Black trainee.
Her numerous exploits, however, aren't limited to just Woodbine and Canada.
A lifetime winner of 1,436 races, she also won the inaugural Pimlico Female Jockey Challenge in May of 2011, an event that helped raise money for breast cancer awareness.
Wilson, as captain, won the 2015 Shergar Cup at Ascot with teammates Sammy Jo Bell and Hayley Turner, marking the first victory for an all-female side in the event.
A fixture at Woodbine since 2004, Wilson, who has topped the 100-win plateau on seven occasions, has amassed $70,155,656 in purse earnings.
Robbie King, a former champion rider and Gomez honouree, and current Executive Director of the Jockey Benefit Association of Canada, believes it's fitting Wilson is being recognized for her countless contributions to the sport.
"Emma-Jayne truly embodies what this award is all about," praised King. "Her dedication to her craft, success at home and internationally, along with her passion to promote thoroughbred racing, make her the ultimate professional on and off the racetrack."
Wilson speaks fondly of the sport and those who support it.
"There are so many hard-working people involved in horse racing and so many facets to the industry," she noted. "It's the fans that truly make this sport what it is. They've been great to me. I was a fan when I was a little kid. I remember coming to the races and being in awe of the horses and their abilities. Even now, when you see the horses walking out of the paddock with the sun shining on them, their muscles rippling and then they go tearing down the racetrack as hard as they can, it's a sight to behold. I would love for people to come and experience it."
The coveted Gomez Award is given to the person, Canadian-born, Canadian-raised or regular rider in the country for more than five years, who has made significant contributions to the sport.
Presented annually on Woodbine Oaks day at Woodbine (June 9 this year), the honour is named in memory of one of the sport's most heralded and loved performers. The Cuban-born Gomez died of complications after a three-horse accident in the 1980 Canadian Oaks.
To commemorate his contributions to the sport, a life-size statue of Gomez, who called Toronto home and raised a family there, keeps watch over Woodbine's walking ring. A replica is presented to each year's honouree.
"I never met him, but he's a legend," said Wilson. "And his legacy lives on. His career, although it was cut short, was unbelievable. There's a picture of Avelino in the jocks' room. He has dirt all over his face, but there's a look of confidence and bravado. I only wish I could have a little bit of that in this game. He's left his mark on Woodbine and horse racing with his character and his success."
Wilson has given some thought as to what she'll say in her speech.
"I've been trying to get words written down and thinking just how grateful I am," she said. "I've worked hard and been dedicated to this sport, so to be recognized in this way is truly special. I want to make sure I don't forget anybody. Without the opportunities I was given, I may not have had a chance to shine. I want to make sure I cover as much as I can.
"When Tom Cosgrove (chair of both the Nomination and Election Committees for the Canadian Horse Racing Hall of Fame) phoned me, even now…I choke up a little bit. I can't believe it."
Wilson joins Ron Turcotte, Johnny Longden, Sandy Hawley, Don MacBeth, Chris Rogers, Jeff Fell, Lloyd Duffy, Hugo Dittfach, Robin Platts, Larry Attard, Don Seymour, David Gall, Richard Grubb, Irwin Driedger, David Clark, Jim McKnight, Chris Loseth, Richard Dos Ramos, Robert Landry, Francine Villeneuve, Sam Krasner, John LeBlanc Sr., George Ho Sang, Jack Lauzon, Robert King Jr., Stewart Elliott, Emile Ramsammy, Steve Bahen, Mickey Walls, Patrick Husbands, Quincy Welch, Gary Stahlbaum and last year's recipient, Gary Boulanger, as Gomez honourees.