By: Eric Wing for Woodbine.com
TORONTO, August 31, 2019 – It hadn't been much of a tournament for Norm Pettus going into the final contest race, Sunday's 11th at Gulfstream.
 "I'd win a race, then lose a race…win a race, lose a race," said the Mississauga, Ont. resident with a chuckle. "Then I'd try to get some exactas going, but had no luck with those either. So I decided to go back to basics and stick to win or win-and-place bets."
 The straightforward route proved to be the winning route for Pettus, who decided to plunk his entire $150 bankroll down on first-time starter Aguas Coloradas. When the daughter of Kitten's Joy took to the turf like a duck to red water and romped home by three lengths, the $17 win payoff shot the retired industrial salesman all the way to the top in the Woodbine Weekend Horseplayers tournament held on August 24-25.
 For the victory, Pettus received a paid berth to next February's $2 million National Horseplayers Championship (NHC) in Las Vegas, cash bonuses totaling $4,380, plus his final bankroll amount of $867.55.
 Also earning an NHC seat was runner-up Bill Boyd, who received a bonus of $1,848 to go with his final bankroll total of $487.
 The Woodbine Weekend Horseplayers Tournament attracted 80 entries at $350 each, with $100 of each entry fee to be used for live-bankroll bets, and the other $250 going to the contest prize pool. Contestants had to make five $10 wagers on both Saturday and Sunday at the eligible contest tracks—Woodbine, Saratoga and Gulfstream—and at least three of those requisite $10 plays each day had to be on Woodbine.
 "I did nothing extraordinary on the first day," said Pettus. He finished Saturday with just over $40—well behind Day 1 leader Giuseppe Petrella, who won a $600 bonus for his Saturday-best score of $185.40.
 Pettus stayed upbeat as Sunday began, however. He was sitting at the same table as Sheldon Usprech, who had won this event in 2018, and the two agreed that any money they retained from Day 1 could certainly be put to good use on Sunday when players' bankrolls received a $50 Day 2 infusion.
 As was the case on Saturday, though, Pettus could find no real traction early on, and with just two races left, his bankroll had dwindled back down to $40.
 Time was running out, but a modest win-and-place bet on 7-1 winner Roaring Forties in the Sunday finale at Woodbine boosted Pettus's total up to $150 which, to his surprise, had elevated him all the way up to sixth place given that many of his competitors had suddenly started to fall by the wayside with unsuccessful large plays.
Now it was Pettus's turn to get aggressive. He had been to the NHC twice before, in 2015 and 2016, and his goal was to get back there again. With NHC seats going only to the top two finishers, he saw little value in playing things safe. Another of his tablemates was Bill White, creator of the Horsewin sheets that are a key tool for Pettus along with his customary form study and paddock inspection. The Horsewin sheets had Aguas Coloradas as its top pick in the final contest race, the 11th at Gulfstream, and Pettus thought she looked good on the BRIS past performances, so he decided to go for broke. Pettus bet $103 to win on the Florida first-timer and the rest on exactas with Agues Coloradas underneath in second.
"Her breeding looked good, she looked okay on TV in the post parade from the little that I could see there, and the others in the race had been running some okay seconds and thirds here and there, but weren't really breaking through."
Pettus's faith in the first-time starter—and in the Horsewin sheets—paid off, resulting in what will be a third trip for him to the $2 million handicapping extravaganza in Las Vegas. Though Pettus was quick to admit that his bold play at the end was a bit out of character.
"I'm not a huge gambler," he confessed. "I'm usually pretty conservative. I haven't really had any great scores. Anything over $2,500 is really big for me."
Also big for him is the excitement of going back to the NHC.
"I was just so amped up the two times I was there," he said. "I was seeing horses in my sleep! I was extra tired when I got home, but that's the fun of being there. You really do make lifelong friends at these contests and racing isn't like other competitions. Everyone will talk to you, and there are never any hard feelings."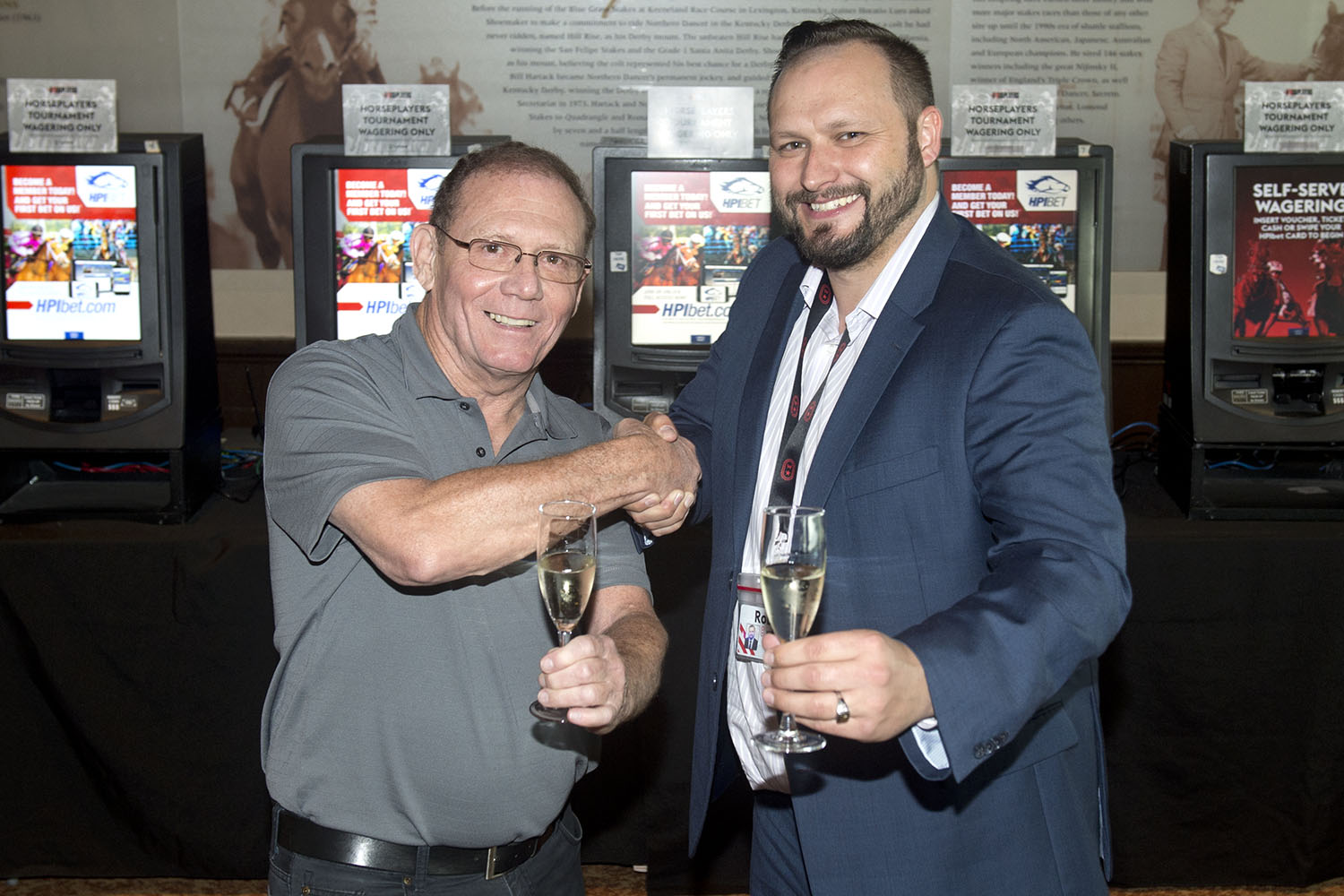 Somewhat surprisingly, it wasn't until 2009 that Pettus first dipped his toe into the contest waters. A year or so earlier, during one of his weekend visits to Woodbine, he had noticed some contest scores posted on an in-house television screen. He wanted to know more about it…but he was intimidated.
"I'd see some prominent names on the screen and think, 'I can't beat those guys.' Finally, though, I said, 'Let's give it a try.' It has turned out to be a lot of fun."
Now, with his third NHC berth (all of which were won at Woodbine over the years), Pettus has once again put himself in line for the first prize of $800,000 (U.S.) at the NHC. Prior to that, he'll compete in the Woodbine Mile Horseplayers Tournament on September 14—and he encourages other contest fence sitters to do the same.
"Anybody can do it," he insisted. "The one who picks the most winners wins."
Norm Pettus may be guilty of a slight oversimplification there. If you want to call him on it, you can find him at Woodbine on September 14…or in Las Vegas next February.