TORONTO, November 9, 2022 – Hazelbrook, a 4-year-old daughter of Bayern, goes for another graded stakes crown, this time in Saturday's Grade 2 $175,000 Bessarabian Stakes, at Woodbine.
The 7-furlong main track feature for fillies and mares, 3-year-olds and upward, has drawn nine starters, including Hazelbrook.
Trained by Lorne Richards, the True North Stable charge has enjoyed a stellar campaign, a season that includes four wins from five starts, and stakes success in the Grade 3 Hendrie, the Sweet Briar Too, and most recently, the Grade 3 Ontario Fashion.
The bay's other 2022 start was a runner-up effort in the Grade 3 Seaway when she finished second to multiple graded stakes winner Lady Speightspeare, who was third in the recent Breeders' Cup Filly & Mare Turf at Keeneland.
"It's been a great year for her," said Richards. "She's been good every start and we're really proud of her."
Bred in Kentucky by Mike Bilbrey, Hazelbrook finished third at 68-1 in her debut in November 2020, a 6-furlong maiden special event race over the Tapeta.
She began her 3-year-old season in style, winning her first two races before finishing eighth in the Duchess Stakes on September 25, 2021, the final start of her sophomore campaign.
Hazelbrook was back in the winner's circle after her first start of 2022, the beginning of a three-race win streak.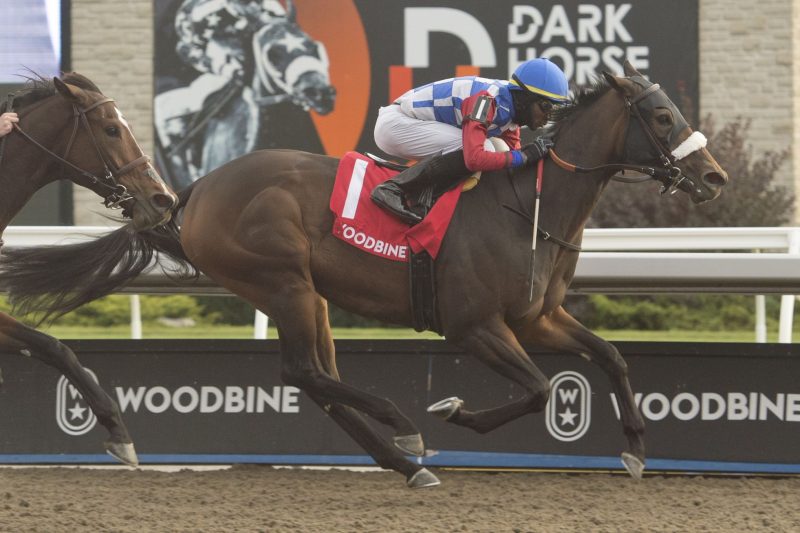 "I liked her from the very start," said Richards. "The only thing is that she's very quirky. She has had issues with her digestive system for a while, so that's something we've had to monitor closely. The clinic in Guelph told me it's kind of like colitis. It's something where you have to take it day-by-day, but there's no denying she has plenty of talent. She can be high-strung, so we do our best. But I'm not going to complain. She shows up every time."
Partnering Hazelbrook with jockey Jason Hoyte has proven to be a winning combination.
"Jason has worked for me for years, galloping, and she was kind of a bad actor. I didn't get a lot of takers wanting to ride her. We finally got her onto the track, and she dumped her rider the first time she was supposed to run, and she ended up getting scratched. But Jason has done a fantastic job with her. I'm just happy for him. He's a good kid and I'm pretty happy for him that he's had that success with her."
The Bessarabian will be the final start of the season for Hazelbrook, who sports a lifetime record of 6-1-1 from nine starts.
"She deserves it. She's had a great year, but she can be hard on herself. She's pretty easy to rate and she goes when you ask her. You can't knock her at all."
Mark Casse sends out the duo Beyond Mybudget and Our Flash Drive. Fellow conditioner Saffie Joseph, Jr. has Artie's Princess and Allworthy entered.
Trainer Roger Attfield and Kinghaven Farms teamed to win the first two editions of the Bessarabian, in 1985 with Summer Mood and one year later with Playlist.
The race is named after Canada's champion older female of 1986, a multiple stakes winning daughter of Vice Regent trained by Michael Doyle and owned by Eaton Hall Farm. She finished her racing career with an 18-5-4 mark from 37 starts.
Also on Saturday, 11 fillies and mares, 3-years-old and upward, will travel 1 ¼-miles on the Tapeta in the Grade 3 $150,000 Maple Leaf Stakes.
U.S. based Charges Dropped, Creative Cairo, and Transient (GB) take on a group that includes Kevin Attard trainees Angelou and Munnyfor Ro.
Conn Smythe, principal owner of the NHL's Toronto Maple Leafs from 1927 to 1961 and builder of Maple Leaf Gardens, leads all owners with seven Maple Leaf crowns.
Inaugurated in 1892, the race was won last year by Skygaze.
The Bessarabian is carded as race eight on Saturday's 10-race program. The Maple Leaf goes as race seven. First post is 1:20 p.m. Fans can also watch and wager on all the action through HPIbet.com and the Dark Horse Bets app.
FIELD FOR THE GRADE 2 BESSARABIAN
Post – Horse – Jockey – Trainer
1 – Artie's Princess – Jose Ortiz – Saffie Joseph, Jr.
2 – Sweet Enough (GB) – Emma-Jayne Wilson – Roger Attfield
3 – Hazelbrook – Jason Hoyte – Lorne Richards
4 – Lorena – Rafael Hernandez – Stuart Simon
5 – Beyond Mybudget – Declan Carroll – Mark Casse
6 – Our Flash Drive – Patrick Husbands – Mark Casse
7 – Awesome Treat (S) – Jose Campos – Steve Attard
8 – Loyalty – Luis Contreras – Josie Carroll
9 – Allworthy – Kazushi Kimura – Saffie Joseph, Jr.
FIELD FOR THE GRADE 3 MAPLE LEAF
Post – Horse – Jockey – Trainer
1 – Crystal Glacier (S) – Eswan Flores – Mark Casse
2 – Owen's Tour Guide (S) – Leo Salles – William Armata
3 – Charges Dropped – Kazushi Kimura – Michael McCarthy
4 – Il Malocchio – Sahin Civaci – Martin Drexler
5 – Dreidel – Declan Carroll – Josie Carroll
6 – Munnyfor Ro – Justin Stein – Kevin Attard
7 – Angelou – Luis Contreras – Kevin Attard
8 – Peace Seeker – Slade Jones – Nick Nosowenko
9 – Creative Cairo – Rafael Hernandez – Christophe Clement
10 – Silent Causeway – Patrick Husbands – Laura Krasauskaite
11 – Transient (GB) – Jose Ortiz – Saffie Joseph, Jr.
Chris Lomon, Woodbine Communications / @WoodbineComms on Twitter