TORONTO, November 4, 2021 – Multiple stakes winner and Canadian champion Pink Lloyd takes on five rivals in Sunday's $100,000 Ontario Jockey Club Stakes at Woodbine.
Bred in Ontario by John Carey and owned by Entourage Stable, the chestnut gelding, a 27-time winner, 24 of them stakes, arrives at the six-furlong Tapeta event for Ontario-sired three-year olds and up off his second straight Grade 3 Bold Venture Stakes score.
Trained by Canadian Horse Racing Hall of Fame inductee Robert Tiller, the nine-year-old son of Old Forester will once again have Rafael Hernandez in the irons.
"This horse, he's really strong and he can do anything you want from him," said Hernandez. "He can get you in a good spot, but if you get into a tough spot, he can always find a way out. Last time, in the Bold Venture, there didn't appear to be much speed in the race. Was someone going to come and try to go with him fast early and then I wouldn't have anything left in the end, or were they thinking that he's a veteran horse and we'll let him go? Another horse tried to go for the lead, but he couldn't get to him. So, we had the lead and we went from there."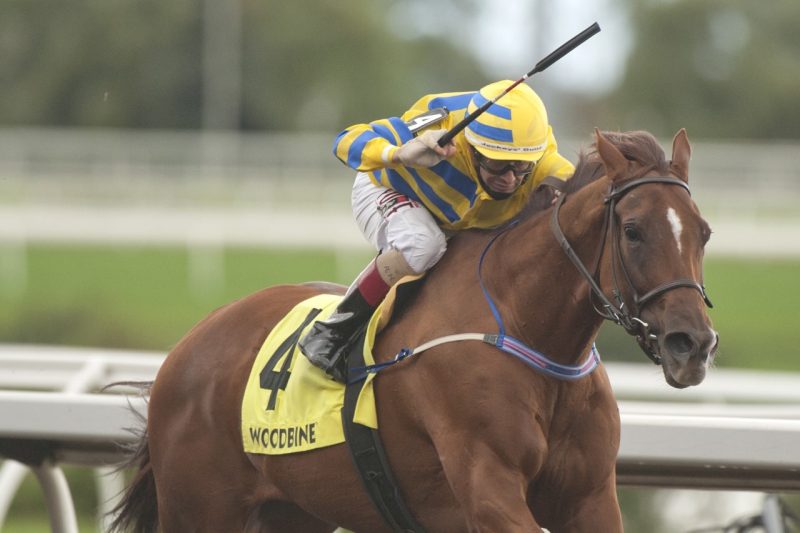 A seven-time Sovereign Award recipient, including 2017 Horse of the Year honours, Pink Lloyd continues to be a fan favourite at the Toronto oval and beyond.
Hernandez, a lifetime winner of nearly 2,800 races, is one of Pink Lloyd's proudest supporters.
"He has so many stakes and he's a favourite horse of everybody, not just for me, not just for Bob Tiller, not just for his owner, but for the racetrack. I know people come to Woodbine just to see him."
Being the pilot of Pink Lloyd is the ultimate adrenaline rush, said Hernandez.
"When you ride him, you don't feel yourself going fast because he spends so much time in the air. He has a big, big stride. He's unbelievable… he's push button. When you're in a race car and you push the nose and say, 'Bye-bye,' that's him. When you turn for home and push the button, it's, 'Bye-bye, come and get me.'"
Pink Lloyd's Sovereign bounty includes four consecutive (2017-2020) champion male sprinter trophies in and a pair of champion older male titles in 2017 and 2019.
He's recorded four consecutive victories in the Vigil Stakes and Jacques Cartier Stakes, along with three triumphs in both the Shepperton and Kenora.
Hernandez, who has 118 career stakes victories, hopes Pink Lloyd can add his lofty list of successes this Sunday.
"I talk to him, even before the race starts. I tell him, 'You take me where you want to go and do your thing. I'm going to wait for you to switch your lead and let you go.' When we go in the gate, I tell him to relax. He wants to go, but I take a hold and say, 'Not yet. Just hold on.' After the wire, we both breathe and I tell him, 'We did it, buddy. Good job.' Right now, I'm thinking about riding him in the race and it makes me smile. Every time I talk about him in an interview after the race, I tell them I am just a passenger. You need the horse to win the race. You can't say that you won the race. You need a good driver. With this horse, I am happy to be the driver."
First post for Sunday's 10-race card is 12:55 p.m. The Ontario Jockey Club goes as race three. Fans can watch and wager on all the action with HPIbet.com and the Dark Horse Bets app.
$100,000 ONTARIO JOCKEY CLUB STAKES
Post – Horse – Jockey – Trainer
1 – Told It All – Daisuke Fukumoto – Suzanne Drake
2 – Pink Lloyd – Rafael Hernandez – Robert Tiller
3 – Magical Man – Steven Bahen – Gail Hughes
4 – Souper Hot – Shaun Bridgmohan – Mike Mattine
5 – Dun Drum – Emma-Jayne Wilson – Ian Black
6 – Forester's Fortune – Patrick Husbands – Rodney Barrow
Woodbine Communications / @WoodbineComms on Twitter