By: Chris Lomon for Woodbine.com
TORONTO, October 17, 2020 – It might not have been a popular choice, or even a consideration for most at the time, but Mel Lawson knew it would be a perfect fit.
As a horseman with a well-earned and well-deserved reputation as one of Canada's most successful owner-breeders, the man with a stable chock full of Thoroughbred stars had a decision to make back in the early to mid 1980s, one that would be a game changer for his Jim Dandy Stable.
There was no shortage of trainers that Lawson could opt for – seasoned veterans of the sport, up-and-coming talents, diamond-in-the rough sorts – to lead his string of horses.
The man who had led the Hamilton Wildcats to Grey Cup gridiron glory in 1943 didn't have to call an audible when he named Janet Bedford to campaign his stable.
For Jim Lawson, Mel's son, and CEO of Woodbine Entertainment Group, the decision, in retrospect, was audacious, but undoubtedly the right one to make.
"It's interesting now when I look back and think about it… maybe it's in light of what has happened in recent months in the media regarding the focus on diversity. Hats off to my dad when I think of the times 40 years ago when he decided he wanted a woman trainer in a backstretch that was completely dominated by men. Janet had worked for [Canadian Hall of Fame trainer] Ted Mann, and I think my dad just felt she knew the horses, and he had confidence in her."
It's one of many memories he has of Bedford, who recently passed away.
"Now that I think of it, 40 years later, it was probably a bold move. I didn't think of it that way at the time. I'm not sure whether he did, but looking back to those days, I think he saw her as very capable, trustworthy around the horses, and certainly knew them well. It was a natural thing for him to do. I don't think many of the owners at the time with good horses – and he had good horses – would have done that. I don't know. It's very interesting to look back on that now. I now look back and say, 'Wow… that was a good thing.' She definitely deserved it."
The elder Lawson, inducted into the Canadian Horse Racing Hall of Fame in 2010, saw Bedford as an ideal orchestrator for horses like Let's Go Blue and Eternal Search, a dynamic Jim Dandy duo that had stamped themselves as bona fide talents.
Let's Go Blue, a son of Bob's Dusty who won the 1984 Plate Trial and finished second in the Queen's Plate that same year, went on to win Alberta's Canadian Derby and Hastings Racecourse's Grade 3 BC Derby. As a four-year-old, he took the Grade 3 Dominion Day and the Speed to Spare at Northlands, a race he won again in 1986 along with the Fair Play Stakes. He was also third in the Stuyvesant (G2) at Aqueduct before he was retired with over $750,000 (US) in purse earnings.
Up until the 1984 Queen's Plate, there had only been two women trainers to saddle a horse in the iconic Canadian race; Estelle Giddings, widow of Henry Giddings, an eight-time Plate winner, briefly took over the reins of her husband's stable and had a starter in 1950, while Olive Armstrong sent out a starter three years later.
Eternal Search, Mel's brilliant three-time Sovereign Award winning mare of 15 stakes races, came to Bedford's barn in 1983 and went on to win the Nassau Stakes at Fort Erie. The Eternal Search Stakes is run annually at Woodbine.
"We had a chance to travel with Let's Go Blue a few times and Eternal Search as well," Jim recalled. "That's when you could see how much Janet doted and how much she cared for her horses. I think she probably loved Eternal Search more than anything."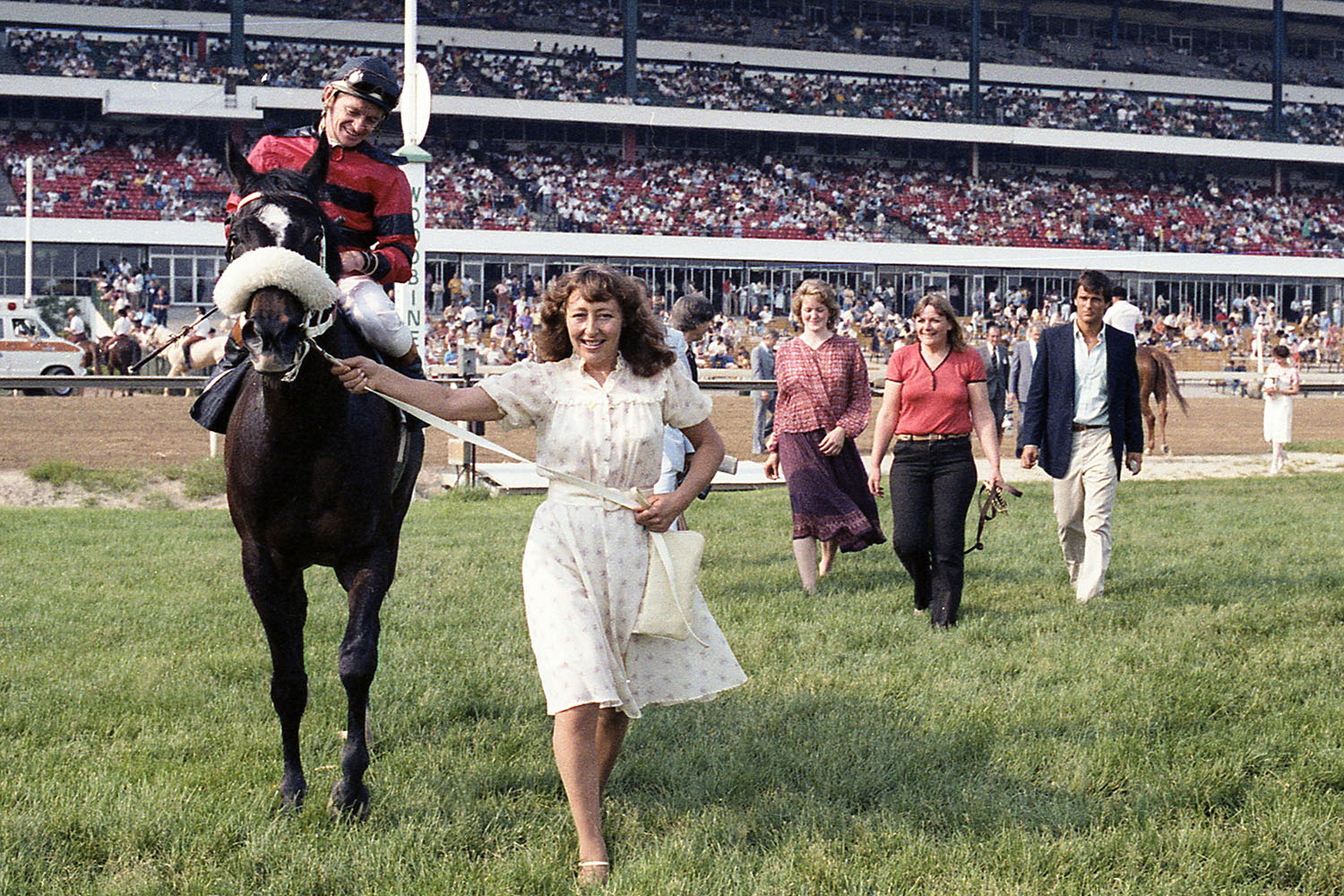 Interestingly, it's not winner's circle trips that first come to mind for Jim when speaking of Bedford's training exploits.
"First and foremost, it was her love for the animal, a true love for horses, that stands out for me. That is the thing that first comes to mind in my memory of her. When she'd go away with the horses, she'd pretty much want to sleep right beside them. She was just so passionate in caring for her horses. I think somehow there's an intangible there. When someone cares about their horses – rubs them like that, walks them like that – you know they are under the best of care. At some level, I think that's important to a horse, that they know they are so cared for."
The end results for the multiple stakes winning trainer were 193 career wins and $4.6 million in purse earnings.
Beyond those numbers, however, is a far more significant stamp Bedford has left on Thoroughbred racing, especially at Woodbine Racetrack.
It's something Jim, and many others, are appreciative of.
"We have a very disproportionate number of very capable, very successful women trainers at Woodbine compared to other racetracks around the world. There are so many names at Woodbine, so I won't try to list them all. I think in order for that to happen, there needed to be a pathway. There are a lot of women that work in the Woodbine backstretch, and to have someone who would pave the way like that, and say, 'You can do it,' is a credit to Janet. I think, in part, she has helped Woodbine foster so many great women trainers. It's a very nice thing for our industry, and a very nice thing to acknowledge Janet for having some of the credit for that."
Catherine Day Phillips, Josie Carroll, Barbara Minshall and Gail Cox are some of the numerous Woodbine-based female conditioners who have experienced success at home and on the world stage over the past 30-plus years.
A multiple graded stakes winner, Day Phillips, whose stars include Grade 1 champion Jambalaya, and graded stakes victors A Bit O'Gold, and Mr Havercamp, is thankful for Bedford and the others who helped open the gates for women trainers.
"My first thought of Janet is her association with Let's Go Blue," said Day Phillips, whose mother Dinny Day was also a successful trainer. "She was one of the first female trainers I remember, and she was a pioneer in that way. She helped pave the way for female trainers, especially for those of us at Woodbine."
Around four or five years ago, while he was cleaning his parents' house, Jim came across a piece of nostalgia from the halcyon days of Jim Dandy Stable.
The moment he stumbled upon it, he thought of Bedford.
"I hadn't seen Janet in a while. It was probably four or five years ago, when I was cleaning out my parents' house, and I found an old Jim Dandy Stable jacket. Janet was walking hots for Sid [trainer, Attard] and I took that jacket – which looked pretty much brand new – to her. It was in my dad's closet and it had never been cleaned out. He died in 2011, so this was around 2015 or 2016. I took it to Janet and she nearly burst into tears. It was indicative of how much that era of training meant to her."
And just as she was in her role as Mel Lawson's trainer, the jacket was a perfect fit.
"She proved herself, loved the horses and took care of them," said Jim. "I think that's what my dad saw in her."