Woodbine – Saturday July 2, 2022
Race 7 –  Selene Stakes – Grade 3 – Post Time 4:16
Top contenders with minimum odds for considering win bets:
#2 Pioneer's Edge – 2 to 1
#8 Catiche – 2 to 1
#5 Join the Dance – 4 to 1
How I'd wager $20:
$12 win #2 Pioneer's Edge
$2 exacta 2, 8 over 2, 5, 8 (Total cost $8. We win if #2 or #8 wins and then if #2, #5, or #8 finishes second)
Pioneer's Edge has run very well in two career starts to date, both seven furlong sprints, and should stretch out to this mile and one-sixteenth distance nicely from an inside post. She improved from an 84 Equibase speed figure (a number allowing us to compare times at various distances and over different surfaces) to a 91 figure and that is the second best last race figure in the race. Accounting for improving again, and with breeding that suggests she should love the longer distance, as well as coming out of the red-hot Josie Carroll barn (26% wins at the meeting to date), Pioneer's Edge could be tough to beat and become one of the favourites in the Woodbine Oaks on July 24.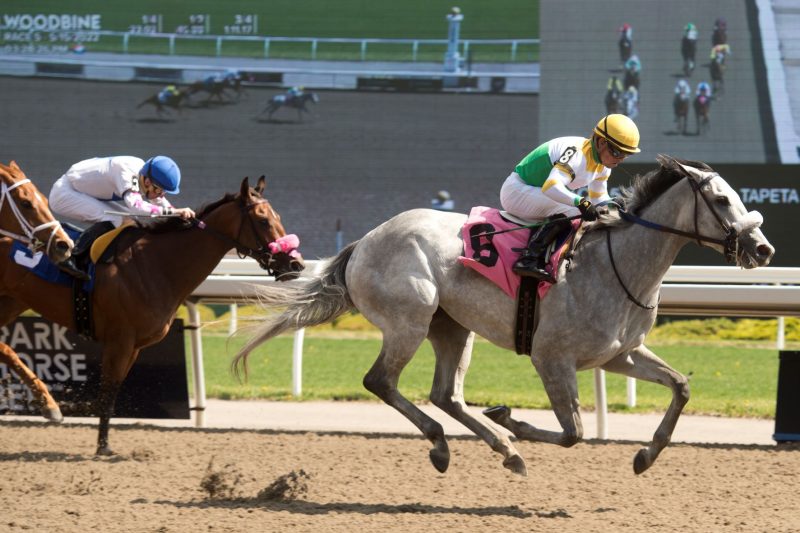 Catiche has run three big races in a row on the Tapeta all-weather surface since switching to it in March, including two wins by six lengths each, the most recent at Woodbine. The other win came at Gulfstream Park and she also finished second in the Bourbonette Oaks at Turfway Park in between the wins. The most recent victory on May 21 came against older fillies and mares and she faces only three-year-olds in this field, with the 102 Equibase figure, earned the best last race figure in the field, making her a strong contender in this year's Selene Stakes.
Join the Dance appears to be the one to catch because she stretches out off two sprints and because she earned her two career wins leading from start to finish, both under jockey Emma-Jayne Wilson who rides today. Her best figure is 86 which isn't as fast as the other two contenders but it is possible if she gets out on an easy lead she could get very brave and run a career-best effort.
Race 8 –  Nassau Stakes – Grade 2 – Post Time 4:48
Top contenders with minimum odds for considering win bets:
#3 Plum Ali – 9 to 5
#4 Crystal Cliffs – 2 to 1
#8 Our Flash Drive – 4 to 1
How I'd wager $20:
$12 win #3 Plum Ali
$1 exacta box: 3, 4, 8
$1 exacta box: 3, 4
Plum Ali ships in from New York for top trainer Christophe Clement, who doesn't start many horses at Woodbine but (per a Race Lens query) has a tremendous record when he does, winning five of nine turf route races in the past few years, including two with jockey Dylan Davis, who rides this filly. Plum Ali won the Winter Memories Stakes at Aqueduct in November with a career-best 111 Equibase Figure, then after five months off won the Plenty of Grace Stakes with a 107 figure as if she'd never been away. Although she finished seventh in the Beaugay Stakes in May, I think she can rebound particularly as that race has since become a "Key Race" (productive) from which both the third and sixth finishers have come back from to win.
Crystal Cliffs ran just about as fast winning the Sand Springs Stakes in April (with a 110 figure) as Plum Ali did winning the Winter Memories. She had been off for nine months prior to that and it was the best effort of her career. Returning seven weeks later on May 21, Crystal Cliffs finished second in the Gallorette Stakes with a 101 figure, and now she appears capable of running back to her Sand Springs effort for top trainer Graham Motion. In six career turf races, five of those stakes, the mare has never finished worse than third and that is another reason she deserves to be considered a top contender in this year's Nassau Stakes.
Our Flash Drive comes out of the Beaugay Stakes, the same as Plum Ali, and ran better than that filly as she rallied from fourth to lead into the stretch before being passed late, gamely holding second by a nose over the third horse, which came right back to win. That was her second consecutive runner-up effort in a stake on turf so she could certainly be part of the exacta here at the very least.
Race 9 –  Marine Stakes – Grade 3 – Post Time 5:20
Top contenders with minimum odds for considering win bets:
#8 Mannix – 5 to 2
#1 Ironstone – 3 to 1
#5 Fuerteventura – 3 to 1
How I'd wager $20:
$8 win #8 Mannix
$1 exacta key box: 8 with 1, 4, 5, 7
(A Key Box is essentially two sets of exacta boxes in which the key horse is played in first and second position. In this case we are playing 8 over 1, 4, 5, 7 and 1, 4, 5, 7 over 8)
$1 exacta: 8 over 1, 4, 5, 7
#4 is Rondure, #7 is Lac Macaza
Mannix imported to the U.S. and into the top Mark Casse barn last October, winning easily by three lengths on the Tapeta all-weather surface at Gulfstream Park, the same as at Woodbine. He tried conventional dirt in January and ran poorly, then ran poorly when fourth back on the Tapeta in February. Next, the colt tried turf and finished second, but his next start was a poor effort finishing sixth. That all changed when shipping to Woodbine to run in an allowance race versus older males on May 22. In that race and with Emma-Jayne Wilson riding for the first time Mannix relaxed in fifth in the early stages then began to move up, then ran into a roadblock on the far turn before finding a clear path and going on to win very professionally. That effort resulted in a career-best 95 Equibase figure which is just two points shy of the horses with the best last race figure in the field and it's likely to be improved upon in the colt's second start at Woodbine and on the drop in age bracket from three year olds and upward to just three year olds.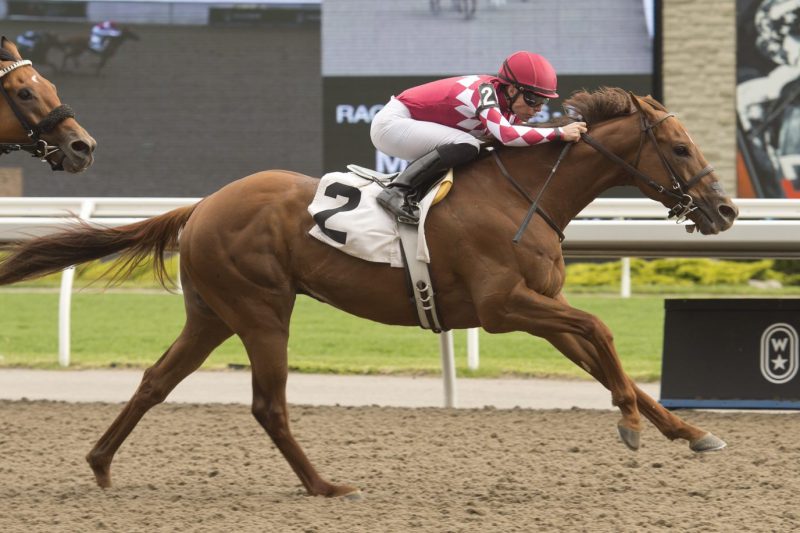 Ironstone gets a good ground-saving post and makes his third start of 2022, stretching out of two sprints which suggests he's going to run his best race of the year. In his final start as a two year old last year Ironstone also stretched out off a seven furlong sprint (as he's doing today) and ran very well to finish second in the Grade 3 Grey Stakes, earning a 93 figure. His effort last month when beaten a pair of heads in the Queenston Stakes earned a 97 figure which is tied (with Queenston runner-up Rondure) for the best last race figure in the field, and the colt has put in a very strong half-mile workout (47.6) coming into the race which suggests he is going to run very well.
Fuerteventura is unbeaten in three two-turn races, two on turf and one on Tapeta. He ships up from trainer Jonathan Thomas' base in New Jersey and gets the services of leading jockey Kazushi Kimura and in his last two races he has shown a lot of maturity when relaxing in the early stages and rallying in the last eighth of a mile to win. Those efforts earned 82 and 94 figures so he too is on the right pattern to run the best race of his career in the Marine Stakes.
Race 10 –  Highlander Stakes – Grade 2 – Post Time 5:52
Top contenders with minimum odds for considering win bets:
#10 Bound for Nowhere – 9 to 5
#2 Voodoo Zip – 5 to 2
#1 Turned Aside – 7 to 2
How I'd wager $20:
$1 exacta box: 2, 10
$1 exacta box: 1, 2, 10
$1 exacta: 1, 2, 10 over 1, 2, 5, 10, 11
#5 is Tap It to Win, #11 is Arzak
Bound for Nowhere, as well as the other two top contenders, are going to benefit from the fact there are three horses in the field which do their best running when on the lead. Chuck Willis, Into the Sunrise and Elektronic assure a hotly contested early pace scenario in which the first half-mile may be run as swiftly as 44 seconds. Bound for Nowhere has won six of 16 races on turf in his career and earned over $1 million and although his most recent win in March came when leading from the start, he can close sensationally well as when winning the Grade 2 Shakertown Stakes at Keeneland a little over one year ago, rallying from ninth and inhaling the field in the last eighth of a mile and earning a 114 Equibase figure which was one of the best of his career, at the age of seven. He is as consistent as he is fast, missing by head and a neck against top turf sprinters in his two starts before the Shakertown last spring. He also thrives off short rests like the three and one-month layoff he's returning from today so we can expect a top effort.
Voodoo Zip enters the race off the best race of his career, winning at this six furlong turf trip at Belmont at the end of May to earn a career-best 109 figure. Trained by Christophe Clement, who does very well when shipping his horses to Woodbine from his New York base, the horse closed with abandon in that last race to make up five lengths in the stretch and win. This being his third start since being away for six months, even better could be forthcoming and he should really appreciate the hot pace which will set up his late kick very nicely.
Turned Aside also makes his third start of the year, having won strongly one month ago at five furlongs on the inner turf at Woodbine with a 112 figure. Not only is he also on a pattern for a better effort, if that effort is like the one he put forth in last year's Nearctic Stakes he could win. In that race, Turned Aside missed by a half-length while earning a career-best 117 figure, similar to the 113 figure earned in the fall of 2020 when winning the Turf Sprint Championship Stakes at Aqueduct at this six-furlong turf trip with a 113 figure.
Follow Me on Twitter @Ubercapper
Other racing content
Weekend Stakes Blog at https://www.keeneland.com/media/news/
Weekend Key Races & Bets Blog and Podcast at amwager.com/handicapping/ellis-starr-blog
Analysis of major stakes races every Friday at equibase.com/free
Free Selection for one free race daily at:
Woodbine – https://woodbine.com/handicapping/ellis-starr/
Santa Anita – santaanita.com/author/ellisstarr
Keeneland – keeneland.com/racing/wagering/expert-picks/Ellis Starr 
Ellis Park – coming soon