After winning the Catch a Glimpse Stakes and posting a second in the Natalma Stakes (both at Woodbine), 2-year-old filly Cairo Consort is getting ready for this week's Breeders' Cup Juvenile Fillies Turf.  
Trainer Nathan Squires has rave reviews for the daughter of Cairo Prince-Absolutely Awesome, bred by Frankfort Park Farm, and owned by William Thompson Jr.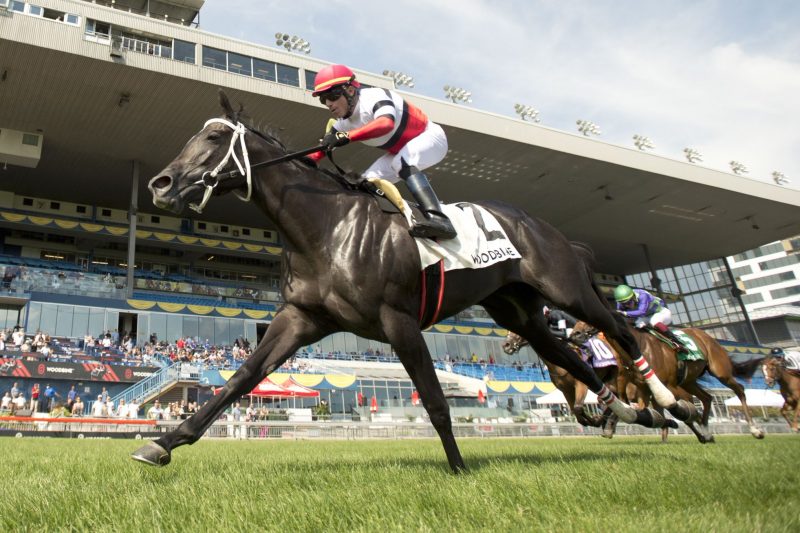 What is Cairo Consort's best attribute on the racetrack?  
"She's kind, you know what I mean? She finds a way to give you that extra. The first two starts that she had she was third and fourth, and that wasn't her fault, that was mine. I was getting to know her. She's so laid back you could have a five-year-old ride her. She's just that type of horse."  
Tell us more about that laid-back personality. 
"[Cairo Consort] is very laid back, nothing bothers her. Two days ago, I sent her for a little jog and we're walking back, through the tunnel at Woodbine and horses are acting up, running, bucking, squealing, getting in trouble and running by her and she didn't care. She just had her head down, walking like it was a Sunday afternoon. It did not bug her at all. She's one of a kind." 
Does she have a nickname?  
"We call her Beyoncé. It's just that she's so confident, you know? She's fearless. I didn't really give her the name Beyoncé. When I sent her to be broken last year, she didn't have a name yet and I told them we were thinking Cairo Consort and they said, 'Oh, you mean Beyoncé?' They suggested it because she's fearless, she just has so much confidence, so it just stuck with her. She's a very kind horse. There are just a few things she doesn't like: being tied in one spot, having her right side brushed, I don't know why. Other than that, she's pretty easy." 
What athlete does Cairo Consort remind you of? 
"Do you know who Flo-Jo was? Oh my God, Florence Griffith Joyner. She was an American 100 and 200 metre sprinter. She was absolutely gorgeous, and she was fast. She was one of the first female athletes that used to bring the bling. She looked so pretty running. This is making me feel old. She reminds me of her, but I'll give you a modern-day version: Serena Williams. She's powerful, she's determined. She has that never-give-up attitude and she's chill."  
How did Cairo's workout go last week, ahead of the Breeders' Cup?  
"She worked a week ago Friday and I kind of stretched her a bit. I had two stablemates out [with her]. She sat about 10 lengths behind them and then she just kind of came out and ran by them. That work was really good. I wanted that work for her. She had been having an easy time. I was taking it very easy with her so that she could relax but it was time to get back to work, and she did it well. She looked like she was just cantering." 
What three words would you use to describe Cairo Consort?  
"Fearless. Confident. Beautiful."