TORONTO, October 8, 2018— Kingsport, benefitting from a ground-saving trip under Patrick Husbands, was headed in deep stretch but battled back for a very game neck victory in Monday's Bunty Lawless Stakes at Woodbine Racetrack.
The $100,00 Bunty Lawless was run over one mile on a turf course rated yielding, resulting in a slow final time of 1:37.84.
"My horse was handling [the track] good and the footing was unbelievable," said Husbands, Kingsport's regular rider for trainer Sid Attard. "I held the fence and he was just loving it. He had a perfect trip and the other horse put him away and he fought back on. At the end of the day, horse makes jockey, but I'm happy to be here."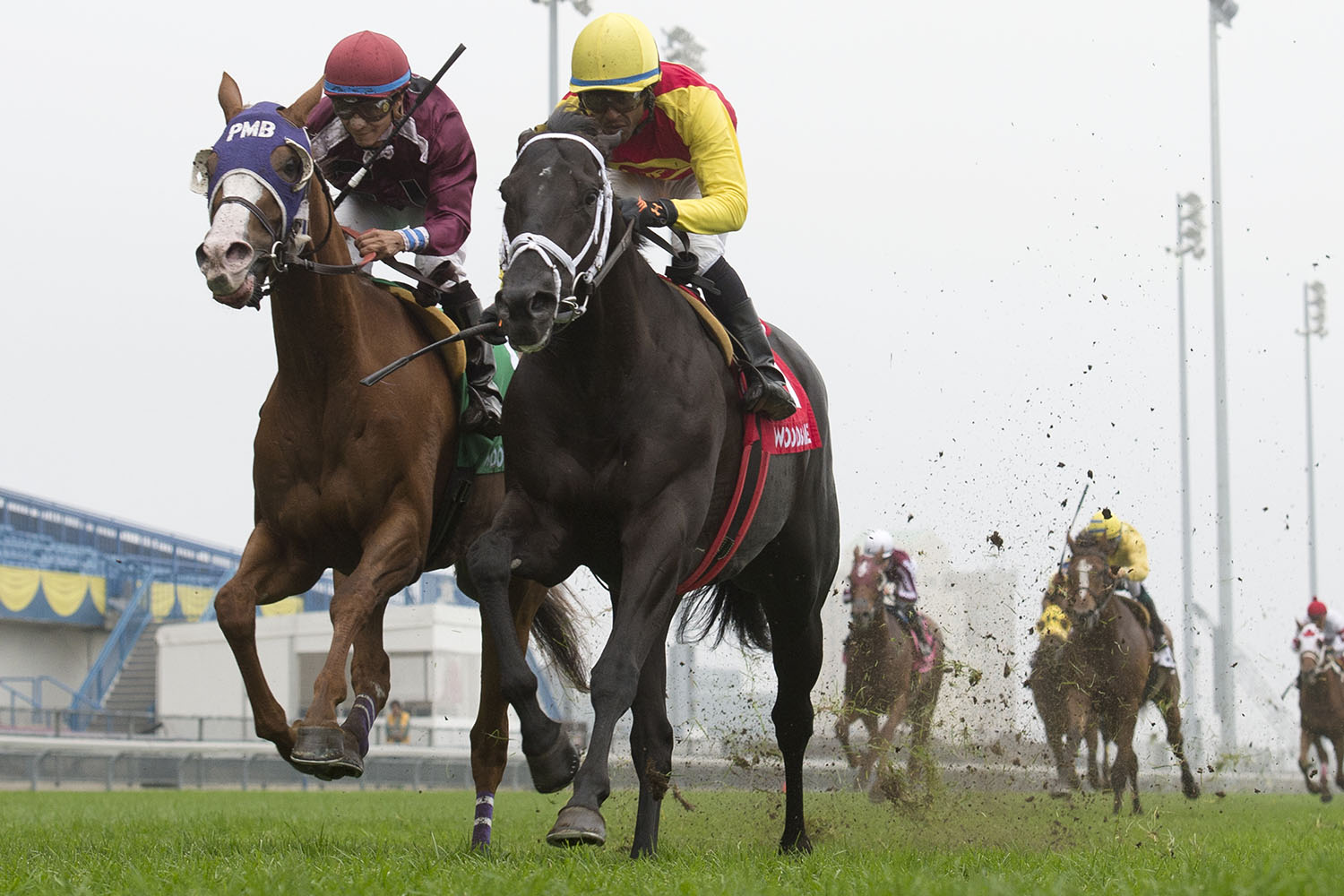 Eskiminzin seized control early in the Bunty Lawless, holding an open lead through a quarter in :23.39, a half in :46.68, and three-quarters in 1:11.47.
Boreal Spirit and Nipigon were in closest attendance early while Kingsport was biding his time remaining in striking distance, and had moved up to second with a quarter-mile to run.
Tipped out by Husbands early in the stretch, Kingsport seemed ready to roll home but was immediately confronted by Thor's Rocket, who had raced in eighth under Alan Garcia through the first half-mile before launching his bid and taking a length lead with a furlong to run.
"When [Garcia] came to me, my horse never fought so he was just finishing off the race to run second," said Husbands. "And then I saw him coming back again so he gave me more confidence and he got the job done."
Thor's Rocket had to settle for second money but was 10 ¼ lengths to the good of third-place finisher Be Vewy Vewy Quiet.
Eskiminzin hung in for fourth money, 1 ¼ lengths behind Be Vewy Vewy Quiet and 1 ½ lengths to the good of Red Cabernet, the only female in the field, and the 3-1 favourite, who had flattened out after reaching striking contention entering the stretch.
Where's the Widget, Ethical Funds, Nipigon, Sweet Grass Creek and Boreal Spirit completed the order of finish.
Kingsport, who campaigns for Goldmart Farms and Royal Laser Racing, was winning his eighth stakes while running his overall record to 10-7-3 from 29 starts.
The Bunty Lawless was the first turf stakes win for the son of Milwaukee Brew and Green Jewel, and Attard had said prior to the race that he was concerned about Kingsport on "soft" going.
The six-year-old horse had won the 6 ½ furlong Shepperton and 1 1/16 Elgin in back-to-back fashion before coming-a-cropper last time out in the Grade 3 Bold Venture at 6 ½ furlongs.
"We did make a mistake last time," said Attard. "You can't go long and come back short. Once in a while you fool them, but they're smart horses. They ran away from him last time. I was kind of sorry we ran him there, but it's all over. He came back and he kicked again."
Kingsport returned $10, $5.30 and $4.20 and fronted a $46.50 exacta with runner-up Thor's Rocket ($6, $4.60).  Be Vewy Vewy Quiet ($7) finished third to complete a $2 trifecta worth $457.40 and Eskiminzin rounded out a $1 superfecta of $2,556.25.
Live Thoroughbred racing resumes next Friday, Oct. 12 at Woodbine, with first race post time set for 1 p.m.