By: Rob Longley for Woodbine.com
TORONTO, April 5, 2018 – When Mark Casse points his eye to the classics, he keeps that eye both north and south of the Canada-U.S. border.
As a trainer who grew up in the shadow of the famed Churchill Downs, Casse has made it well known that the ultimate goal in his professional life is to win the Kentucky Derby.
But as a trainer who has emerged as one of the elite in the game thanks to his long-time presence at Woodbine Racetrack, he has gained a sincere and deep appreciation of the Queen's Plate.
Which brings us to his three-year-old colt Flameaway, who with a strong performance in Saturday's Bluegrass Stakes could be bound for Kentucky on May 5. He also happens to be an Ontario-bred, which keeps the June 30th Queen's Plate in play.
"Right now we're obviously concentrating on the Kentucky Derby," Casse said after his colt drew post 12 for the Bluegrass. "The good news is that as the races lie, we are able to do both. Right now we're going to concentrate on the Bluegrass and then hopefully the Kentucky Derby then there will be some decisions to be made.
"But we can do both."
The significance of competing in and winning the Kentucky Derby with an Ontario-bred is not lost on Casse, who isn't shy to extoll the virtues of Ontario racing. And Flameaway, who broke his maiden at Woodbine last May, would bundle many emotions together for the Indiana-born horseman.
"It would be everything," Casse said. "It would be my career all tied up in one. I owe so much of our success to Toronto and Woodbine and Canada, and to be able to (win the Kentucky Derby for the first time) with a Canadian-bred would be the ultimate satisfaction."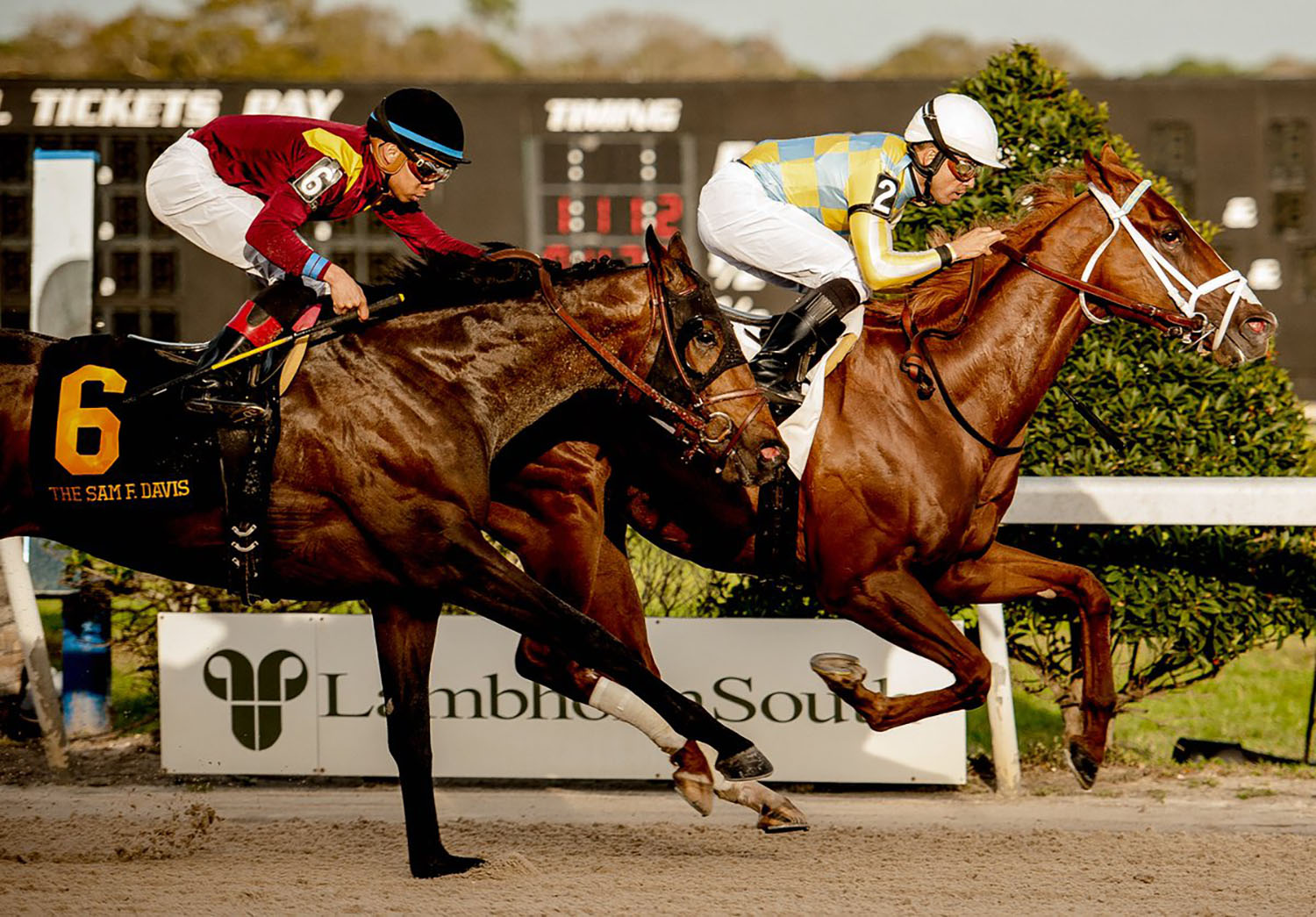 First things first for Flameaway is Saturday's Bluegrass, where the Tampa Bay Derby runner-up is the third choice in the morning line at odds of 6-1.
While much of the attention is on favourite and reigning two-year-old champion Good Magic, Casse believes Flameaway is ready for a big performance to set up a potential run to the Derby.
"Don't sell him short, he's a pretty good horse," Casse said of Flameaway. "I've seen him grow so much from (age two to three). All I ask is that he gets a clean trip and see what happens."
WHAT ABOUT BOB?
As is often the case, there were some wild twists and turns on the Derby trail this week, as you will see by our totally revamped Top Five, below.
Among the major disappointments was the defection from the list of our No. 1, McKinzie.
The Bob Baffert-trained colt has suffered a hind-leg injury, however, a tough blow that will not only keep him out of this Saturday's rematch with Bolt d'Oro in the Santa Anita Derby but completely off the Kentucky Derby trail.
In his spot, however, Baffert will start lightly raced Justify, who is two-for-two in his career and drew rave reviews for those efforts but will be making his stakes debut.
"We knew he was special going into his maiden race and it was pretty impressive," Baffert said of Justify. "Now he has to go a mile and an eighth against good competition. This will be a good gauge to see how he stacks up against the top three-year-olds."
Big things are expected of the son of Scat Daddy, however, as he has been installed as the 4-5 favourite over two-time stakes winner Bolt d'Oro (6-5).
MAD ABOUT MENDELSSOHN
In a Derby prep season that seems to unveil a new star or two weekly, it's hard to get past the sensational win by Mendelssohn, who won last week's United Arab Emirates Derby by a stunning 18 1/2 lengths.
Could the Aidan O'Brien trainee be the first foreign invader to win the Run for the Roses? Many believe he has all the tools.
"He was very, very impressive," said Baffert, who saw the effort first-hand in Dubai. "He's the real deal. He's fast and carries a lot of speed. I think he has a huge chance in the Kentucky Derby."
Meanwhile, hours after Mendelssohn did his thing, Todd Pletcher's Audible was a three-length winner in the Florida Derby, enhancing his already solid credentials.
DERBY TOP FIVE
1. Bolt D'Oro, Mick Ruis
Even though we aren't convinced he will beat Justify in the Santa Anita Derby, with the defection of McKinzie, he reclaims our top spot. Ruis says, "We could not have him coming back (from his San Felipe win) any better," and until proven otherwise, we'll keep him at the head of our list.
2. Audible, Todd Pletcher.
While Mendelssohn's effort was more visually impressive, the Florida to Kentucky route is much more reliable and this colt appears to have the goods. We love the way he backed off the torrid pace at Gulfstream then launched a measured, powerful run for the win looking all the world like he had something left.
3. Mendelssohn, Aidan O'Brien
As mentioned above, the performance in Dubai was sensational and those credentials are further enhanced by the rest of the package. His connections are impeccable, his pedigree is outstanding and he has already won in America, capturing the Breeders' Cup Juvenile Turf. He is the real deal.
4. Justify, Bob Baffert
If he's good enough to be the 4-5 morning line favourite in the Santa Anita Derby off a maiden and allowance win he's good enough to be on our list. Like many of these years contenders, he's bucking history but if he validates all that promise this Saturday he could be capable of doing the same on the first Saturday in May.
5. Magnum Moon, Todd Pletcher
The win in the Rebel Stakes was visually impressive and by all accounts he has recovered nicely from that effort. Unraced as a two-year-old, he is making up for lost time as well and will be the favourite in the Arkansas Derby.
*
Follow Longley's weekly column on Woodbine.com chronicling the path to the Kentucky Derby, set for May 5 at Churchill Downs, and be sure to get your tickets to celebrate the first jewel of the U.S. Triple Crown with us at Woodbine's exclusive Derby Day Party featuring fabulous food, fashion and entertainment in the Trackside Tent.