TORONTO, April 12, 2018 – Around the paddock at historic Churchill Downs there are plaques paying homage to each of the Kentucky Derby winners of the past.
But the one that will get the most attention from onlookers, photographers and TV cameras next month dates all the way back to 1882. Yes, the name of Apollo is at the forefront of this year's Derby lead up thanks in large part to a four-legged superstar in the making named Justify.
In his resounding win in the Santa Anita Derby last week – an effort that came just 48 days after racing for the first time in his life – Justify has many believing in the hype surrounding the Bob Baffert-trained colt.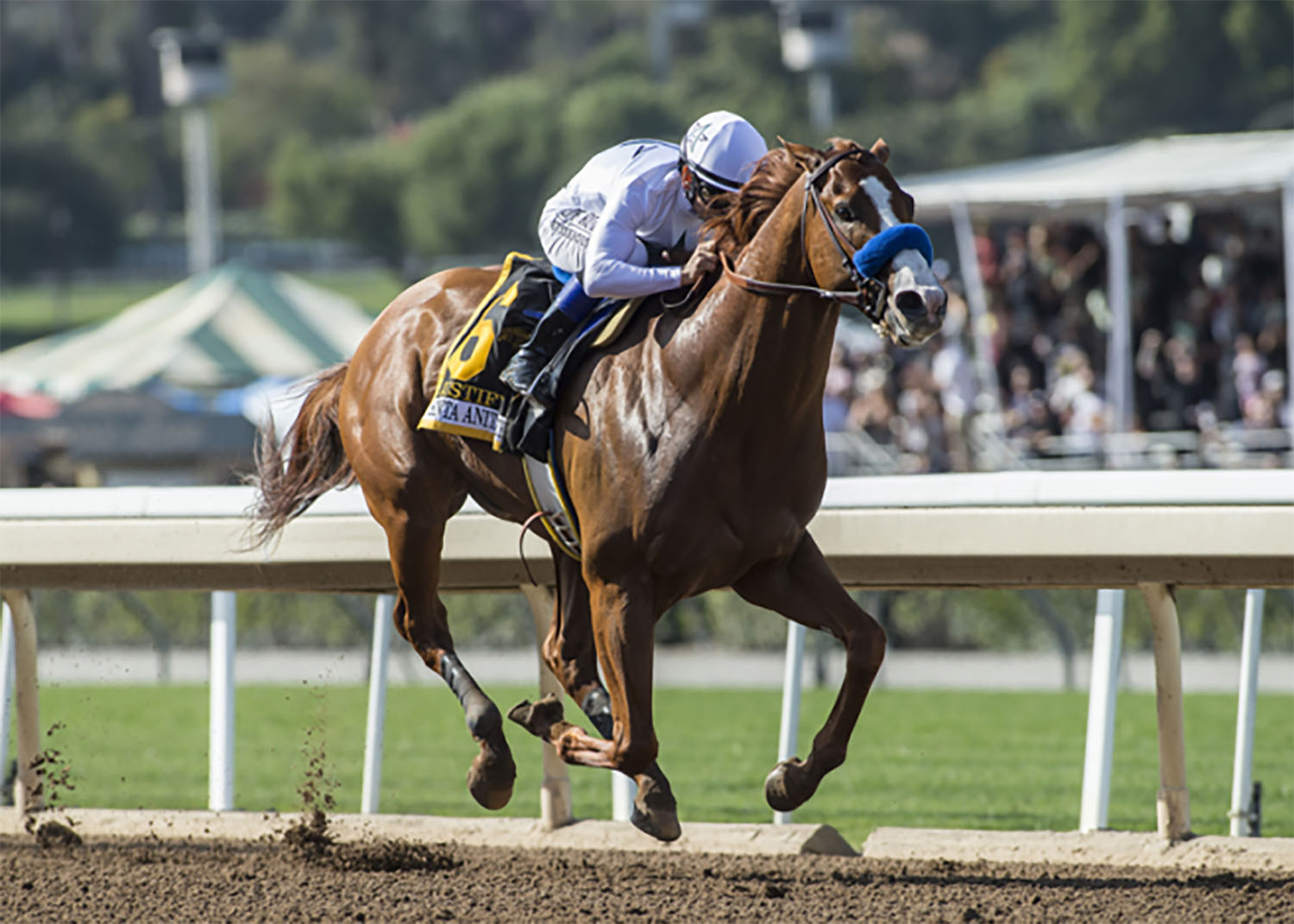 The biggest factor tempering that enthusiasm, however, is the time-tested phenomenon that no horse that was unraced at two has captured the Derby since Apollo.  Thus we have a natural and compelling story line heading into Kentucky Derby 144.
But don't take our word for the hype enveloping Justify. Listen instead to what a couple of Hall of Famers had to say about the sizzling son of Scat Daddy.
First his jockey, Mike Smith: "What you're seeing now is just raw talent. If he moves forward off of this race then it's kind of scary to talk about."
And Baffert: "Justify is just a a natural and he has a big, beautiful stride."
You could add effortless to that description. As unfair and premature as the comparison might be, Justify moved with an ease reminiscent of Baffert's 2015 Kentucky Derby champion American Pharoah.
Believe the hype? Many Triple Crown prognosticators – including this one – have Justify at the top of their Derby watch lists. And perhaps we'll finally see a colt good enough to prevail over a full field in Kentucky and take down the ghost of Apollo while he's at it.
FLAMEAWAY ON HIS WAY
Woodbine trainer Mark Casse's Flameaway wasn't able to collar two-year-old champ Good Magic in the stretch of the Bluegrass Stakes last Saturday, but a solid runner-up effort was good enough to send him on to Louisville.
Casse confirmed that his colt, who broke his maiden at Woodbine last spring, is on his way to the Derby.
"He never gave up," Casse said. "He's just so classy, you've got to love him. I got what I asked for. I said I wanted a fight at the top of the lane, and we got one. We've beaten the winner of the Wood (Vino Rosso) twice already. I think we can hold our head high."
ON TO ARKANSAS
The final serious stop of the Derby prep season goes Saturday at Oaklawn Park where the $1 million (US) Arkansas Derby affords Rebel Stakes winner Magnum Moon the opportunity to prove he is the real deal.
One of a trio of Todd Pletcher colts who are seen as serious Kentucky Derby contenders, Magnum Moon is another who didn't race as a two-year-old but has rapidly made up for lost time.
Magnum Moon gets the 6-5 morning line favourite distinction but his biggest test is expected to come from another Baffert-trained colt, Solomini. The latter colt is the 2-1 second choice in the nine-horse field that also includes Tampa Bay Derby winner Quip (9-2).
As for Solomini, Baffert followers will be trumpeting the fact that American Pharoah used Arkansas as the springboard to his Triple Crown winning campaign.
DERBY TOP FIVE
1. Justify, Trainer Bob Baffert
I'm respectful of tradition and history and all the factors that suggest he shouldn't win the Derby. I'll also acknowledge that the California contingent wasn't overly deep. But the way Justify moves is just too hard to ignore. And with four weeks for Baffert to sharpen him up before the Derby, look out.
2. Mendelssohn, Trainer Aidan Obrien
Another who has to buck history and prove that he can overcome the trek from the desert of Dubai to the Bluegrass of Kentucky. But in a different way, Mendelssohn's win in the UAE Derby was equally impressive and we trust the connections and believe in the pedigree.
3. Good Magic, Trainer Chad Brown
We had to wait a while for the two-year-old champ to renew his credentials but his game win in the Bluegrass certainly did that. He didn't blaze his way down the Keeneland stretch but Brown would appear to be training him as though there is more in the tank. The Bluegrass win certainly was a redemptive effort for his lacklustre performance in the Fountain of Youth.
4. Audible, Trainer Todd Pletcher
Which of the three Pletcher colts do you want? That in itself may be one of the biggest handicapping challenges for this Derby. We loved Vino Rosso's winning effort in the Wood last Saturday, which has us intrigued and let's see what Magnum Moon has this weekend in Arkansas. But let's not forget this guy: Audible's Florida Derby-winning effort was key and makes him a top contender for the big one.
5. Bolt d'Oro, Trainer Mick Ruiz
The fact that he couldn't beat Justify drops him down some but a couple factors to consider here: 1. Ruiz has said he's saving some for the first Saturday in May and 2. This colt is a fighter. At the least, we'll let him hold down the five-spot pending Magnum Moon's results at Oaklawn.
 *
Follow Longley's weekly column on Woodbine.com chronicling the path to the Kentucky Derby, set for May 5 at Churchill Downs, and be sure to get your tickets to celebrate the first jewel of the U.S. Triple Crown with us at Woodbine's exclusive Derby Day Party featuring fabulous food, fashion and entertainment in the Trackside Tent.