By: Rob Longley for woodbine.com
TORONTO, March 15, 2018 – How about a rematch, or better yet two?
For an early March prep race that turned into a match race, last week's San Felipe showdown between McKinzie and Bolt d'Oro was an instant classic.
And the prospect of them facing off again in both the Santa Anita Derby and Kentucky Derby is tantalizing.
Essentially racing in tandem for the entirety of the Santa Anita stretch, McKinzie prevailed by a head over Bolt d'Oro, who was making his three-year-old debut. The stewards had other ideas, however. After a lengthy (and controversial) review, the placings were reversed as McKinzie was ruled to interfere with his rival in the stretch.
The ruling increased the drama and apparently intensified the rivalry between the two elite, California-based colts.
"Javier (Castellano) had a better story, I guess," McKinzie's trainer Bob Baffert said of the discussion with Castellano and his own jock, Mike Smith. "I'm shocked, after the way he hit us at the top of the stretch. I don't know what they're looking at, but apparently he talked them into it."
Baffert's understandable reaction aside, the brilliance of both colts was undeniable as both displayed their gameness and talent in the epic stretch run.
"I don't think the fans and everybody else could have had a better finish from the two horses they thought were going to run like they expected," Bolt d'Oro's trainer Mike Ruis said. "Hopefully, we're moving forward and he'll be at his best in a couple months. This horse has the heart of a lion."
With the "win," Bolt d'Oro has now won four of his five career starts, the only loss being a third-place finish in the Breeders' Cup Juveniles.
The San Felipe was easily the most impressive of the three weekend preps, which also saw Quip take the Tampa Bay Derby (over Canadian-bred and former Woodbine winner Flameaway) and Enticed taking the Gotham Stakes at Aqueduct. The latter, a Kiaran McLaughlin trainee, now sits second to Bolt d'Oro with 63 Road to the Kentucky Derby points.
BLUEGRASS FOR FLAMEAWAY
A solid enough runner-up finish in the Tampa Bay Derby was enough for trainer Mark Casse to continue on with Flameaway.
The Woodbine-based conditioner thinks the Ontario-bred colt has more in him and is eyeing the Bluegrass Stakes on April 7 at Keeneland as his next and final Kentucky Derby prep.
"I was excited and happy with Flameaway's performance," Casse said of an effort in which he was coming on in the final eighth of a mile. "(Jose Lezcano) said the farther they go, the better he'll do. He can go all day."
Flameaway also might have been toughened up as he got bounced out of the starting gate, significant seasoning for the wild ride that is the Derby.
"He got whacked around pretty good at the start and ran a little erratically down the lane, but he was running at the end and that's what you want."
"Of course we're looking at the (Kentucky) Derby, but you want him to run well and train well leading up to it. You want to believe he can run and run well, and I think he will prove that he belongs."
JUSTIFY THIS
There are all sorts of historical reasons not to pay too much attention and over react to Justify's romp in an allowance race last Sunday at Santa Anita.
And then there are the visuals.
Winning his second career start by 6 1/2 lengths, the Baffert trainee was so impressive that he closed as the 6-1 second choice in Pool 3 of the Kentucky Derby Future Wager.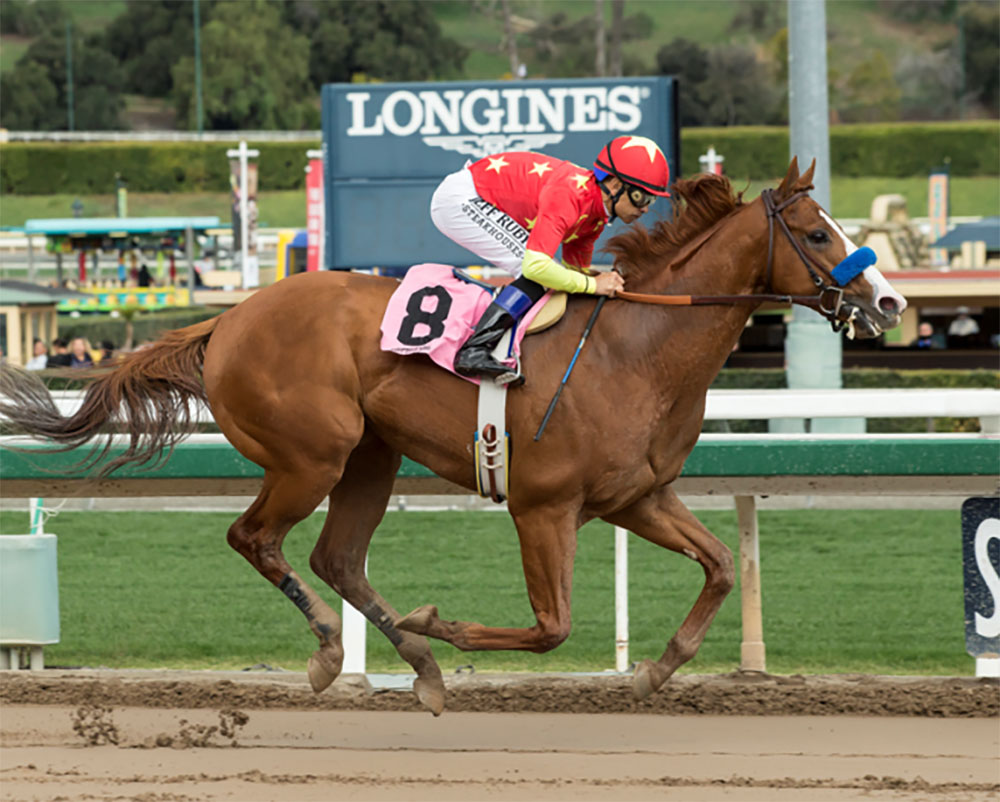 Baffert, a four-time Derby winner, has been known to have unheralded colts come from his barn and be a factor in the Triple Crown and this could be the latest.
"For a young horse, he has a great mind," jockey Mike Smith said. "That might allow him to catch up even sooner than a normal horse, because of his talent and the mind to go with it.
"I hate to compare him to other horses right now, but doesn't he remind you of an Easy Goer way back in the day?"
What was it we were saying about over reaction?
DERBY TOP FIVE
1. McKinzie, trainer Bob Baffert
While we'll shake up some of our top five, we'll take a stand against the San Felipe and keep this guy at the top. He showed both grit and talent in holding off Bolt d'Oro, who should have never been awarded the win. McKinzie should build off of this effort.
2. Bolt d'Oro, trainer Mike Ruis
As much as we still favour McKinzie's performance at Santa Anita, this was an impressive off-the-shelf performance by Bolt d'Oro. He showed his class and his gameness and who can't wait for Round 2.
3. Good Magic, trainer Chad Brown
Trainer Chad Brown reports that the decent effort in the Fountain of Youth has enhanced his fitness level and it's all systems go to the Bluegrass for his next start. The two-year-old champ needed that start, now let's see what he has.
4. Audible, trainer Todd Pletcher
An established late runner, the Holy Bull winner is remaining in the Sunshine State for the Florida Derby. Still believe he belongs with the top guns.
5. Justify, trainer Bob Baffert
Ok, we'll buy into the hype and keep him on our list until proven otherwise or someone knocks him out. Plenty of work to do yet, but the talent seems to be there.
*
Follow Longley's weekly column on woodbine.com chronicling the path to the Kentucky Derby, set for May 5 at Churchill Downs, and be sure to get your tickets to celebrate the first jewel of the U.S. Triple Crown with us at Woodbine's exclusive Derby Day Party featuring fabulous food, fashion and entertainment in the Trackside Tent.