By: Rob Longley for woodbine.com
TORONTO, March 22, 2018 – Could this be a year that one of the longest standing jinx's curses and road blocks finally gets buried for good?
After Magnum Moon's decisive and impressive win in the Rebel Stakes last week at Oaklawn Park, the Todd Pletcher-trained colt is a perfect three-for-three and soaring up the list of contenders.
But since he didn't make the first of those starts until Jan. 13 of this year, he now faces a curse so powerful and long-standing, it could halt a freight train.
As observant Kentucky Derby followers are well aware, no horse has won the storied event without a two-year-old start since Apollo in 1888.
At least Magnum Moon has company this year, with Bob Baffert's talented youngster Justify joining in the pursuit of bucking history.
And if a 16 seed (hello University of Maryland-Baltimore County) beat a No. 1 (so long Virginia) in the NCAA basketball tournament for the first time in history, maybe this will be the year.
Some have knocked on the Churchill Downs starting gate door to expunge Apollo from the books in recent years, a reflection in part to the patience trainers are employing with expensive and talented colts. The Derby still remains a massive prize, but there are plenty of big-money options for sophomores that owners and trainers don't always feel a need to rush their freshmen colts.
At any rate, both Magnum Moon and Justify have ran their way into what is becoming a more intriguing and crowded list of contenders by the week.
"We felt like we had a very talented colt and were very pleased with the first two races," Pletcher said of Magnum Moon. "But this was a step up in class and running against accomplished, seasoned colts. We were confident that he was training very well, coming into it in great shape, and just hoped he could handle the continued rise in class."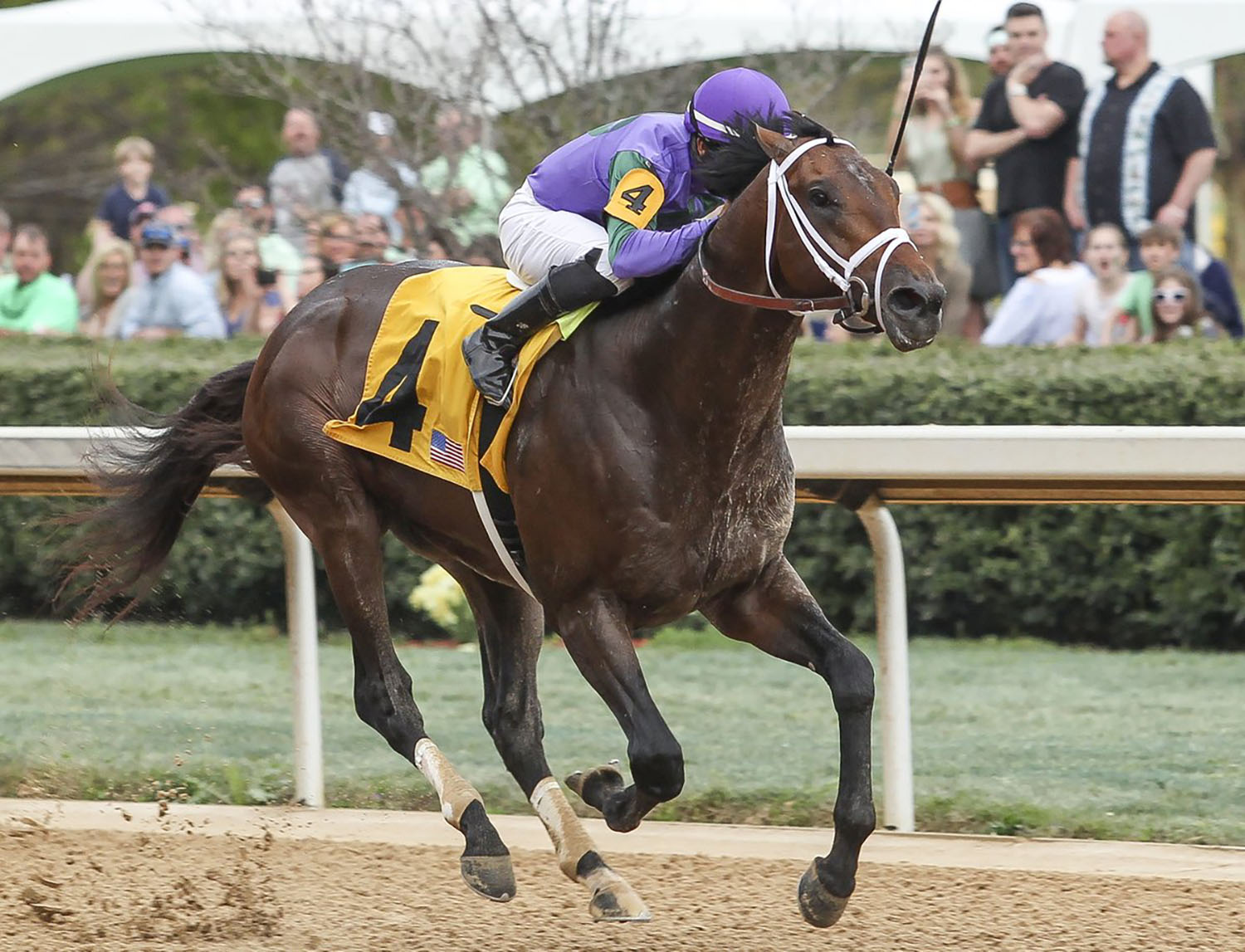 A winner by open lengths in each of his three starts, Magnum Moon collected 50 Kentucky Derby points for his win.
Next up is a likely return to Oaklawn Park for the Arkansas Derby and if everything lines up, a shot at history.
"There's nothing like seeing it actually happen," Pletcher said of taking on Apollo and the rest of the Derby field. "You can always prepare for it and hope for it. It's still up to the horse to go out there and prove it."
CAJUN COOKING
The big stop on the Derby prep trail this weekend takes us to The Fairgrounds in New Orleans for the $1 million Louisiana Derby.
Heading the field of 10 is trainer and Louisiana native Keith Desormeaux's My Boy Jack, who is the 5-2 morning line choice. With 12 points, My Boy Jack is currently sixth on the Derby list and Desormeaux feels the Louisiana Derby has scheduling options to go with the seven-figure purse.
"It gives us an extra week, one million is a monster pot, and if we are forced to scratch or have an unlucky trip, there is time to get into another prep race and still make the Kentucky Derby," Desormeaux said.
Also of note is trainer D. Wayne Lukas's colt Bravazo, a son of Queen's Plate champion Awesome Again, who is the co-second choice at 7-2. And Lukas used the Louisiana Derby as a prep for his 1996 Kentucky Derby winner, Grindstone.
SUNNY SUNLAND
Also on tap this weekend is the $800,000 Sunland Derby in New Mexico. Generally considered one of the lesser preps, the favourite's status goes to All Out Blitz, a one-time winner who was third in the San Vicente Stakes out in California in his previous start.
DERBY TOP FIVE
1. McKinzie, trainer Bob Baffert
Continues to train towards a start in the Santa Anita Derby, which will no doubt be one of the most anticipated Kentucky Derby preps in years. The showdown with our No. 2 colt, Bolt d'Oro looms.
2. Bolt d'Oro, trainer Mike Ruis
News you can use about this guy, who was placed first in the Santa Anita after his stretch-long scuffle with McKinzie? The "Bolt" part of his name comes from one of the greatest runners of all time, Jamaican sprinter Usain Bolt.
3. Good Magic, trainer Chad Brown
Maintains his spot despite the continued emergence of new contenders. He earns a top three billing because of his two-year-old champion status as he continues to work towards the Bluegrass Stakes.
4. Magnum Moon, trainer Todd Pletcher
Our loan new addition this week, the Rebel Stakes winner subs in for another Pletcher colt, Audible. The trainer is clearly keen on this one so let's see what happens in the Arkansas Derby.
5. Justify, trainer Bob Baffert
Sticking with him based on that eye-catching allowance race that got him on our list in the first place. He will likely need to be no worse than second in his next outing, however, to acquire the requisite amount of Derby points.
*
Follow Longley's weekly column on woodbine.com chronicling the path to the Kentucky Derby, set for May 5 at Churchill Downs, and be sure to get your tickets to celebrate the first jewel of the U.S. Triple Crown with us at Woodbine's exclusive Derby Day Party featuring fabulous food, fashion and entertainment in the Trackside Tent.