By: Rob Longley for woodbine.com
TORONTO, March 30, 2018 – Tucked away in an odd part of the Kentucky Derby prep race calendar – too late for some, too early for others – the Florida Derby hasn't always been a favourite landing spot for trainers and their Triple Crown-destined colts.
And then the past decade happened.
The showcase event at Gulfstream Park has become a super key race for the first Saturday in May, particularly in recent runnings. In the past 10 years, no less than four winners of the Florida Derby have gone on to Churchill Downs glory, including last year's dual victor, Always Dreaming.
For that reason alone, we need to pay close attention to Saturday's $1 million US South Florida test.
But it goes much deeper with as many as a quartet of horses that could be serious players in the days leading up to the opening jewel of the Triple Crown. As some trainers look to take advantage of longer layoffs prior to Louisville, whoever emerges from Saturday's nine-horse field will undoubtedly join the growing list of serious candidates for the 2018 Run for the Roses.
Let's start with the duo of Promises Fulfilled (3-1) and Strike Power (4-1), who were first and second in the Fountain of Youth Stakes four weeks earlier. Catholic Boy (7-2), who has attracted the attention of some serious handicappers also merits a close look.
But most of all, in what will be the final prep for any of the entrants, there is Holy Bull winner Audible. Not only is this colt looking for his fourth consecutive win, the 9-5 morning line favourite comes from the white-hot barn of trainer Todd Pletcher.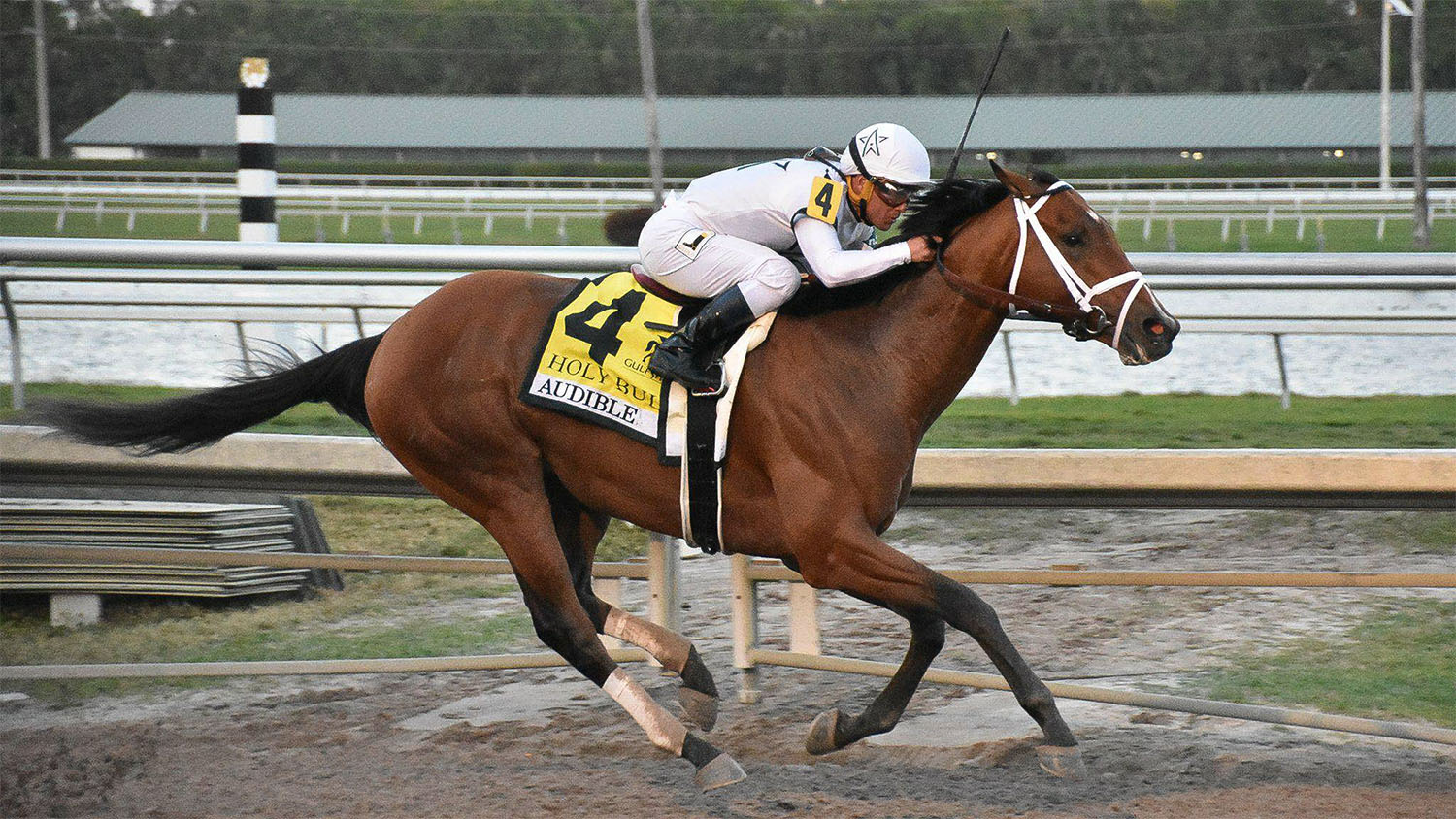 A winner by 5 1/2-lengths in the Holy Bull, Pletcher believes his colt has attributes familiar to past colts that have captured the Florida-Kentucky double.
"What (Audible) has that over the years has proven successful is enough tactical speed to put him in position," said Pletcher, whose four Florida Derby winners included Always Dreaming. "What was most impressive in the Holy Bull is how he kicked on after prompting solid fractions."
Certainly impressive credentials – but with four horses at early odds of less than 4-1 – plenty of competition to test them.
PLETCHER POWER
For decades now, New York-based Pletcher has been one of North America's best trainers, if not always a massive player on the Kentucky Derby trail.
But if Audible prevails in the Florida Derby, it will cap off an incredible three-week triactor for the veteran horseman and load him up for a serious shot at back-to-back Derby wins for the first time in his career.
Pletcher has saddled no less than 49 horses in the Run for the Roses, but until Always Dreaming prevailed in last year's race, had only captured one previous (Super Saver in 2010.)
But if Audible runs to his favoured status in South Florida, Pletcher will have a sizzling shed row at Churchill Downs a month from now. In the past two weeks, the super trainer has won the Louisiana Derby with Noble Indy and the Rebel Stakes with Magnum Moon.
FOREIGN INVASION
The Derby prep season also includes it's annual stop in Dubai this weekend where Breeders' Cup Juvenile Turf winner Mendelssohn looks to build on his lead in the European Road to the Derby points race.
The Aidan O'Brien trainee is slated to face Gold Town from the powerful Goldophin Stable.
One of the most accomplished trainers in the world, O'Brien has had four previous Kentucky Derby starters but has yet to finish in the top three.
FINISH LINES
While Flameaway remains Woodbine-based trainer Mark Casse's top Derby contender, he hopes another longer shot will run into the picture in Saturday's Florida Derby. Mississippi, who was second to Storm Runner in an allowance race, will make his stakes debut in this ambitious spot but has worked stoutly for Casse and is given the appearances of a live long shot in this field … Pletcher has won three of he past four Florida Derby's and will use jockey John Velazquez, who has ridden three of those, on Saturday.
DERBY TOP FIVE
1. McKinzie, trainer Bob Baffert
Back on the work tab after the scintillating battle with Bolt d'Oro in the San Felipe, he continues to exhibit signs of moving forward as the much-anticipated April 7th date of the Santa Anita Derby moves into closer focus.
2. Bolt d'Oro, trainer Mike Ruis
Though he's also eligible to the Bluegrass, giving Ruis an option to avoid another showdown with McKinzie, it is expected that Bolt d'Oro will remain in California for the SA Derby. He too has returned with solid work form.
3. Good Magic, trainer Chad Brown
It's starting to feel a little like 'out of sight, out of mind' for this guy given that he hasn't raced since the Fountain of Youth. But he'll get the chance to recreate that magic in the Bluegrass.
4. Magnum Moon, trainer Todd Pletcher
Or should it be Noble Indy in this spot? The Pletcher train rolls on (and makes a handicapper's head hurt!) with two serious contenders and a third in the on-deck circle thanks to Audible being the favourite for this week's Florida Derby.
5. Justify, trainer Bob Baffert
Where will Baffert go next with this lightly raced but dazzling winner of an allowance race in his last outing? The Arkansas Derby and avoiding the top two on our list would seem to make sense.
*
Follow Longley's weekly column on woodbine.com chronicling the path to the Kentucky Derby, set for May 5 at Churchill Downs, and be sure to get your tickets to celebrate the first jewel of the U.S. Triple Crown with us at Woodbine's exclusive Derby Day Party featuring fabulous food, fashion and entertainment in the Trackside Tent.