By: Rob Longley for Woodbine.com
TORONTO, May 3, 2018 – It defies the long storied history of the Kentucky Derby being one of the best and most challenging betting races in the world.
But the facts, like the toteboard, do not lie and we are in the midst of an unprecedented run where the past five post-time favourites have captured the Run for the Roses.
So can undefeated Justify make it six in a row? Based on his talent and the way he's looked in the mornings at Churchill Downs, the latest prodigy of four-time Derby winning trainer Bob Baffert certainly looks the part. He seems to be getting stronger by the day and could be the next super horse of the sport.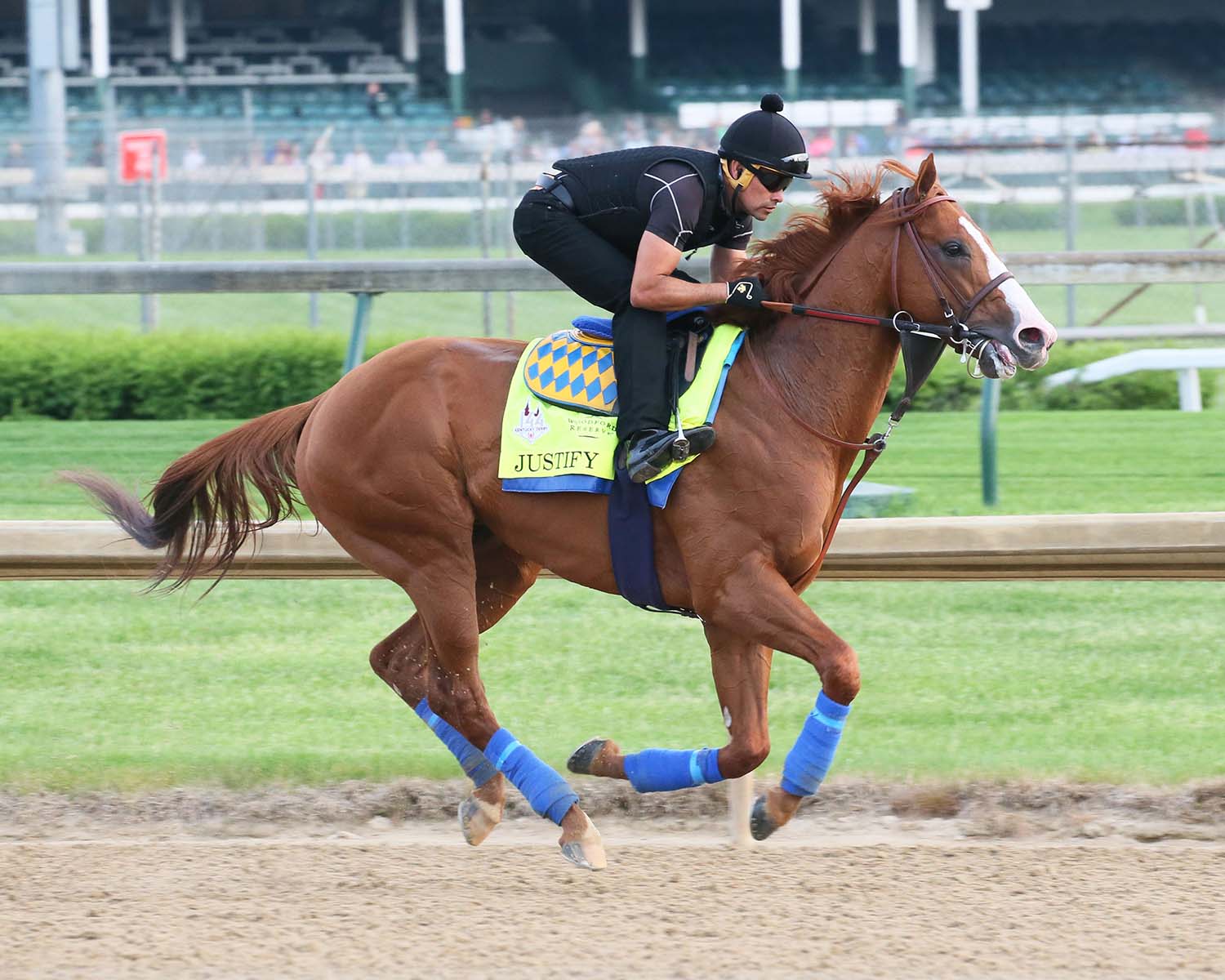 To do it, however, Justify will have to prevail over a field that is widely being heralded as one of the most competitive in the history of the opening jewel of the U.S. Triple Crown.
"It's great to be back here with a horse that has a legitimate chance of winning," said Baffert, whose most recent Derby champ was 2015 Triple Crown winner American Pharoah. "The way I see it, there are six other horses that can pull it off if all goes well. It's going to be a very competitive race."
Indeed, it shapes up to be just that. And six contenders may be underestimating the depth of potential for Saturday's race. As we've seen and noted over the prep season for the past few months, there are contenders aplenty. 
Just run down the list of contenders and the quality among the 20 scheduled to compete in the 1-1/4 mile classic and the competitiveness is staggering. 
There is two-year-old champion Good Magic, who tuned up with a win in the Bluegrass Stakes for trainer Chad Brown and seems poised to run a massive race.
There is Magnum Moon, one of four from the powerful barn of Todd Pletcher and who is undefeated in four career starts. 
There is Mendelssohn, a colt who brings with him the impeccable credentials of trainer Aidan O'Brien and jockey Ryan Moore. No European shipper has won the Derby, but this son of Scat Daddy may be the most impressive to try.
And then there is Bolt d'Oro, who until Justify came along was considered the best of the West Coast contingent. Trained by co-owner Mick Ruiz, this four-time winner from six career starts certainly looms large.
Is Justify the horse to beat?  He'll carry that into Gate 7 of the Churchill Downs starting gate on Saturday and some two minutes later we will know if he's the best of the best. 
GO CANADA
There are a pair of local rooting interests in this year's Derby, both of them long shots. Trainer Mark Casse has Flameaway, a 30-1 shot who broke his maiden at Woodbine last year. 
"There may be more talented horses out there, but so much of it with the Derby is that you need some luck," Casse, who finished fourth in last year's Derby with Classic Empire, told the Louisville Courier-Journal. "We could have a little luck and some of the main horses have a little bit of bad luck, it wouldn't shock me.
"I've won races before when I thought I had less chance of winning."
Next up is Woodbine jockey Luis Contreras who surprised some when he was named to ride 50-1 longshot Bravazo for Hall of Fame trainer D. Wayne Lukas. Contreras, whose lone Derby mount (Prospective) finished 18th in 2012, impressed Lukas with some rides this winter at Oaklawn Park.
FINISH LINES
Those five consecutive favourites that won the Derby? Start with Orb in 2013 followed by California Chrome, American Pharoah, Nyquist and Always Dreaming  … As per usual, the betting windows for the Derby card open on Friday and wagering is available at all the traditional Woodbine venues and platforms. 
DERBY TOP FIVE
1. Justify, Trainer Bob Baffert
He's undefeated and the morning line favourite and if he races to his advance billing may be the best of an extremely talented class.
2. Good Magic, Chad Brown
Because of the potential value with this one, we'll be supporting him at the windows. We've heard rave reviews from his time preparing at Churchill Downs and the two-year-old champ could be sitting on a big race.
3. Mendelssohn, Trainer Aidan O'Brien
The horse with the impeccable credentials didn't hit the track at Churchill until Thursday but that is often the Euro way. He's certainly good enough to become the first foreign-based colt to win the North American classic and at least he's raced on this continent.
4. Audible, Trainer Todd Pletcher
The Florida Derby winner would seem to be the most capable of the Pletcher foursome to win but we're fond of Magnum Moon as well. He's been brought along in typical Pletcher fashion and would seem ready to run a big one.
5. Bolt d'Oro, Trainer Mick Ruiz
Our sleeper pick, if you can call the Santa Anita Derby winner a sleeper. He too has been getting solid reviews at Churchill Downs this week and if you take Ruiz at his word, he wasn't 100 per cent cranked up for his last start, a runner-up performance to Justify in the Santa Anita Derby. 
 *
Follow Longley's weekly column on Woodbine.com chronicling the path to the Kentucky Derby, set for May 5 at Churchill Downs, and be sure to get your tickets to celebrate the first jewel of the U.S. Triple Crown with us at Woodbine's exclusive Derby Day Party featuring fabulous food, fashion and entertainment in the Trackside Tent.